Civil Rights, William Roland, and the W. E. Roland Jewelry Company
Introduction
As the struggle for civil rights gained momentum with 1960s youth, Black students from the segregated Stephens-Lee High School were at the forefront of the fight in Asheville. When they founded the Asheville Student Committee on Racial Equality (ASCORE) in 1960, they took their organizing efforts to the next level. As they built ASCORE from scratch and searched for community members to aid in their efforts, they found an unlikely ally--and unofficial headquarters--with William Roland and his W. E. Roland Jewelry Company.
Images
William Roland hard at work with watch repairs. Photo courtesy of Center for Diversity Education, viewable at mountainx.com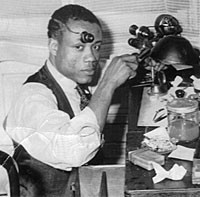 Please see link below to this fascinating book about prominent Asheville citizens, including William Roland.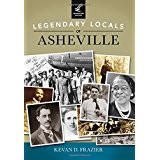 Newpaper advertisement for W. E. Roland Jewelry Company, originally published April 15, 1950 in the Southland Advocate.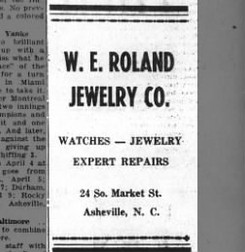 Backstory and Context
Where ASCORE marked the formal beginning of organized student civil rights activism in Asheville, it also served as Roland's entry into community activism. He was interested in ASCORE's "task of bringing about a oneness of community," and so agreed to serve as their advisor.2 ASCORE's central founding members began working closely with Roland, and his influence showed. James Ferguson, one of those students and the first president of ASCORE, particularly remembers Roland's belief in nonviolence, which in turn caused he and his peers to "realize that instead of just going downtown to have a sit-in, we needed to learn more about the nonviolent method."1

With Roland's mentoring and a deep adoption of the power of nonviolence, ASCORE met here, in the back of Roland's jewelry shop, and planned their first major civil rights protest: sit-ins to desegregate lunch counters. Though Mr. Roland's office where these pivotal meetings took place is long gone, Viola Jones Spells, another early student member, provides a hint at what took place: "Mr. Roland's office was a very tiny space, and we were all huddled in the back discussing what we were going to do and how we were going to do it . . . we would make a list of all the places we thought needed to be targeted and then we would prioritize them, and then certain people were assigned to committees."1

Though ASCORE was formally retired in 1965, its impact, as well as Roland's, reverberated long after. First Woolworth's, then Newberry's, then Kress all desegregated their lunch counters. Buoyed by success with the hard-fought, systematic lunch counter campaign, ASCORE's short five years saw the successful desegregation of libraries, parks, and even the beginnings of employment desegregation.

As for Roland, his newfound involvement with community organizing became an inseparable part of his life. Before passing away in 1973, he went on to serve in many functions, including as a mediator between national civil rights organizations, such as The Committee on Racial Equality and the NAACP, and the head of multiple voter registration drives in Asheville. Economic opportunity was of deep personal interest to Roland, and he worked with the Merit Employment of Negroes to help qualified Black community members break barriers and enter jobs that had been historically off limits. Though ASCORE no longer filled Roland's small office, W. E. Roland Jewelry Company remained a central meeting ground where politically and community minded activists could come together for the next decade--serving, in Roland's words, as "what might be called a social center."2

Sources
1Lisa Watters, "Peaceful Warriors," Mountain Xpress, October 26, 2005, accessed February 16, 2017, https://mountainx.com/news/community-news/1026ascore-php/

2"William E. Roland, with autobiography," Heritage of Black Highlanders Collection, Ramsey Library at University of North Carolina, Asheville, accessed on February 18, 2017, http://toto.lib.unca.edu/findingaids/mss/Blackhigh/biography/roland_w.html

"Tree Planting Honors William Roland," Asheville Citizen-Times, May 16, 2012, B3, https://www.newspapers.com/newspage/119089047/
Additional Information