Marquis de La Fayette Sculpture
Introduction
This statue honors the French aristocrat who became a hero for the rebels fighting Great Britain in the American Revolution. The statue was dedicated in 1987 and celebrates the French military leader who is best known for blocking British forces under Lord Cornwallis from being able to retreat during the Siege of Yorktown. Lafayette later became an influential leader of the French Revolution and was one of the architects of the Declaration of the Rights of Man and the Citizen. The city was named Vermilionville in 1821 and changed its name to Lafayette in 1884.
Images
Dedicated in 1987, this statue honors the namesake of the city who led French forces in support of George Washington's rebel army in the American Revolution.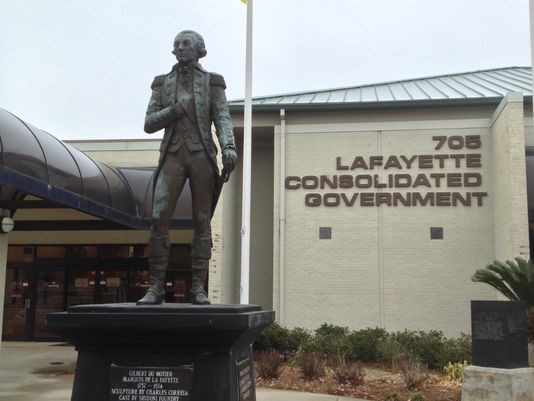 Backstory and Context
Born in 1757 to a noble family with deep roots in the French military, the aristocrat Marquis de Lafayette is best known for his role in the American Revolution and the French Revolution. After his father was killed in America fighting the British in the Seven Years War, Lafayette joined the French army and soon expanded his family's fortune through marriage. He first saw action in the American Revolution during the Battle of Brandywine where he distinguished himself by managing an orderly retreat despite sustaining a serious wound and being outnumbered by the British.

Lafayette's greatest contribution to the rebel cause came in 1780 when he convinced King Louis XVI to dedicate more resources to supporting the American rebels. The following year, Lafayette's expanded force coordinated their movements with George Washington's army and surrounded Lord Cornwallis and his men at Yorktown.
Sources
Marquis de Lafayette Collection, Lafayette College: Special Collections and College Archives, Skillman Library

Additional Information