Dr. Carl V. Reynolds House
Introduction
When Proximity Park was slated for development in 1907, Asheville's well-to-do lined up, though few moved faster than Dr. Carl Von Reynolds. Within two years, his vision of neoclassical grandeur stood an imposing 2.5 porticoed stories. Reynolds' home still stands today as the picturesque Albermarle Inn. The home is one of the most well known examples of historic architecture from Asheville's Neoclassical Revival era. Before its role as a bed and breakfast, however, Dr. Reynolds lived here as he rose to become an important figure in North Carolina's public health history. Before its conversion to the Albermarle Inn, the house also functioned as a center for creative arts education.
Images
Early 20th century photo of Dr. Reynolds House. Original copy located in North Carolina Collection, Pack Memorial Public Library, Asheville, North Carolina.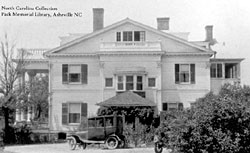 Modern photo of the striking, tree covered entrance to the present Albermarle Inn. Photo from the City Department, City of Asheville, North Carolina.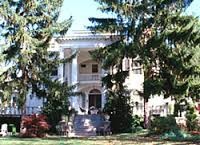 Dr. Reynold's served as Secretary of the State Board of Health during his storied career. It was during his tenure that he drafted this report in 1945 calling for an overhaul and expansion to public health programs for North Carolinians.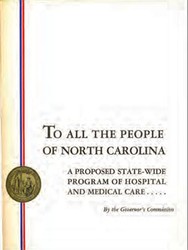 Backstory and Context
Hailing from Buncombe County's pioneer families, Carl was not the first Dr. Reynolds to serve Asheville; his father, Daniel Reynolds, was one of the area's preeminent 19th century physicians.1 By the time he built his new home in 1909, Carl Reynolds was already known well beyond Buncombe County and was soon to become a notable figure in public health across the state and within the university system.

After first serving as Asheville's city health officer, Reynolds made his greatest impact as a state health officer. While serving as Secretary of the State Board of Health, Reynolds acted as a key author in a landmark report that re-envisioned the role of the state in public health. Indeed, the forward thinking ideas proposed in this 1945 report by the North Carolina Hospital and Medical Care Commission to the General Assembly foreshadowed the now widely held belief that the state holds a civic duty to ensure the well being of its citizenry through coordinated public health programs.2

While the 1940s saw Reynolds making waves in public heath, his Proximity Park home was over two decades in his past; in 1920, he sold the home to the Grove Park School. With the addition of a school building next to the original structure, the Reynolds House enjoyed two decades of renown as a home to the Plonk School of Creative Arts.

It was in 1941 that the house was transformed into its current state as the Albermarle Inn. Yet the Inn and the creative arts still mixed. It was here, after all, that Hungarian composer Bela Bartok was inspired to complete his Asheville Concerto (formally known as Third Concerto for Piano).3 After over a century, the Reynolds House still stands as a testament to its neoclassical revival birth, and the Albermarle Inn has stayed true to its architectural heritage.



Sources
1Gaillard S. Tennent, M.D., Medicine in Buncombe County Down to 1885: Historical and Biographical Sketches, Charlotte, N.C.: The Charlotte Medical, 1906, p. 17-18. Accessed through Special Collections and University Archives, Ramsey Library at the University of North Carolina, Asheville, http://toto.lib.unca.edu/booklets/medicine_buncombe_county/default_walls_william.htm

2"A Message of Great Hope, of Almost Infinite Promise, and Yet of Great Practicability," Health Sciences Library, University of North Carolina At Chapel Hill, accessed February 18, 2017, https://hsl.lib.unc.edu/gillings/state-history-3

3"Dr. Carl V. Reynolds House," National Register of Historic Places, accessed February 18, 2017, https://www.nps.gov/nr/travel/asheville/drc.htm

"Inn History," Albermarle Inn, accessed February 18, 2017, http://www.albemarleinn.com/history.htm



Additional Information