Alsop House
Introduction
Built from 1838 to 1840 by Richard Alsop IV for his mother, this house is an fine example of antebellum architecture, especially notable for its wall paintings. Multiple rooms feature colorful frescoes, depicting dancing girls, mythological scenes, flowers and birds, and geometric patterns. The house now belongs to the Wesleyan University campus.
Images
Alsop House (source: Library of Congress)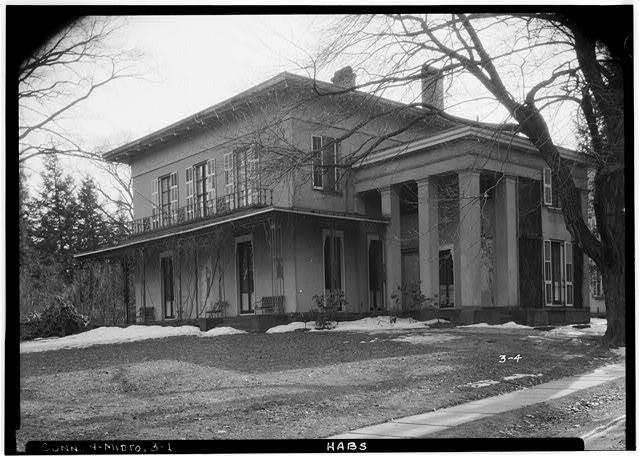 Inside the morning room (source: Library of Congress)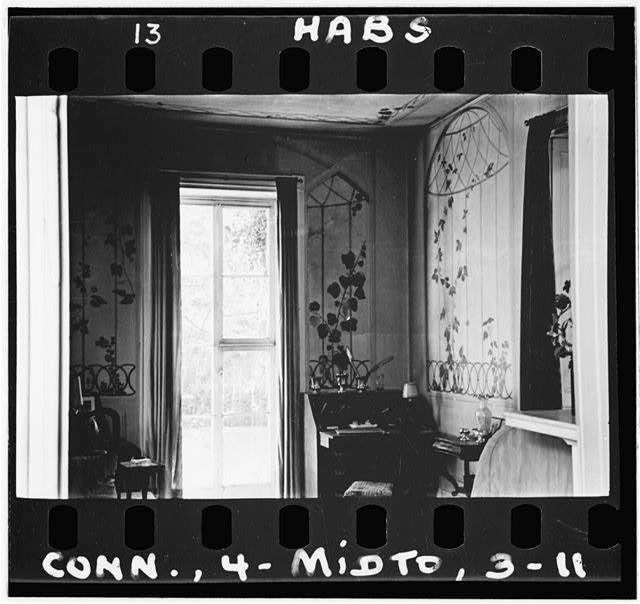 Backstory and Context
The Alsop House wall paintings were inspired by the frescoes of ancient Rome. "Pompeian" or "Empire"-style painting gained popularity in the early 19th century. Numerous artists blended elements from both ancient and Renaissance art. Unfortunately, many of these 19th-century frescoes have been lost: as decorative styles changed, frescoes were often painted or papered over. Others were damaged over time. The Alsop House is thus both rare and significant due to the extensive wall paintings that have survived. These paintings were executed in multiple stages between 1839 and 1860.

Alsop House paintings
Parlors: ceiling paintings depict Apollo's Chariot and the Chariot of Jupiter. Dancing girls, garlands, cupids, geometric borders, birds, and butterflies adorn the walls.
Morning room: this room features trompe l'oeil murals, mimicking the appearance of windows. Decorative elements include birds, insects, flowers, and vines, in addition to lattice work. On the ceiling is a square panel with a floral medallion.
Dining room: though the walls were papered over, you can still see the original frieze along the top of the wall.

Richard Alsop IV (1789-1842) had a successful career in trade and banking, earning much of his money from his business Alsop & Co., which operated out of Valparaiso, Chile. His father Richard Alsop III had been a poet and scholar. Richard IV had this house built for his mother, Maria Wyllys Pomeroy Alsop Dana (1767-1861), who had been widowed twice. Family letters indicate that the New Haven firm Platt and Benne was involved in its design. The Alsop family owned the house for about a century. Wesleyan University bought it in 1948 and began restoration work.


Sources
"The Alsop House." Davison Art Center, Wesleyan University. Accessed February 18, 2017. http://www.wesleyan.edu/dac/about/alsop-house.html.

"National Historic Landmark Nomination: Richard Alsop IV House." U.S. Dept. of the Interior, National Park Service. April 09, 2001. Accessed February 18, 2017. https://www.nps.gov/nhl/find/statelists/ct/Alsop.pdf.


Additional Information