Old Brunswick County Jail
Introduction
Across from a historic cemetery, stands a two story brick building that was used as the county jail. It was built in 1904 for only $6,738 to hold the criminals of the city of Southport and Brunswick county for more than 70 years. Visitors can visit the now museum to get a look into the history of 20th century law enforcement.
Images
Jail living quarters where jailers and their families lived downstairs below the prisoners.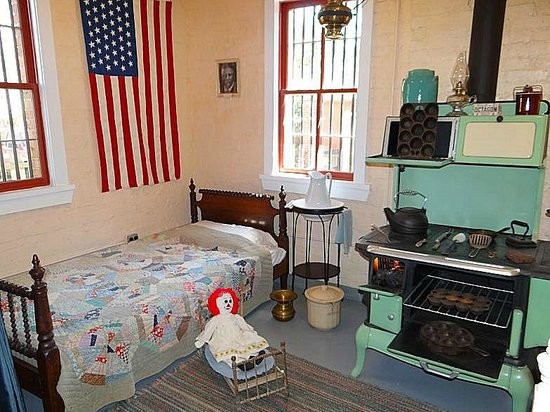 Prisoner drawing inside Old Brunswick County Jail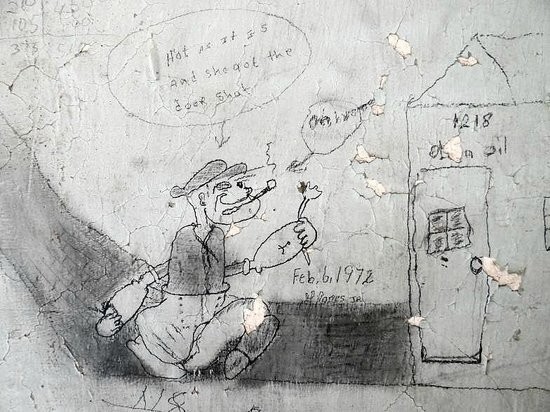 Old Brunswick County Jail
Information placard at the jail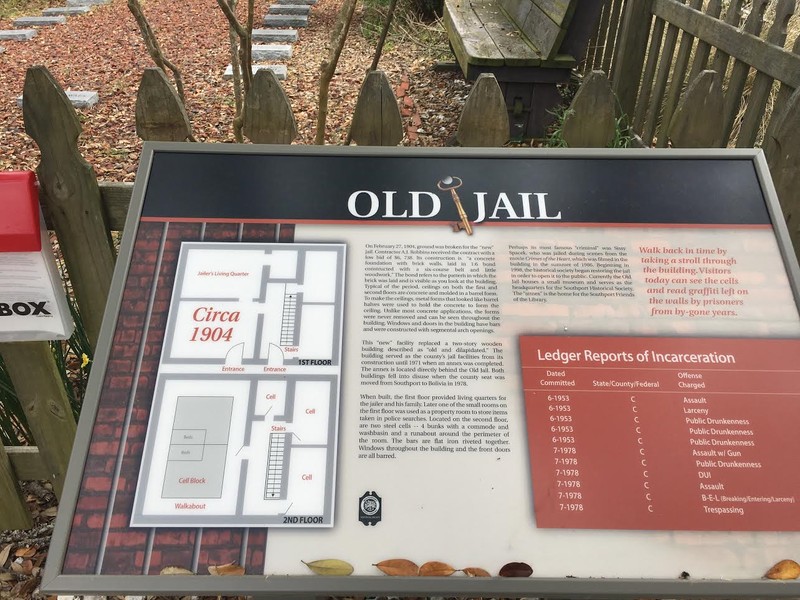 Backstory and Context
On the corner of Rhett and Nash Streets sits the historic Brunswick County jail. It is across from another historic site, the Old Smithfield Burying Grounds. The jail was first built in 1904 to recover the old jail when it was ruined by a fire.

Although it is no longer booking criminals, visitors can take a tour and get the feel of what it was like to live out a sentencing. The jail contains a runabout and two cells on the second floor with four bunks, a wash basin, and a commode in each cell. The cells are made up of flat cast iron bars attached together, which also covered the windows. The downstairs housed the jailer and his family.

After looking at where the prisoners lived, visitors can take a look into what they did in all the time they spent there. There is original prisoner graffiti written on the walls on the second floor. After all the convicts left for good, the jail was used as part of a movie set. In a 1986 film, actress Sissy Spacek starred in "Crimes of the Heart" where multiple scenes were shot inside the jail cells.

Since 1984, the Southport Historical Society has managed the jail and led restorations in recent years. From 2004 to today, the jail is the museum and headquarters of the Southport Historical Society. Today, visitors can go to the jail site and take a tour of the jail given by a local and be told insider stories of the prisoners and events that went on during the 70 years of operation.
Sources
Cox, Dale. Old Brunswick County Jail, North Carolina. Explore Southern History. January 14, 2011. Accessed February 16, 2017. http://www.exploresouthernhistory.com/southportjail.html.

Old Jail. Southport Historial Society. Accessed February 16, 2017. http://www.southporthistoricalsociety.org/projects/the-old-jail.

Photo Credits: www.google.com
Some pictures taken by Morgan Eggleton