Falls Park
Introduction
Visitors to Falls Park can enjoy scenic views, historic sites, and refreshments inside of the old Light and Power Company building. Other historic sites found within the park include a dam and Queen Bee Mill. All of these can be seen from the five story tower attached to the visitor information center.
Images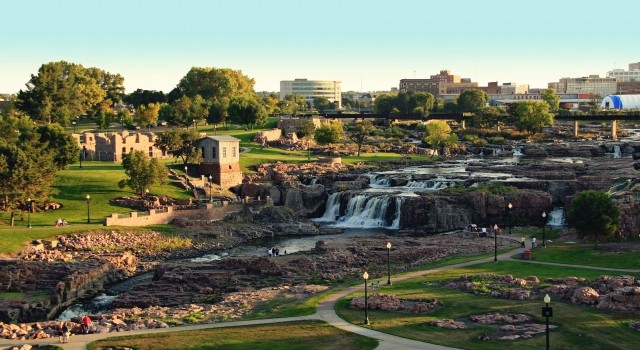 A five-story, 50 ft. viewing tower offers a breathtaking, panoramic view of the park and city.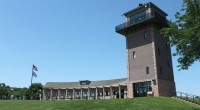 Backstory and Context
The city of Sioux Falls was founded in 1856. The civilization revolved around the water falls long before the creation of Sioux Falls as a city. Native Americans were the first ones to experience the majestic nature of these falls and share tales of the waterfalls with Europeans.

This become not only a site of recreation after the founding of the city but of industry as well. The remains of the Queen Bee Mill can be found by the falls. Nearly $500,000 was spent on the building of this seven-story structure before its opening on October 25, 1881. The mill was created to help farmers avoid the cost of shipping wheat to Minnesota or Wisconsin for processing. The Queen Bee Mill was powered and neighbored by the Light and Power Company. This building was completed in 1908 and housed three 500-kilowhat hydroelectric generators ran by the Queen Bee Mill's dam and millrace. The Light and Power Company abandoned in 1974 and the millrace is now used as a viewing platform.

Other than the historic sites associated with Falls Park, there are other reasons to visit this site. It is also a beautiful park that allows for relaxation and entertainment. On the weekends the park puts on an amazing laser lights show. You get to see a laser lights show in the park as the waterfall is lit up in a variety of colors. They also project animations on the side of the Falls Overlook Cafe as a part of the telling of the city's history. This park is fun for people of all ages and has something for everyone.
Additional Information