The Hernandez-Capron Trail
Introduction
Picture yourself living in eastern Florida over 180 years ago, maybe around 1837, what you see today is not what you would see in most parts of Florida. If you go little further inland around Brevard county area and especially around the northern part such as the Titusville area, you will see the terrain really hasn't changed to much from 180 years ago. There is still similar terrain and many of the same types of plants and animals that would've been there then. What you don't know or maybe don't think of is when you are walking down the sidewalk or driving around town may have past history story with it.
Images
Joseph Marion Hernández (May 26, 1788 – June 8, 1857) He was the first Delegate from the Florida Territory and the first Hispanic American to serve in the United States Congress.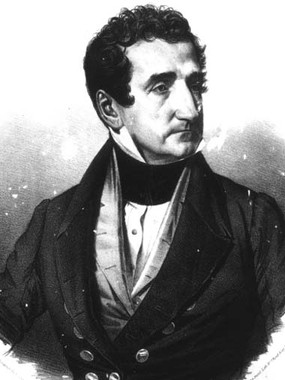 Marker Number: F-69 Date: 1962 County: Brevard Marker Type: Roadside
A concept of the Hernandez-Trail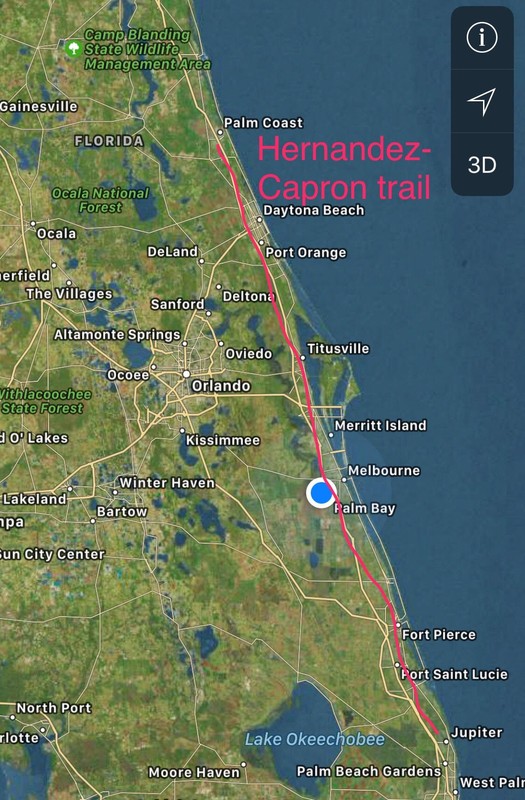 Backstory and Context
Almost 200 years ago, The Territory of Florida was recently ceded from Spain (1821). There were very few people living between St Augustine and southern Florida; most of those were Seminole Indians who were being pushed deeper and deeper into the Everglades; most of the European and American settlers had recently been burned out and run off by the Seminoles, precipitating the Second Seminole War (1835-1842). There were no roads, railroads, or intercostal waterway; movement of people and freight into southeastern Florida was limited to Indian trails, the St. Johns River, or the Atlantic Ocean; but trails were barely wide enough for single file pedestrian traffic, the St. Johns River only provided passage to the Lake Monroe/Fort Mellon (aka Sanford) area, and the Atlantic coast had very few inlets and was very vulnerable to enemy ships based in the Caribbean region.
Joseph M. Hernandez (1792-1857), a life-long resident of the St. Augustine area, and a Brigadier General in the Army, was the first Hispanic Member of Congress and the first Territorial Delegate to represent Florida, bridged his state's cultural and governmental transition from Spanish colony to U.S. territory. Hernández fought first for Spain and later for the United States; he also earned—and lost—a fortune that included three plantations and numerous slaves. General Hernandez was given an assignment around Dec., 1837. His job was he had to build a military road from St Augustine to Ft pierce. Without any construction roadbuilding equipment and a fierce enduring task, it was conducted during the Second Seminole War, and roadbuilding was so close to approaching the main area of Seminole territory, as he worked his way southward. Although it was built during the winter months, thus minimizing problems with hot, humid weather and malaria-carrying mosquitoes, construction of the road must have been quite a challenge for General Hernandez' men, especially with the ever-present concern with attacks from Indians and or wild animals.
Most of the road was constructed along the prehistoric dune line known to geologists as the Atlantic Coastal Ridge most of it all being high and dry terrain, and about a mile or so, west of present-day U.S.1. The first road from St. Augustine to the Ft. Pierce area was at least 16 feet wide, for mule wagons and ox carts, and over 200 miles long. It was road to connect forts, on behalf of the effort to remove the Seminole Indians, and eventually to support colonization of southern Florida.
The same road about a decade earlier, was partially cleared by Col. James Gadsden's troops, as far south as the St. Lucie River. Hernandez took it to Fort Capron, near that river. Gadsden and Hernandez both most likely followed the same trail used by the Seminoles for over a century, and by generations of native Ais and Timucuan Indians prior to that, as they traveled north and south, by horse or on foot, along the Rio de Ais now known as the Indian River. After 1838, the Hernandez Trail was rarely used for military use, in fact was used by many settlers as a main route for traveling. Traffic on the Hernandez Trail slowed down dramatically as new roads and new sources of travailing became more prevalent. Some portions of the trail are still visible on aerial photos, trail markers, throughout Brevard County and Indian River County.
Sources
Brown, D. W., et. al. Water Resources of Brevard County, Florida. United States Geological Survey, Tallahassee, 1962.
Carter, Clarence E., ed. Territorial Papers of the United States, Vols. XXII-XXVI (Florida), Washington, D. C., 1956-1965.
Shoffner, Jerrell H. History of Brevard County, Vol. I, Brevard County Historical Commission, 1995.
Tebeau, Charlton W. A History of Florida, Univ. of Miami Press, 1971. 4/19/96
Additional Information