All Souls Catholic School and Church
Introduction
This historic school and church dates back to 1887 when Father Swembergh, the first missionary of the Diocese of St. Augustine to reside in this area of Florida, organized a congregation. Swembergh worked as a resident priest and took over the four-year-old Central Florida missions in Maitland and Sanford that began in 1882 by Father McFaul. McFaul was a priest from St. Louis and was called to Orlando in 1886. When Father Swembergh arrived, he held mass at Doyle's Hall which is still a part of the school today.
Images
1937 Church and 1887 Church (bottom)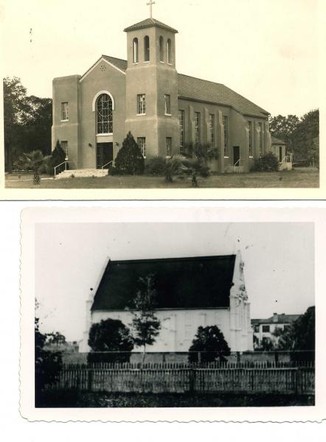 This rare photographic postcard above, shows the rectory built in early 1911, the first church (constructed in 1887) and convent/school.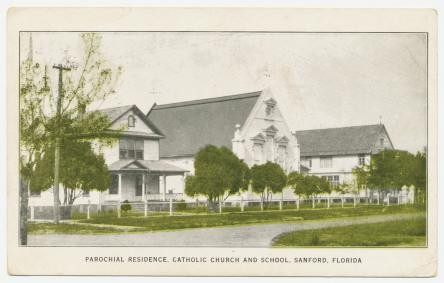 The photo was taken at the time of the church fire by the Sanford Fire Department.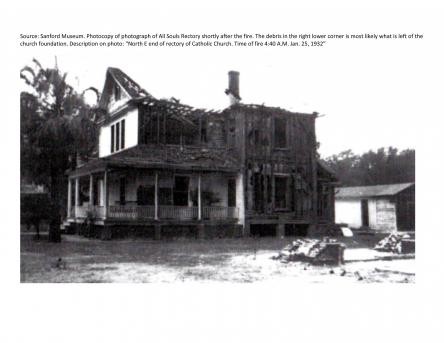 All Souls Catholic School in 1887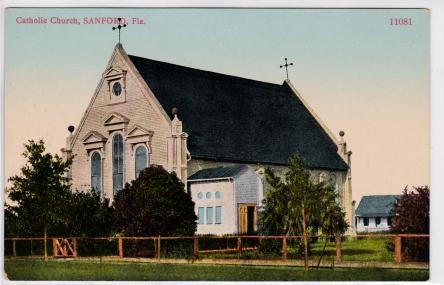 Backstory and Context
Historic Sanford was the site of the Fort Mellon U.S. Army post during the Seminole wars of the 1830s'. The town of Mellonville established when settlers moved into the area. The town became a distribution point for goods essential for the growth of Central Florida due to the advent of commercial steamboat services. In 1870 Henry S. Sanford purchased the land west of Mellonville and planned to create a new city called "the Gate City of South Florida" in hopes that it would become the transportation hub for all Southern Florida. In 1880 Henry S. Sanford formed a land company in London which encouraged investments in the new city and construction also began on the South Florida Railroad with a terminus in Sanford. "By 1884 Sanford was a prosperous town with Wharves, a railroad station, and a large hotel". In 1887 there was a fire that spread across the wooden buildings on the east side and the buildings that burned down were rebuilt with brick, and after this fire is when All Souls Catholic School and Church was first built. (City of Sanford)

The All Souls cornerstone was laid on July 4, 1887. The Sanford mission was tended by Father Fox of Orlando until Rev. Patrick J. Bresnahan became the first resident priest in 1911. Father Bresnahan was sent to Tallahassee by Bishop Curley in 1915, where he was influential in combating anti-Catholic state legislation. After Father Bresnahan left All Souls, his ministry was chiefly to non-Catholics for five years. "But Sanford Catholics dated the time when all the sacraments were administered regularly to them from 1911, when Father Bresnahan arrived". (All souls catholic church)
The first school that organized in 1913 closed after one year of operation. In the late 1920's, the All Souls Catholic Women's Club began and was affiliated with the DCCW. In 1951 the Holy Name Society reactivated and became the Men's Club. Between September 1931 and January 1932 the original church burned down, which happened to be in the midst of Florida's economic depression. The parishioners had to work five years to rebuild a new church on the same property with their own hands. During the pastorate of Rev. Richard J. Lyons, "All Souls was once more established and staffed with the first Sisters of Christian Charity to serve in Florida". In a garage on land purchased by the parish, the school opened up on September 7, 1954. In 1960, a permanent school and hall were built. In 1981, a multi-purpose center and an addition on the school were built as well. Sisters of St. Joseph of St. Augustine, who were originally from France and brought to Florida in 1866 and gave their time to education, which included instruction of students who were deaf, blind, developmentally disabled, or otherwise handicapped, were staffed at All Souls from 1978 to 1983 and Laity carried on until the arrival of Ursuline Catholic nuns in 1987. (All souls catholic church)
Near Sanford, Mr. Sanford had developed a Belair which is "a citrus grove and experimental garden" where he tested the adaptability to Florida's climate on more than 140 varieties of citrus. "During the winter of 1894-95, the citrus industry received a serious blow when freezing temperatures destroyed the year's entire crop" causing many citizens to leave the area because of economic ruin. Some people did end up staying and harnessed artesian wells and developed a sub irrigation system that helped to permit commercial agriculture. Due to this commercial agriculture, "by the 1st decade of the 20th century, Sanford was one of the largest vegetable shipping centers in the U.S." and was named the "Celery City" for the most successful crop. When Seminole county was officially established on April 25, 1913, which was almost a year after the first school was organized, Sanford was appointed as the county seat and Sanford participated in the growth of Central Florida in the boom and bust years that were to come. "From 1942 to 1968, the Sanford U.S. Naval Air Station drew many residents away from agriculture and brought new people to the city" and today the old Naval Air Station is Sanford's International Airport. Between those years, The permanent School that is still standing today was built and opened. (City of Sanford)
Sources
"History." All Souls Catholic Church. N.p., n.d. Web. 01 Mar. 2017. <https://allsoulssanford.org/history>.
"History and Historic Preservation." City of Sanford : History and Historic Preservation. N.p., n.d. Web. 01 Mar. 2017. <http://www.sanfordfl.gov/index.aspx?page=48>.
"All Souls Catholic Church." Orlando Memory. N.p., n.d. Web. 01 Mar. 2017. <http://orlandomemory.info/memory/organization/all-souls-catholic-parish-history>.
Additional Information