Frank Pepe Pizzeria Napoletana (Pepe's)
Introduction
Originally from Italy's Amalfi coast, Frank Pepe (1893-1969) established his famous pizzeria in New Haven's Wooster Square neighborhood in 1925.
Images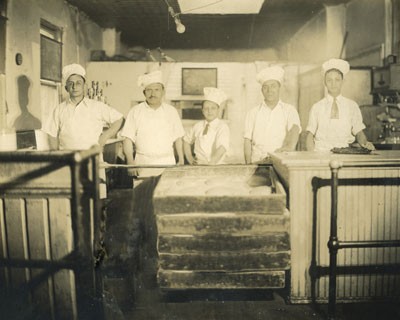 Backstory and Context
Frank Pepe immigrated to the United States as a teenager in 1909. After returning to Europe to fight for Italy in WWI, he married Filomena Volpi and moved back to New Haven once again. They opened a bakery and then began selling pizza as well. At first, only two pizzas were available: 1) tomato, cheese, garlic, oregano, and olive oil, and 2) anchovy.

Pepe's business expanded, growing to include several of his family members, including his nephew Salvatore, founder of nearby Sally's Apizza. In 1937, Pepe moved the business one building over to its current location. He and his family lived above the restaurant. They developed a distinctive New Haven-style pizza (with a thin crust, as opposed to Chicago's deep dish variety). In the 1960s, the innovative White Clam Pizza made an appearance on the menu and has come to be associated with Pepe's and with the city of New Haven.

Pepe's descendants own and run the business today. As his grandson Gary Bimonte explained in an interview, "When my grandfather [Frank Pepe] died, it just so happened that — and this is back in 1969, when this was unheard of — my mother had a divorce. She was a single mother. A lot of times when she was working down at the restaurant I tagged along... I'd be down there three days or nights a week. I'd be the kid that was wiping trays and folding boxes and then I started washing dishes as I got a little older. I've been there since I was 12. This is actually my fortieth year."
Sources
Galarza, Daniela. "After 90 Years, New Haven Pizza Icon Frank Pepe Eyes Massive Expansion." Eater. June 10, 2015. http://www.eater.com/2015/6/10/8752911/frank-pepe-pizzeria-new-haven-expansion-apizza.

"History." Frank Pepe Pizzeria Napoletana. Accessed February 15, 2017. http://www.pepespizzeria.com/pages/Historic.php.



Additional Information