Alfred E. Smith Building
Introduction
This Art Deco skyscraper was once said to be the tallest building between New York City and Chicago. Completed in 1928 and dedicated in 1930 it has 34 floors. The names of every county in New York State are engraved around the perimeter of the building. Originally called simply The State Office Building it was renamed in 1945 in honor of former governor Alfred E. Smith.
Images
Imposing facade facing the Capitol building.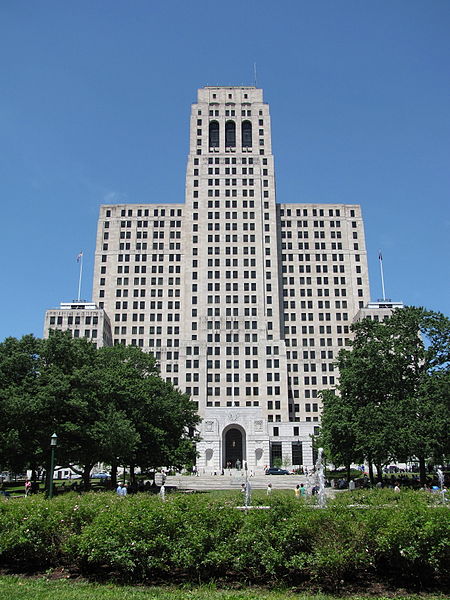 The buildings namesake Al Smith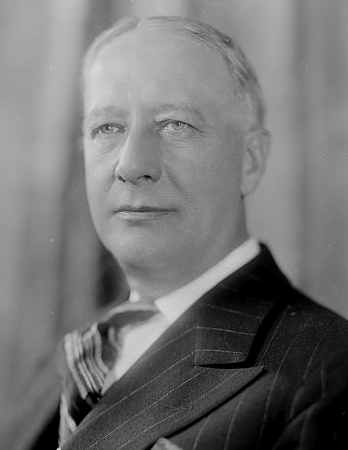 Backstory and Context
The Architects of this building were William Haugaard and Sullivan Jones. Jones had come to Albany several years earlier to work on the adjacent New York State Education Department Building. A tunnel connects the Smith building with the Capital Building across the way.

The State Office Building was renamed in 1945 in honor of Alfred E. Smith. Smith was a four-term governor of New York State. He was a strong advocate of Progressive ideas and was the first Roman Catholic to run for President when he ran in 1928.

The building was extensively renovated in the early 2000s for a cost over one million dollars. Current occupants include the State Civil Service, The State Banking Authority, The State Liquor authority and the Division of the Budget.
Sources
Waite, Diana S. Albany Architecture: A Guide to the City. Albany: Mount Ida Press, 1993, 82.

A Plan for the State to Remake A Part of Downtown Albany- Before the Empire State Plaza. All Over Albany. June 22, 2015. Accessed February 10, 2017. http://alloveralbany.com/archive/2015/06/22/state-plan-downtown-albany-pre-esp.

Governor Rededicates Historic Alfred E. Smith State Office Building. Vote Smart. August 16, 2006. Accessed February 10, 2017. https://votesmart.org/public-statement/201304/governor-rededicates-historic-alfred-e-smith-state-off...

Photo of Building
By Kurtman518 (Own work) [CC BY-SA 4.0 (http://creativecommons.org/licenses/by-sa/4.0)], via Wikimedia Commons

Photo of Al Smith, Library of Congress, Public Domain http://www.loc.gov/pictures/resource/hec.21487/