Jenny Wiley Gravesite
Introduction
Near the small town of River, Kentucky is the gravesite of Appalachian folk legend Jenny Wiley. Her captivity at the hands of Native Americans and her eventual escape became a popular story among Appalachian residents and has been passed down for generations. Her grave is located down a small trail to the left of River's Volunteer Fire Department. The original stone, now deteriorated, has been replaced with a larger monument detailing Jenny's ordeal.
Images
Jenny Wiley's new gravestone contains a plaque recounting the story of her captivity.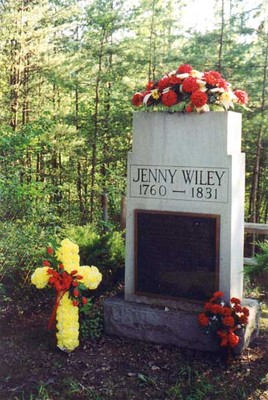 The original gravestone is caged to protect it from potential damage from visitors.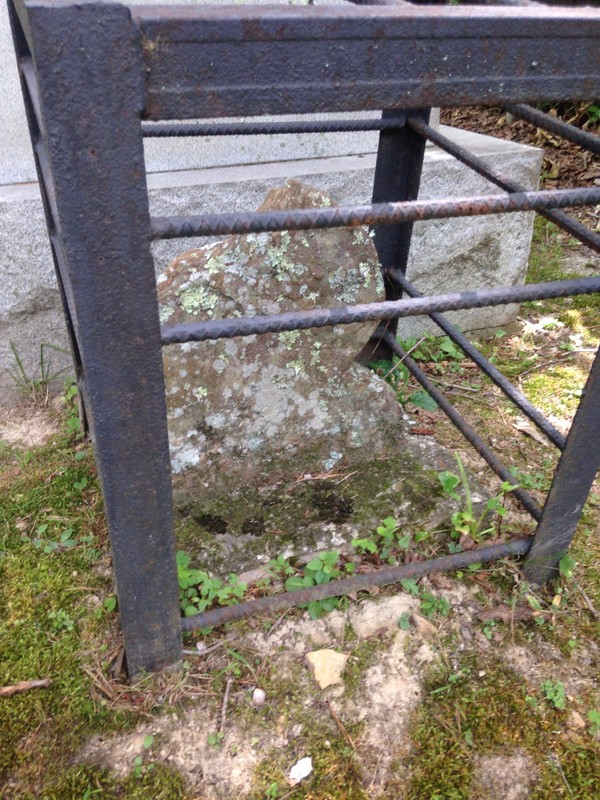 The grave is located down the trail on the left side of the fire station.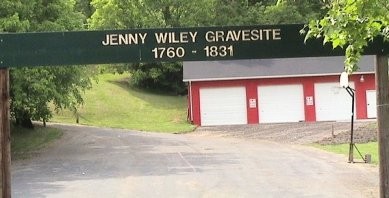 Backstory and Context
Jenny Sellards was born in 1760 in Pennsylvania. Her family later moved to the Walkers Creek area in Bland County, Virginia. In 1778 she married Irish immigrant Thomas Wiley, with whom she would have four children over the next eleven years. In October of 1789 Thomas left on a trip to barter for supplies. Jenny, who was pregnant with her fifth child, was staying in their cabin with her children and fifteen-year old brother. Around that same time a local family, the Harmons, had gotten into a skirmish with some Native Americans that left two or three natives dead. A band of natives soon returned seeking revenge. They ended up attacking Jenny Wiley's cabin, mistaking them for the Harmon family. In the ensuing struggle Jenny's brother and all of her children except for a one-year old were killed. The natives fled, taking Jenny and her child with them as captives.
Accounts differ as to how long Jenny Wiley was in captivity, ranging from a few months to eleven months. Her captives forced her on a long and grueling journey through Virginia and towards Kentucky. At some point her toddler died but two different versions have emerged. One is that the child fell ill and the natives killed it while Jenny was asleep. Another is that while being pursued by search parties, the natives feared that the child was slowing them down, so they took it from Jenny and bashed its head against a tree. Soon afterwards Jenny gave birth to her fifth child. Her captors decided to test the baby's strength by placing it on a raft in the river. If the baby cried it would be killed, but if it remained silent then it would grow up to be a great warrior. The baby promptly cried upon being placed in the water and was then killed. The party eventually stopped at Little Mud Lick Creek in Johnson County, Kentucky, where they stayed for several months.
While captive in Johnson County Jenny was forced to perform many tasks such as carrying water and collecting firewood. She was kept under constant surveillance but eventually her captors began to loosen their restrictions on her. Seizing the opportunity Jenny managed to escape one night and make her way to a nearby trading post. From there she was escorted back to Virginia and reunited with her husband Thomas. They would go on to have five more children. Around 1800 the family left Virginia and settled in Johnson County where Jenny had been held captive a decade prior. She lived many more years and died in 1831. Her story of tragedy and perseverance would become a popular Appalachian legend. A stream in Johnson County is named Jenny's Creek in her honor, as well as the Jenny Wiley State Resort Park near Prestonsburg and the annual Jenny Wiley Stakes horse race in Lexington.
Below is a link to a video of Siddie Moore Perry, she is the great great granddaughter of Jenny Wiley. She is recounting the story as told to her by Jenny Wiley's granddaughter Charlotte Williamson Web, Siddie's grandmother. According to the family account in the video the youngest of Jenny's children was killed just outside her house when she was captured. The natives took the baby from her arms and slung it against a beech tree. She also says that there were only 3-4 natives that were involved in the raiding party. One of the reasons that her captors did not kill Jenny on the spot is because the leader of the party thought that she had native blood; as well as she could weave clothing for them. During her escape she came out at a place called Marrowbone, WV where a stranger helped her across the river there. While they were crossing the river the natives saw them crossing and began shouting at them. The stranger then got his musket and fired at them scaring them away. Jenny was later reunited with her husband Tom.
Sources
"Jenny Wiley's Escape From Indians Recalled By Mrs. Vinson's Death." The Wayne County News, December 09, 1926. Accessed February 9, 2017.

Images obtained from Find A Grave.
Additional Information