St. Stanislaus Church
Introduction
Polish immigrants in New Haven founded the St. Stanislaus Society in 1896, and the parish was established several years later. After multiple location switches (from a German church, to a hall on Wooster Street, to a converted grocery store, and then to a Swedish church), Pastor Anthony Mazurkiewicz found an available lot at the intersection of State Street and Eld Street that would serve the needs of the growing parish. Church construction began in 1911, and the first mass was held in 1913. The parish school met first in the church basement, and then in a new school building as St. Stanislaus continued to expand. The church interior is beautifully decorated and has been recognized by the New Haven Preservation Trust.
Images
View of St. Stanislaus Church (source: Burt Westermeier)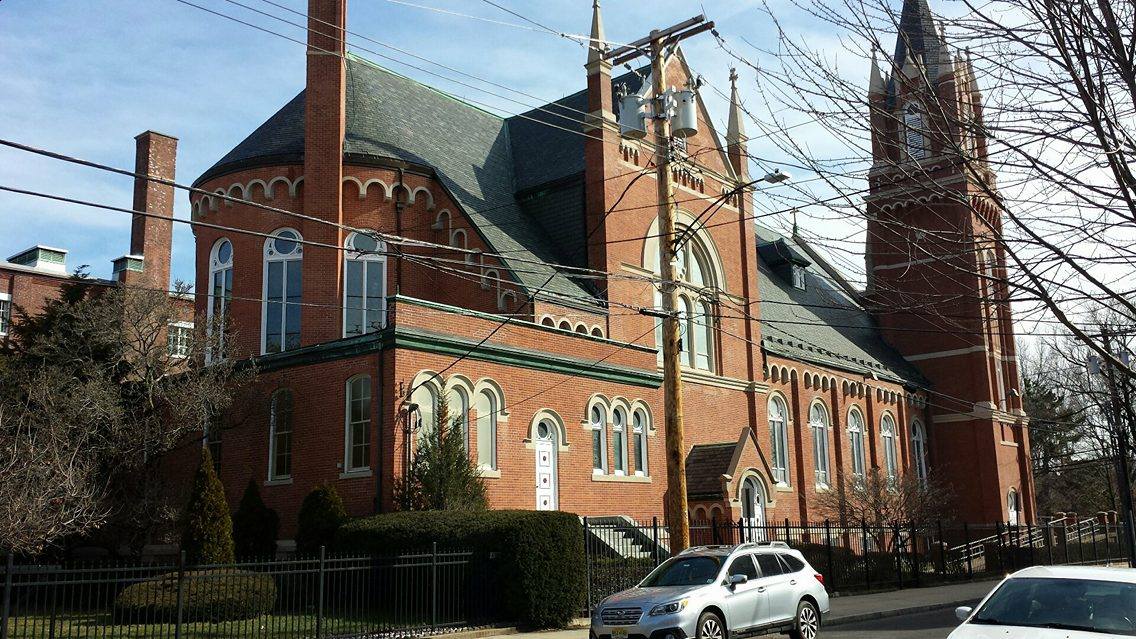 Backstory and Context
During the 1920s, artist P. Mazur painted a number of frescoes inside the church. Stained glass windows were imported from Aachen, Germany and installed. During the 1940s, Vincent Murdo was tasked with further enhancing the church interior, using Poland's conversion to Christianity during the Middle Ages as his inspiration. After the Second Vatican Council in the 1960s, a new altar was built to conform to the instruction that the priest should say Mass while facing the congregation.

The church is named in honor of St. Stanislaus, a bishop of Krakow and martyr who lived c. 1030-1079. According to the traditional narrative, Stanislaus admonished King Boleslaus II for abducting a nobleman's wife. Boleslaus responded by ordering his guards to kill the bishop while he said Mass. The guards balked, so Boleslaus ran in and did it himself. Stanislaus was canonized in 1253. He remains one of the most famous Polish saints, and a popular namesake for Polish and Polish-American churches.

St. Stanislaus Church reflects the vibrancy of the Polish community within New Haven. Numerous Polish immigrants, often seeking jobs, settled in Connecticut during the nineteenth and twentieth centuries--so many moved to New Britain, Connecticut that it became known as "Little Poland." In these lively communities, the parish church held a central role, facilitating social events, promoting Catholic education, and sustaining cultural traditions.


Sources
Archdeacon, Thomas. Becoming American: An Ethnic History. New York: Free Press, 1983.

Burns, Paul. Butler's Saint for the Day. Revised Edition. Collegeville, MN: Liturgical Press, 2007. p. 164-165.

Additional Information