New York State Executive Mansion
Introduction
What is now the home to the governor of New York did not begin as such. Built in 1856 by a local banker, it served as a private residence until it was rented by Governor Samuel Tilden in 1875. It was then purchased by the state in 1877. It has since served as the home to 32 of New York's 56 governors, to include future presidents Grover Cleveland and Theodore and Franklin Delano Roosevelt. The small private home expanded over the years and now encompasses 40 rooms, 29,500 square feet, and 3.5 acres. It is open for free guided tours and was added to the National Register of Historic Places in 1971.
Images
The Executive Mansion has grown since it was first built in 1856 as a private residence.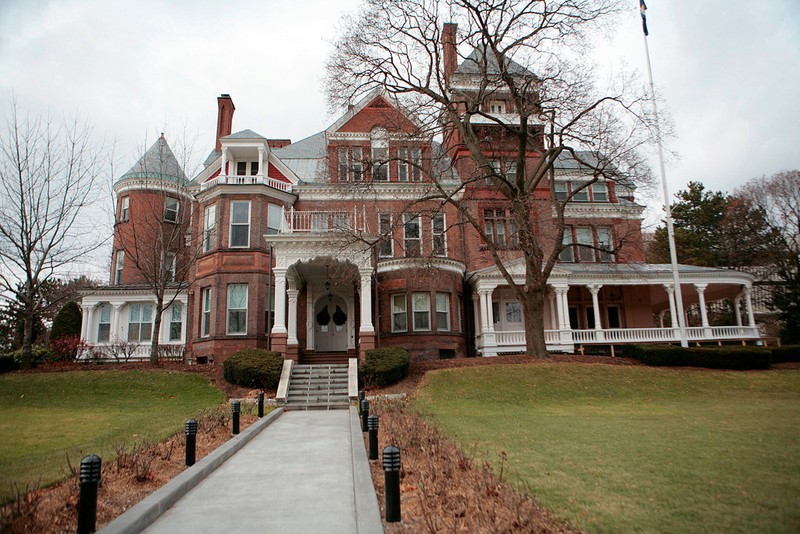 This aerial shot reveals how large the mansion and compound have become, to include an outdoor pool and tennis court.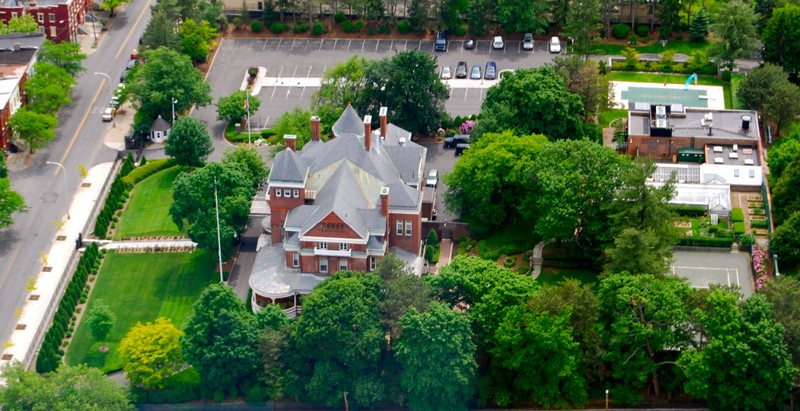 This ornate foyer and staircase greet the governor and visitors as they enter the mansion.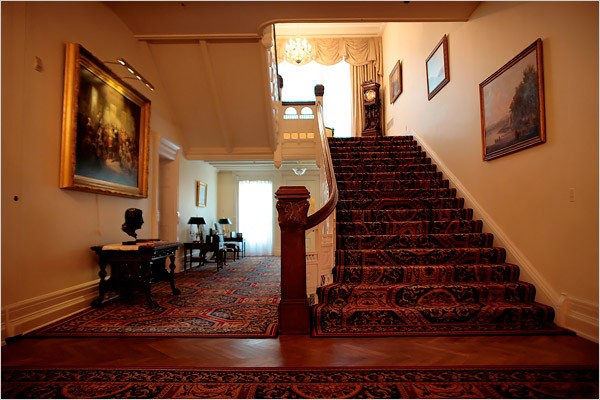 Governor Al Smith and First Lady Catherine Smith on the steps of the Executive Mansion.
Governor Nelson Rockefeller (right) and Lt. Gov. Malcolm Wilson oversee the renovations of the mansion after the 1961 fire.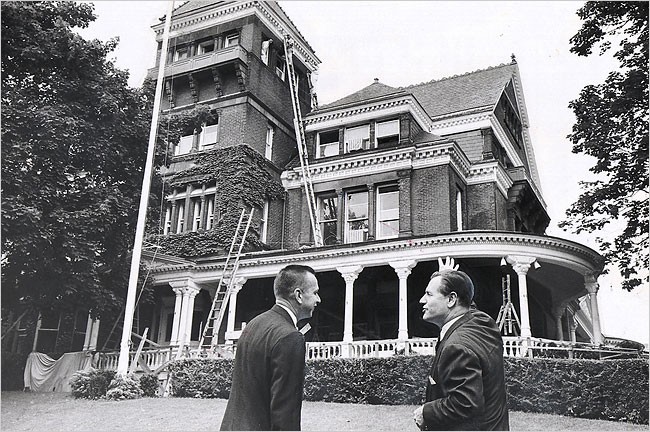 Backstory and Context
Architecturally, the Executive Mansion is an eclectic collection as it has gone through numerous expansions and renovations. Originally a small Italianate structure, it incorporated Second Empire elements during an 1860s renovation. Since then, both Queen Anne and Victorian elements have been added, giving the mansion a unique architectural amalgamation.
After being rented by the state for two years during Governor Tilden's tenure, the next occupant, Governor Lucius Robinson convinced the legislature to purchase the home in 1877 for a cost of $45,000. Subsequent governors and their first ladies then altered the mansion to fit their needs. For example, Governor Teddy Roosevelt added a gymnasium, while his cousin, Franklin, added an indoor pool for obvious reasons. Governor Al Smith added a small zoo and Governor Nelson Rockefeller installed the mansion's tennis courts. In 1983, First Lady Matilda Cuomo, with the assistance of the Executive Mansion Preservation Society, had the first two floors renovated after leading the efforts to raise the private finds to do so. Later, First Lady Silda Wall Spitzer initiated efforts to "green" the mansion in 2007. Her work was continued by First Lady Michelle Patterson and the building was awarded a LEED Gold Certification in 2009.
In 1961 the mansion suffered extensive fire damage and thoughts were given to constructing a new one in the Albany suburbs. The fire forced Governor Nelson Rockefeller, First Lady Mary, Superintendent Robert Bennett and two cooks to flee the burning mansion in their nightclothes via ladders. Despite that experience and losing most of his art collection, Rockefeller led the charge to save and restore the existing mansion that had, up to that time, been home to three U.S. presidents, three vice presidents (Levi Morton, Teddy and Franklin Roosevelt. Rockefeller would go on to be Gerald Ford's vice president in 1974) and four unsuccessful presidential nominees (Samuel Tilden, Charles Evans Hughes, Al Smith and Thomas Dewey).
Today, the mansion contains some of its original Renaissance Revival furniture in the Reception Hall as well as the dining table and chairs. It also is home to a 1912 Tiffany's sterling silver set. Another valuable piece within the mansion is one of Franklin Roosevelt's wheelchairs. And while the mansion does not own any artwork, it is furnished with numerous paintings and sculptures on loan from museums throughout the state.
Sources
"Explore the Governor's Mansion." New York State. Accessed February 8, 2017. https://www.governor.ny.gov/explore-governors-mansion
"Behind the gates: A look inside the Executive Mansion." Discover Albany. June 19, 2013. Accessed February 8, 2017. http://albanycvb.blogspot.com/2013/06/behind-gates-look-inside-executive.html#!/2013/06/behind-gates...
Cianfarano, Stan. "New York State Executive Mansion." Warren County Historical Society. February 1, 2014. Accessed February 8, 2017. http://www.warrencountyhistoricalsociety.org/publications/back-story/rewind-back-issues-2014/rewind-...
Confessore, Nicholas. "A Green Face-Lift for the Governor's Mansion." New York Times. May 2, 2007. Accessed February 8, 2017. http://www.nytimes.com/2007/05/02/nyregion/02mansion.html
Additional Information