Lillian & Albert Small Jewish Museum
Introduction
Operated by the Jewish Historical Society of Greater Washington, the Lillian & Albert Small Jewish Museum is dedicated to preserving and celebrating Washington's Jewish history. he museum collection consists of photographs, personal papers, oral histories, ritual objects, congregation and synagogue records, books, and ritual objects. The museum is located in the historic former Adas Israel Congregation synagogue, which was built in 1876 and is the oldest remaining synagogue in the city. The museum is presently closed because it is in the process of being relocated one block south to the intersection of 3rd and F St. NW- one of many parts of the Capital Crossing complex that is being constructed in this part of the city. A museum addition will be constructed as well as part of the process. T
Images
Rendering of the new Lillian & Albert Small Jewish Museum that will be constructed, including the synagogue, which was built in 1876.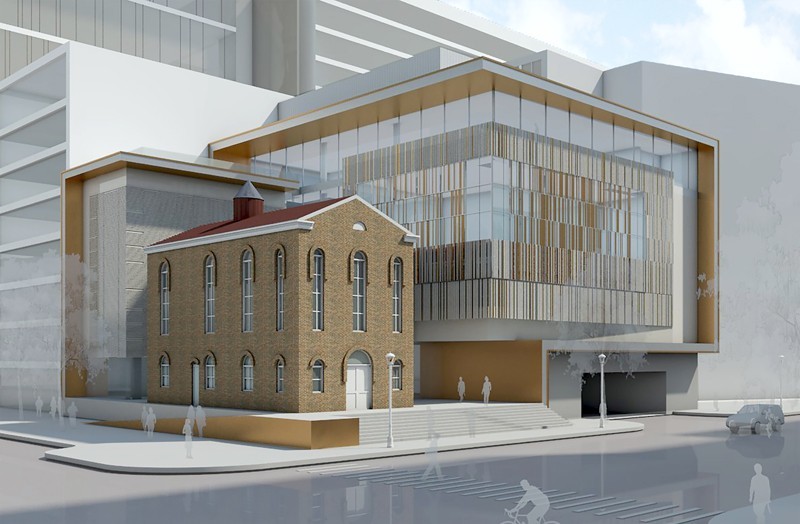 Backstory and Context
Adas Israel Congregation was established in 1869 as an Orthodox community. Its members came from the
Washington Hebrew Congregation
, which followed other Jewish congregations in adopting Reform practices to better assimilate into American life. The Adas Israel synagogue, which is listed on the National Register of Historic Places, was dedicated on June 9, 1876. The president at the time, Ulysses S. Grant, attended the ceremony, marking the first time in American history that a president visited a synagogue.
The congregation moved to another location in 1908 and the synagogue was then used for commercial purposes. Interest in the building grew among Jewish congregation members in the late 1950s. In the mid-1960s, the Metro system wanted to demolish the building. Thankfully, this did not happen and the building was moved to 3rd and G St. The move to F Street will occur in 2017.
Sources
"Illustrated History of 1876 Synagogue." Lillian & Albert Small Jewish Museum. Accessed February 8, 2017. https://www.jhsgw.org/history/synagogue.

Taylor, Nancy. "Adas Israel Synagogue." National Park Service - National Register of Historic Places Nomination Form. https://npgallery.nps.gov/pdfhost/docs/NRHP/Text/69000288.pdf.




Additional Information