Grove Street Cemetery
Introduction
When Yellow Fever swept through New Haven in 1794 and 1795, the New Haven Green, home to approximately 5000 burials, ran out of space. In 1796, Grove Street Cemetery was born to handle the excess, thanks largely to the efforts of James Hillhouse (whose name you might recognize from the nearby Hillhouse Avenue). One of the oldest cemeteries with a layout structured around family plots, Grove Street Cemetery is divided by a grid of paths and streets, shaded by numerous trees. During the 19th century, architect Henry Austin and sculptor Hezekiah Augur designed the distinctive walls and Egyptian Revival-style entrance gate, carved with the declaration, "The dead shall be raised" (1 Cor. 15:52). Notable people buried here include Eli Whitney (1765-1825; inventor of the cotton gin), Noah Webster (1758-1843; lexicographer known for his dictionary), and numerous Yale presidents and professors.
Images
View of Grove Street Cemetery (source: Wiki commons)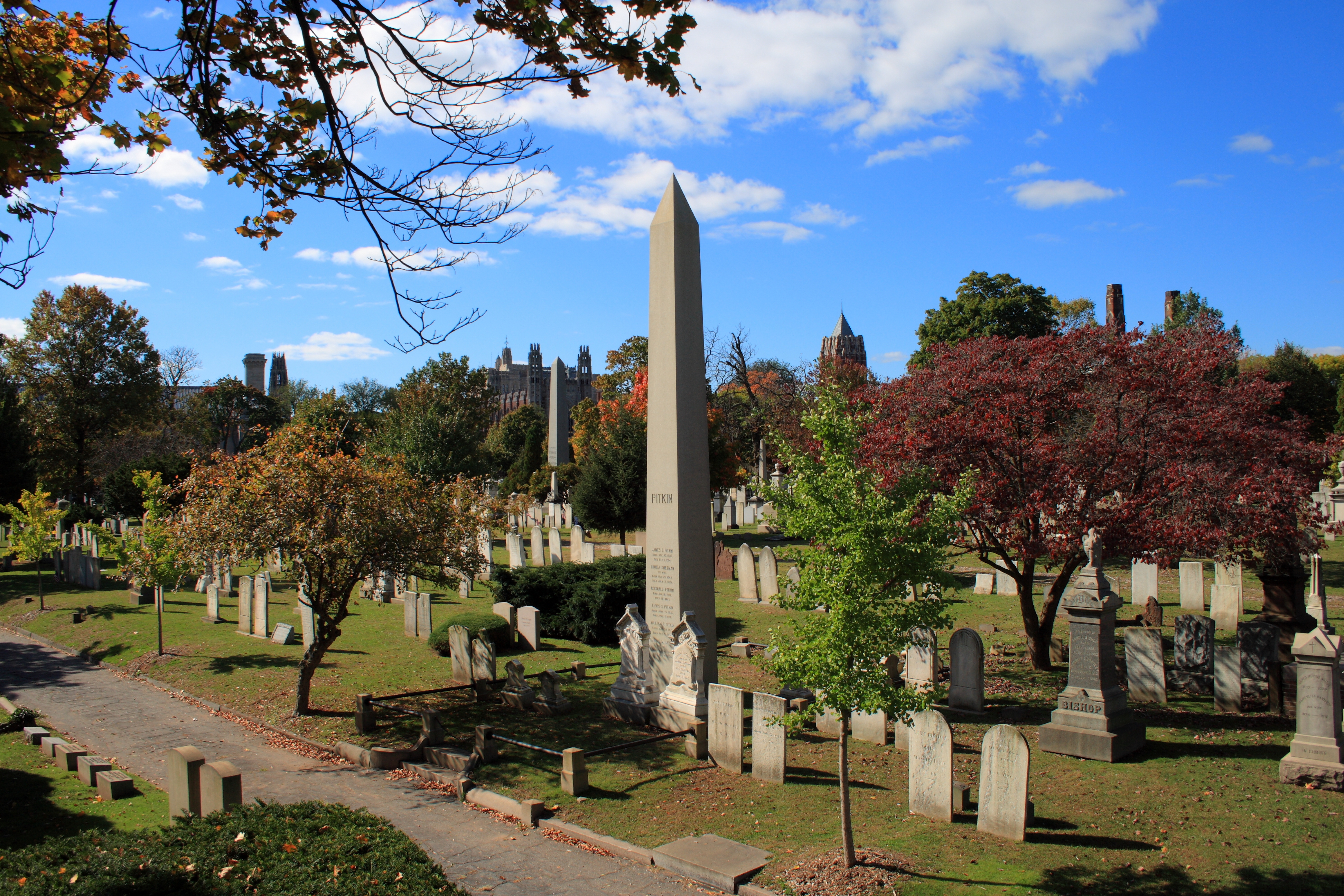 Family plots in the cemetery (source: Wiki commons)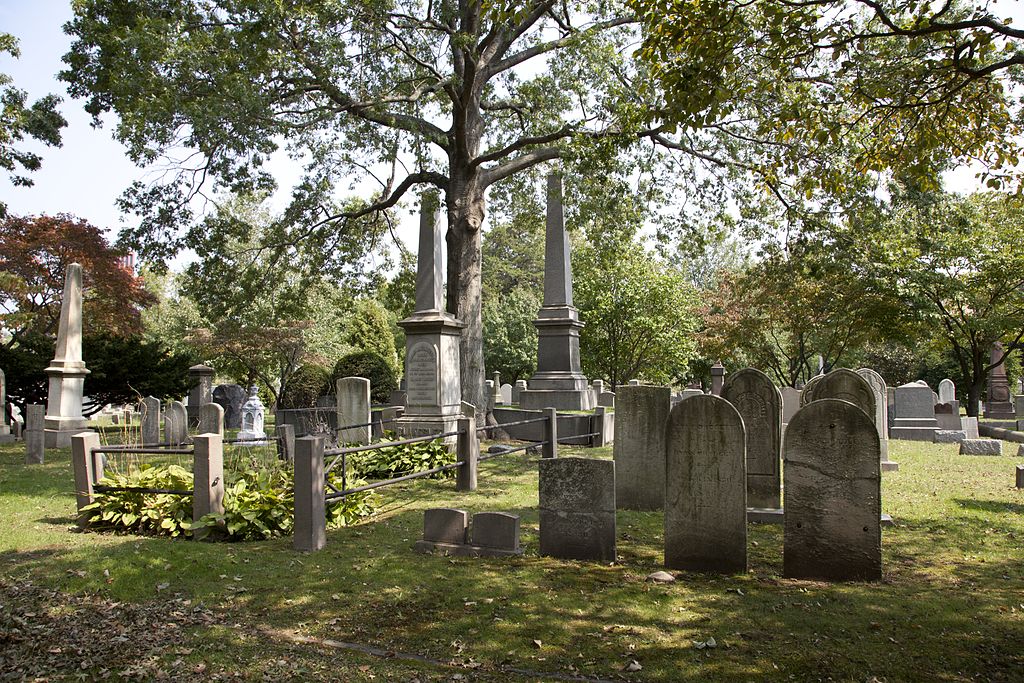 Entrance gate to Grove Street Cemetery (source: Burt Westermeier)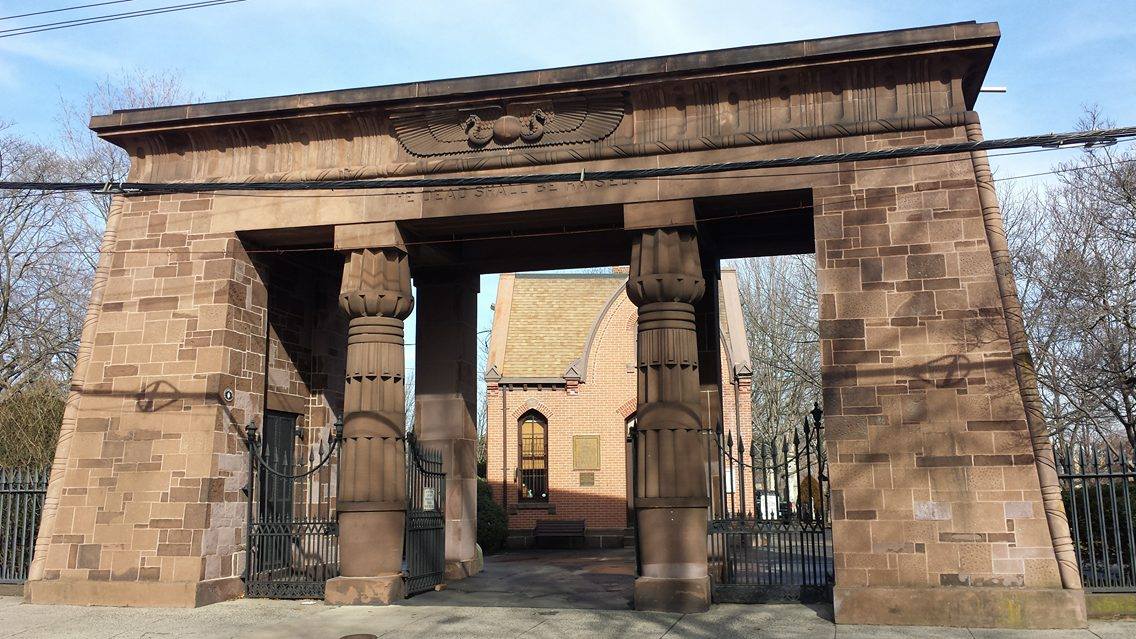 Noah Webster's grave (source: Burt Westermeier)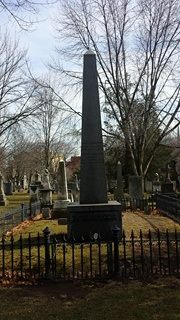 Backstory and Context
Grove Street Cemetery represents a departure from earlier cemeteries such as the New Haven Green, which historian Peter Dobkin Hall characterizes as having grown "unsightly, weed-grown, and neglected" by the late eighteenth century. Timothy Dwight, minister and president of Yale College from 1795 to 1817, worried that the centrally-located Green was "too familiar," "a mere common object" in a city that grew busier, louder, and more crowded. Moreover, as Henry Blake recorded in 1898, common burial in the Green meant that "magristrates and criminals, preachers, soldiers, merchants, lawyers, doctors, colonial dames, paupers and negro slaves are all consorting together in promiscuous companionship."
In contrast, Grove Street Cemetery, located on the edge of the city, offered a quieter atmosphere for peaceful contemplation. James Hillhouse wanted to create a burial ground that was, in his words, "larger, better arranged for the accommodation of families, and by its retired situation, better calculated to impress the mind with a solemnity becoming the repository of the dead." Thus the "natural" atmosphere of the cemetery—full of green space, trees, and shrubs—is a deliberate design choice. Over the decades, the Grove Street trees have changed, from poplars, to evergreens, to the wide variety of plant species presently in the cemetery. Hillhouse's love of nature had a lasting impact on New Haven's reputation as the "Elm City"--in 1792, he had had numerous elms planted along New Haven's streets.
The "accommodation of families" was also a crucial design element for Hillhouse. Today, we're used to seeing family plots: husbands and wives buried next to each other, often along with their children. In 1796, this was not common practice. Most New England residents were buried in common ground such as the Green, where anonymity was the norm and family members had little to no control over their relatives' graves. With Grove Street Cemetery, Hillhouse promised a "sacred and inviolable" final resting place: where families would stay together, and their graves would not be disturbed, moved, or neglected.
In addition to private families, Grove Street Cemetery allotted plots to Yale College and to religious societies (such as Methodists, Baptists, and Episcopalians). The cemetery contains the graves of fourteen Yale presidents along with countless Yale faculty and alumni, such as James Hillhouse (class of 1773), Noah Webster (class of 1778) and Eli Whitney (class of 1792). Burial lots were also designated for strangers who died in New Haven and for people too poor to purchase space, as well as for "people of color," who were buried in a separate lot. Segregation thus constricted not only New Haven's living residents, but also its dead. The cemetery's planned layout was indeed meant to reflect society, grouping burials by family, congregation, race, and class, and often featuring male patriarchs in the center of their family plots.
In its atmosphere of order and tranquility, its emphasis on family and community, and its enforcement of social boundaries, Grove Street Cemetery represented a new way of thinking about death and burial. The graveyard was no longer simply a practical place to store bodies. Rather, it provided a space for mourners distinct from the rest of the city; it celebrated New Haven's and Yale's most prominent citizens; and it invited visitors to reflect not only on the world to come, but also on their place in the worldly hierarchy.
Sources
Blake, Henry. Chronicles of New Haven Green from 1638 to 1862. New Haven, CT, 1898. p. 276.

Campanella, Thomas. Republic of Shade: New England and the American Elm. New Haven, CT: Yale University Press, 2003.

Hall, Peter Dobkin. "Setting, Landscape, Architecture, and the Creation of Civic Space in the United States, 1790-1920." Available here: https://www.hks.harvard.edu/fs/phall/Civic_Space_WIP.pdf. p. 13-17.

Krüger-Kahloula, Angelika. "On the Wrong Side of the Fence: Racial Segregation in American Cemeteries." In History and Memory in African-American Culture. Edited by Geneviève Fabre and Robert O'Meally. Oxford: Oxford University Press, 1994. p. 140-142.

Linden, Blanche. Silent City on a Hill: Picturesque Landscapes of Memory and Boston's Mount Auburn Cemetery. Amherst: University of Massachusetts Press, 2007. p. 86-89.

Report of the Committee, Appointed to Inquire into the Condition of the New Haven Burying Ground, and to Propose a Plan for Its Improvement. Printed by B. L. Hamlen. New Haven, CT, 1839. Available in full on Google Books.

Sweeney, Douglas. Nathaniel Taylor, New Haven Theology, and the Legacy of Jonathan Edwards. Oxford: Oxford University Press, 2003. p. 53.


Additional Information