Doddridge County Courthouse
Introduction
The Doddridge County Courthouse can be found in the county's seat of West Union, West Virginia. It was created and designed by J. Charles Fulton, who also designed courthouses in Barbour and Randolph Counties. The structure is known for having a Victorian Romanesque style, which was very popular of the last nineteenth century. The previous courthouse was destroyed by a fire 1898/
Images
Current display of Doddridge County Courthouse built in 1904 by Charles Fulton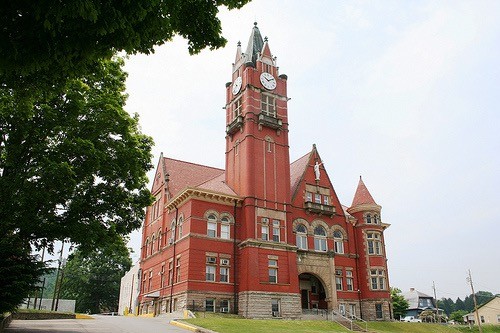 A map of West Virginia with Doddridge County highlighted to show the location in comparison to other areas within the state.
Backstory and Context
On February 4, 1845 Doddridge County was created by an act of the Virginia Assembly from sections of Harrison, Lewis, Tyler and Ritchie counties. This newly created county received its name from Philip Doddridge, who was a famous statesman of his time. This is because he traveled the area a great deal. Then again, it is not known if he ever set foot in the area currently known as Doddridge County. 
Philip Doddridge was born in Bedford County, Pennsylvania on May 17, 1772. He dedicated his life to studying law and eventually settled down in Wellsburg, Virginia. Due to his remarkable debating skills Doddridge was known for being one of the best attorneys in Virginia. He was elected as a member of the House of Representatives in 1829 and served until his death on November 19, 1832.
It is known that James Caldwell was the first known landowner in Doddridge County. He acquired 20,000 acres and patented current site of West Union around the year of 1787. He later sold the land to Nathan, Joseph, and William Davis in 1807. After moving to the area, it is said that the name West Union was suggested by Nathan Davis. At this point in history, the town was located near Lewisport, who was attempting to change its name to Union, thus the suggestion of West Union. 
The majority of the land was sold to Lewis Maxwell, a Virginia Congressman for about 23 cents per acre between the years 1808 and 1810. Nearly a decade later a post office was established in the town and to honor Lewis Maxwell the previous town known as Lewisport still appeared on the maps of the town. On March 14, 1850, West Union was incorporated by the Virginia General Assembly and later by the West Virginia legislature in 1881.
With a total 830.03 sq. km of land and water area, Doddridge County, is currently the 2805th largest county equivalent area in the United States. 
Sources
Doddridge County, West Virginia. CourthouseHistory.com. Accessed February 06, 2017. http://courthousehistory.com/gallery/states/west-Virginia/counties/doddridge.
Doddridge County, West Virginia. e Reference Desk. Accessed March 04, 2017. http://www.ereferencedesk.com/resources/counties/west-Virginia/doddridge.html.
Where Is Doddridge County, West Virginia?. World Atlas. Accessed March 04, 2017. http://www.worldatlas.com/na/us/wv/c-doddridge-county-west-Virginia.html.
Additional Information