Congregation Beth Israel
Introduction
Officially incorporated in 1887, Congregation Beth Israel holds the unique distinction of being the only known Jewish congregation in the country to have occupied three separate buildings that remain standing today. Its vibrant community comprises of 1,200 families who worship and gather at the synagogue. The congregation also offers religious schooling, youth and adult programs, summer camps, and other programs to serve the community. In the lobby of the sanctuary is a small Beth Israel In Three Centuries exhibit of three displays that explore the congregation's history in its three locations. Various papers, photographs and documents are on display in the exhibit.
Images
Congregation Beth Israel, officially incorporated in 1887, moved into this campus in 2001. Photo: Congregation Beth Israel

The first temple the congregation called home, built in 1889. Photo: Wikimedia Commons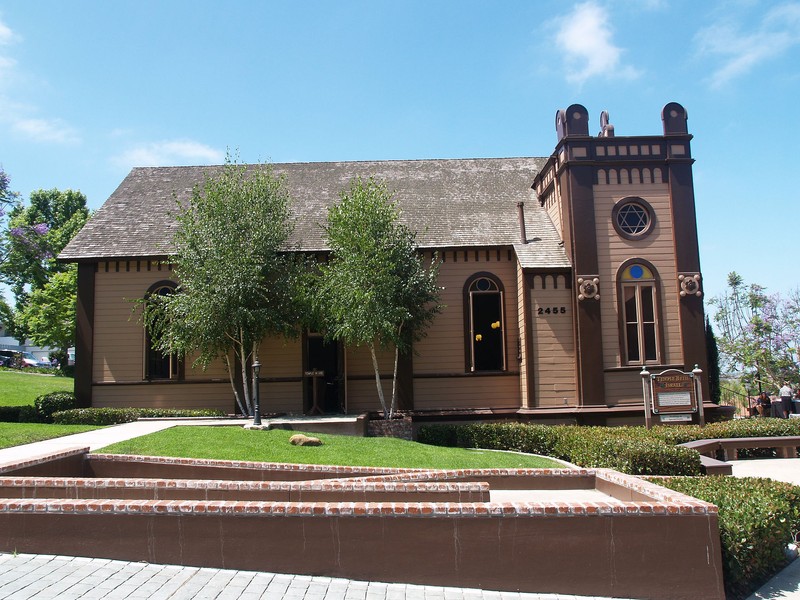 Backstory and Context
The origins of the congregation date back to 1861 when its predecessor, Congregation Adath Yeshuran, was founded. Jews began arriving in 1850, in the midst of the Gold Rush, but their numbers were too few to form a community. This changed of course in 1861. The first temple building was constructed in 1889 on 2nd Avenue and Beech Street. It was moved to the gated community of Heritage Park in 1978. It appeared to be listed on the National Register of Historic Places but that doesn't appear to be the case anymore. Nonetheless, it is still used for weddings and gatherings. The second temple was built in 1929 on Temple and Laurel Streets and was the congregation's home until 2001. The sanctuary, social hall and school building will be used by a Jewish congregation.
Sources
"A Brief History." Congregation Beth Israel. Accessed February 6, 2017. https://cbisd.org/about/150-years-history/history.
Additional Information