Congregation Emanu-El
Introduction
Founded in 1850, Congregation Emanu-El is California's oldest Jewish congregation. It is officially a year older than Temple Sherith Israel, which is located at 2266 California St. Both were established by Jewish immigrants from Europe who arrived in California during the Gold Rush, which attracted people in search of a better life and potential fortune. The current temple, which is the third site of the congregation, was built in 1926 and designed by architect Arthur Brown in the Byzantine style; it is modelled after the magnificent Haggia Sophia in Istanbul. Perhaps its most striking feature is the dome, which rises 150 feet off the ground.
Images
Congregation Emanu-El was founded in 1850, making it the oldest Jewish congregation in California.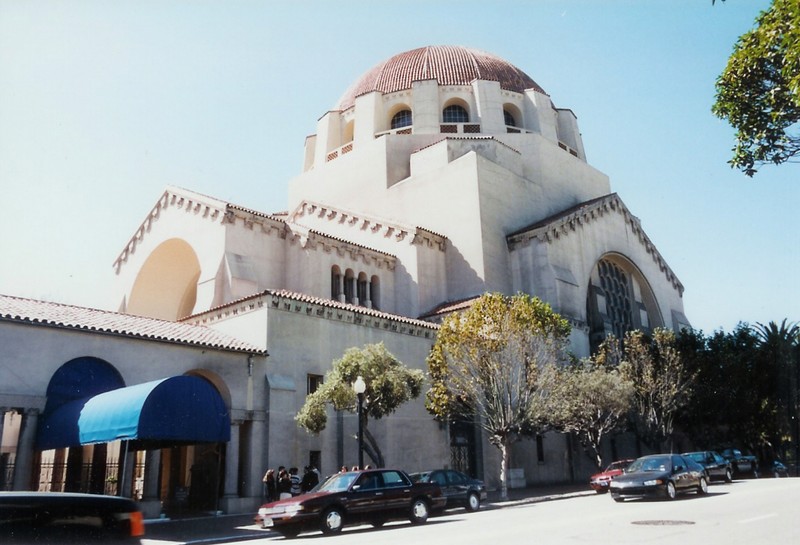 "Cosmopolitans: A Social and Cultural History of the Jews of the San Francisco Bay Area," by Fred Rosenbaum (see link below)

Backstory and Context
The congregation of Emanu-El was initially established in 1850, and today boasts over 2,000 households in its congregation, many of which have been involved since its inception. Emanu-El is the oldest Jewish congregation west of the Mississippi river.

The current structure, on Lake Street and Arguello Boulevard, was dedicated in 1926 and is the third location for the congregation. The main bulk of the design work was done by Arthur Brown Jr., who also designed the
War Memorial Opera House, Hoover Library at Stanford, and, with two others, the San Francisco-Oakland Bay Bridge.
In 1927 the Temple was selected as the finest piece of architecture in Northern California by the American Institute of Architects. The judging committee described the structure as "a glorious building… beautifully planned and modelled… realizing to the highest degree the expression of its religious character."
A part of the synagogue complex is the Elizabeth S. and Alvin I. Fine Museum, which presents international and local art exhibitions—shedding light on Jewish history and themes—throughout the year. Past exhibitions have featured works of famous Jewish artists such as Marc Chagall, Camille Pissarro, and Peter Krasnow, as well as that of local artists. The Congregation espouses Reform Judaism and was and continues to be very active in social justice issues in the city.

Sources
"History." Congregation Emanu-el. Accessed April 04, 2017. https://www.emanuelsf.org/about-us/history.

Photo: Wikimedia Commons
Additional Information