New York State Education Department Building
Introduction
This Beaux-Arts style building, with it's impressive colonnade, was built between 1908 and 1911. It is one of the longest colonnades in the world and the 36 Corinthian columnns provide a striking facade on Washington Avenue. Its architect Henry Hornbostel had trained in Paris and was also inspired by the buildings of the "White City" at Chicago's 1893 World's Fair. When it was dedicated in 1912 it contained the New York State Education Department, the New York State Museum and the New York State Library.
Images
Postcard of the Education Department building from the early 1900s.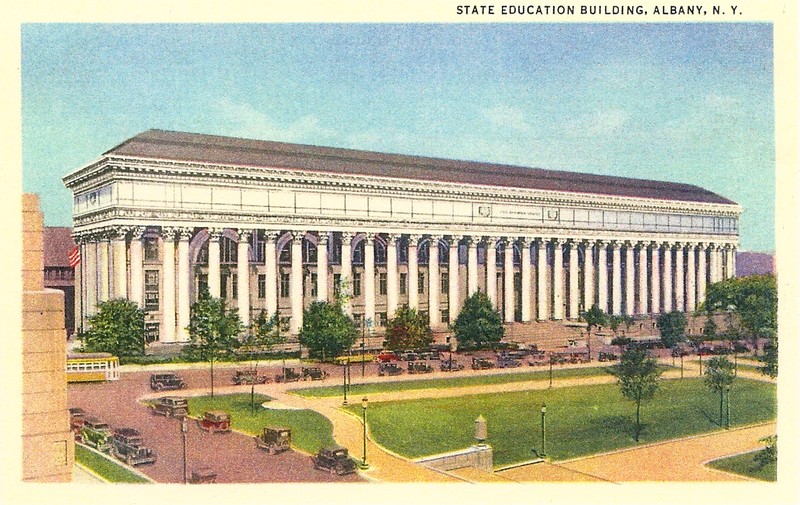 Electrolier by Charles Keck of children studying.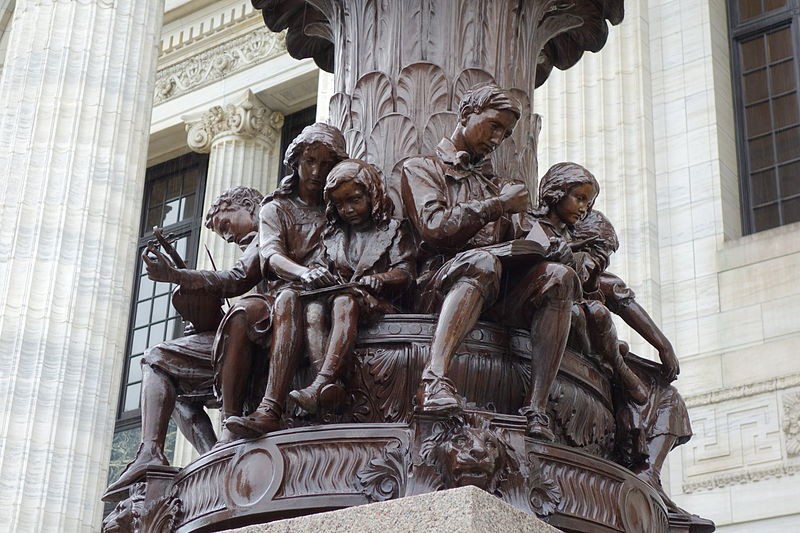 Backstory and Context
New York City architect Henry Hornbostel designed the New York State Education Department Building to be a place that was representative of serious scholarship. In part, this was because it was one of the first buildings in the nation constructed to be used for the administration of education. The building cost nearly $4 million and the construction was done by the firm of R.T. Ford and Co. based in Rochester, NY.
Hornbostel had studied at the Ecole des Beaux-Arts in Paris and was inspired by what he had seen and learned there. The building's neoclassical design was probably also influenced by the 1893 World's Columbian Exposition, held in Chicago. The columnns are made from Vermont marble.The electroliers on either end of the steps were designed by Charles Keck and show children engaged in various types of activities.
When the Empire State Plaza construction was finished in 1976, the New York State Museum and the New York State Library moved to a new location in the Cultural Information Center at the far end of the Plaza. Today the building holds only the Department of Education.
Sources
New York State Education Department. October 01, 2012. Accessed February 06, 2016. http://usny.nysed.gov/building/history.html.


Waite, Diana S.. Albany Architecture: A Guide to the City. (Albany, NY: Mount Ida Press, 1993), 80. https://books.google.com/books?id=B_M7vlQPa8kC&pg=PA72#v=onepage&q&f=false

Both photos are in the public domain
https://commons.wikimedia.org/wiki/File:NYS_Education_Building_Postcard.png
https://commons.wikimedia.org/wiki/File:Electroliers,_New_York_State_Education_Department_Building_-...

Additional Information