Jones-Imboden Raid
Introduction
The Jones-Imboden Raid on Rowlesburg occurred on April 26, 1863. Confederate Generals W. E. Jones and John D. Imboden attacked the town of Rowlesburg in an attempt to destroy bridges that would halt Union rail traffic.
Images
Destroying the bridge in Oakland, Md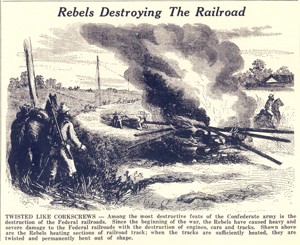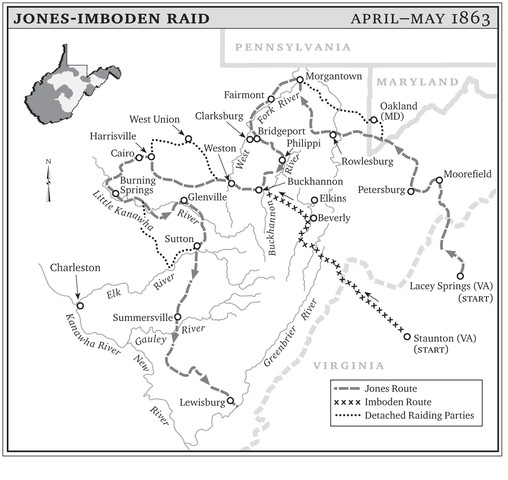 This historic marker is right next to the Marion County line road sign on Highway 19.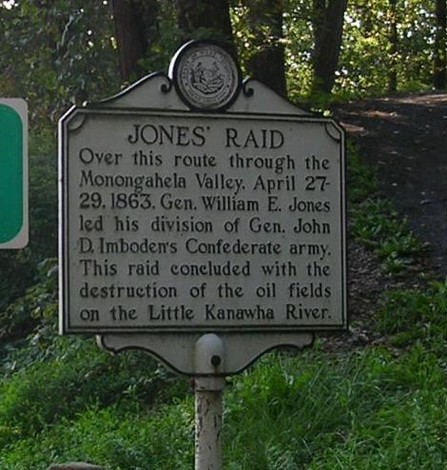 Backstory and Context
In the spring of 1863,
Brigadier General John D. Imboden suggested a plan to
General Robert E. Lee: attack the railroad bridge in the small, remote town of Rowlesburg that spanned the Cheat River. The bridge and viaducts were vital to the supply line of the Union army. Imboden's raid called for the destruction of multiple bridges that would limit the Union's capacity to take advantage of their control of the railroads.


The attack was planned for April 1st, but there were many adjustments to the plan in the process.
William E. "Grumble" Jones wanted to sent a letter to Lee on March 31st to allow him to lead the eastern most forces. During March, it rained a tremendous amount and delayed the attack. Lee wrote back to Jones and Imboden on April 7th and said that Jones was to replace McNeill as the leader of the attacks on the railroad bridges. Imboden was instructed to move towards Beverly and Grafton with his men.

On April 14th, Jones began mobilizing his eastern forces but, received a letter from Lee that a Yankee raiding party was coming to the Shenandoah Valley. The Union raiders did not come close enough to Jones to delay him. In fact, he did not even see them. Finally, the raid was ready to begin.

With a force of 3,400 men under Imboden's command and 2,100 under Jones' command, the assaults were ready to begin. Imboden attacked Beverly and then captured Buckhannon on April 29th. Jones met Imboden in Buckhannon. However, he had failed his mission of destroying the bridge in Rowlesburg. Jones did manage to manage to raid Morgantown, capturing many supplies and horses.

On April 29th, on his way to meet Imboden at Buckhannon, Jones waged the largest battle ever fought in that particular part of the state when he attacked Fairmont. The Union mustered up 500 men to try and hold off Jones. Jones managed to win and burned the personal library of Francis Pierpont and also exploded a railroad bridge crossing the Monongahela River. Together, Imboden and Jones moved onward to Weston. Jones continued west to Burning Springs where he destroyed oil wells and burned an estimated 150,000 barrels of oil. The raid did not go as planned and did not cause as much damage to the Union army as expected.
Sources
1) Swick, Gerald D. "Share Jones-Imboden Raid." . N.p., 25 Mar.E-WV | Jones-Imboden Raid
2) "Jones-Imboden Raids of 1863." . N.p., n.d. Web. 17 Feb. 2017. Jones-Imboden Raids of 1863
3) "The Jones-Imboden Raid Against the B & O Railroad at Rowlesburg, Virginia April 1863." . N.p., 31 Mar. 2001. Web. 17 Feb. 2017. Blue Gray Education Society
Additional Information