The Battle of McDowell
Introduction
This marker commemorates the Battle of McDowell where a Confederate army under the leadership of Thomas "Stonewall" Jackson thwarted an effort of Union soldiers and forced them from the field on May 8, 1862. The Confederate troops were able to secure the high ground at Sitlington's Hill which proved to be the key to their victory.
Images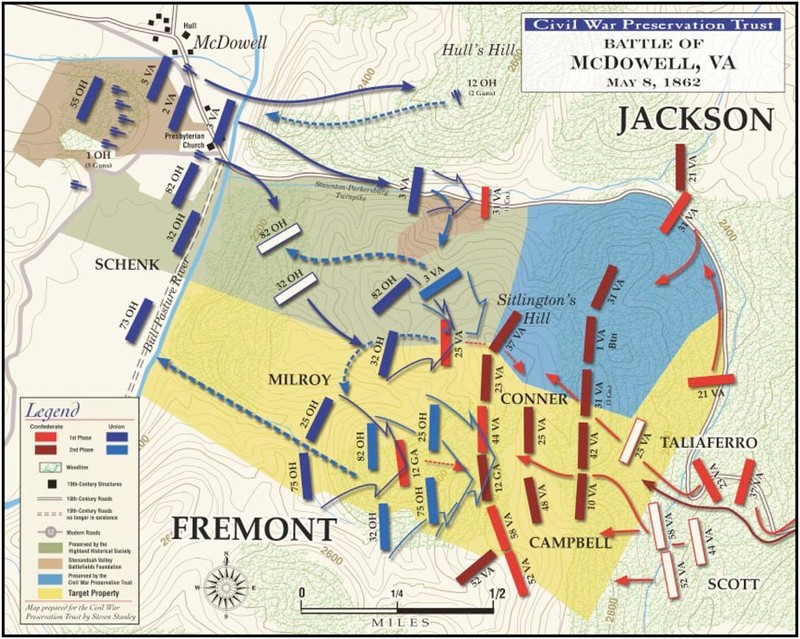 Vicinity sketch of McDowell, VA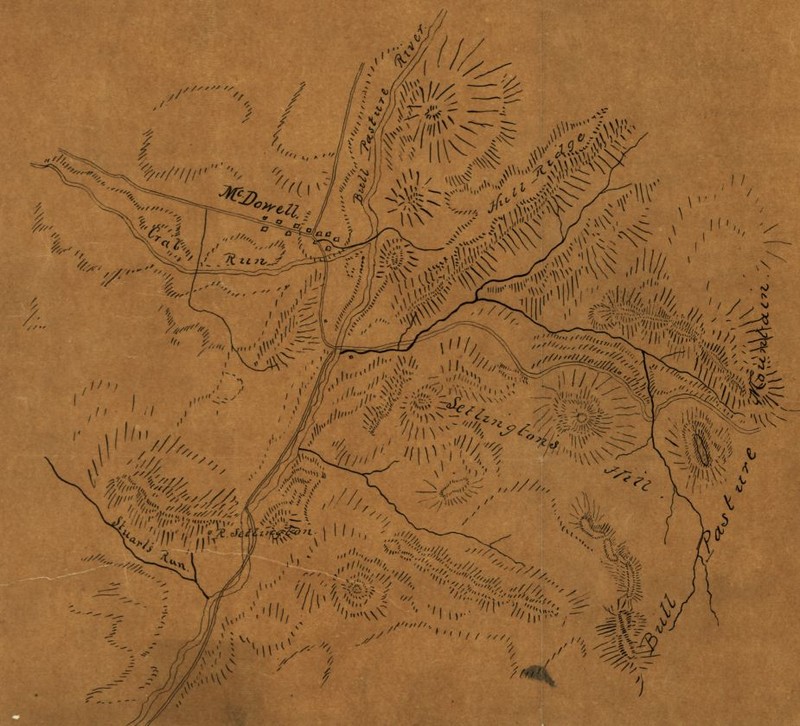 Battle of McDowell battle marker sign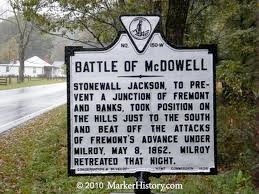 Backstory and Context
General Thomas "Stonewall" Jackson's forces had recently been defeated by a Union army led by General Nathaniel Banks and had been forced to withdraw to the foot of the Blue Ridge Mountains.Jackson knew of another Union army advancing towards Monterey and was afraid that they would meet up with Banks' forces and move onward towards Staunton. He wanted to prevent this from happening.

Union General Robert Milroy was ordered to halt at Monterey. Instead, he advanced onward to McDowell, which he had planned to use as a supply post for his attack on Staunton. Jackson moved across the Blue Ridge Mountains, retreating toward Richmond in an effort to make the Union generals believe he was abandoning the valley, when in reality he was moving toward Staunton by rail where he met up with another Confederate army. The two armies had a combined force of around 9,000 men and proceeded towards the small town of McDowell. Where on May 7th at Rodgers tollgate along the Parkersburg turnpike the Confederate forces quickly routed Union troops under the command of Brigadier General Robert Milroy.

The next morning Jackson advanced his forces up Sitlington`s Hill and conducted reconnaissance of the union position and repelled their scouts. After receiving the reports of his scouts Jackson ordered his men to prepare their defenses and place their artillery on the two peaks of the hill.
Milroy noticed that the Confederates were advancing and requested General Schenck to bring his army to McDowell. Schenck marched his men an astounding 34 miles in just 23 hours. After arriving at McDowell General Schenck assumed overall command of the union army and commenced his attack on the Confederate position atop Sitlington`s Hill.

The Union men fought valiantly but the Confederate position on the top of Sitlington's Hill was too strong for the Union to break through. Milroy and Schenck withdrew their forces early in the following morning and admitted defeat. There were estimated casualties of 720 men, although the surgeon's list reported only 556 casualties. A total of 12,500 troops were engaged in the Battle of McDowell.
Sources
Wright, Catherine. "Battle of McDowell." Encyclopedia Virginia. Virginia Foundation for the Humanities, 5 Apr. 2011. Web. 6 Mar. 2017.

McDowell. July 17, 1995. Accessed April 29, 2017. https://www.nps.gov/abpp/shenandoah/svs3-2.html.
Additional Information