Museum of Geosciences (Virginia Tech)
Introduction
The Museum of Geosciences is located on the campus of Virginia Tech in Blacksburg, Virginia. It is maintained by Virginia Tech's Department of Geosciences and houses a collection of more than 13,000 minerals (including many specimens from Virginia) used for research, education, and display. Also on exhibit are the OmniGlobe, fossils, and a full-scale model of an Allosaurus dinosaur skeleton. Groups and classes interested in visiting the Museum of Geosciences should schedule their trip in advance using the contact number below.
Images
In addition to the popular archaelogical exhibits, the museum offers many exhibits related to geology, such as a fluorescent mineral display.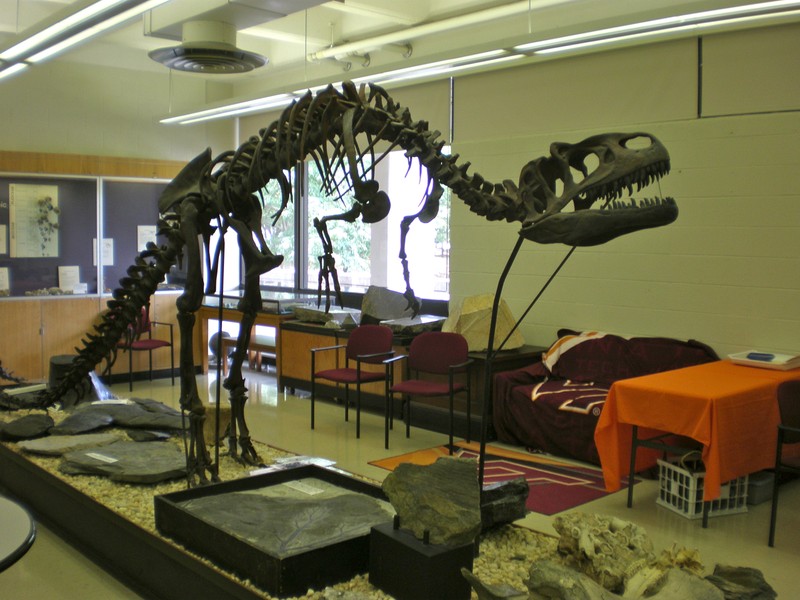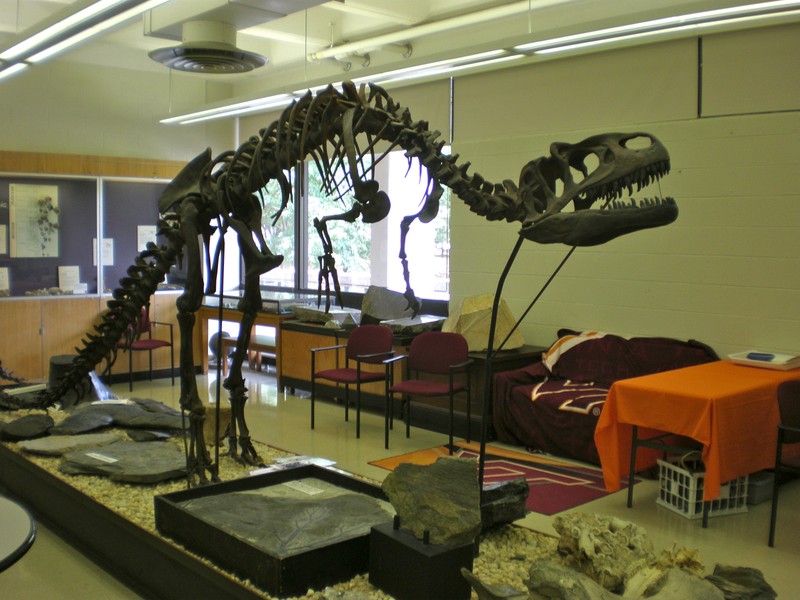 Backstory and Context
The Museum of Geosciences at Virginia Tech houses a 2,500-square-foot exhibit room. The exhibits house STEM stations, such as the Omniglobe—a spherical projection station that displays global earth systems data. There is also an EmRiver Stream Simulation Model; a real-time earthquake display, a large collection of minerals, gems, rocks, and fossils; and information about Virginia and local geology. The museum serves as a point of contact for access to the Department of Geosciences repositories and collections.

Many of the specimens on display are from the Virginia area. Also included in the collection are specimens from famous mining localities worldwide. Items of interest include the "Hokie" Topaz and an Allosaurus dinosaur skeleton cast.

To prevent overcrowding, groups and classes should schedule visits two weeks in advance. Visit the website to see current events, hours, and to download scavenger hunts. Most of the programs are free and open to the public. Parking passes are needed during weekdays from 8:00 AM to 5:00 PM, available for free at the VT Visitor Center. Study tables and wireless connectivity are available at the facility.

Sources
"Museum of Geosciences". Department of Geosciences, Virginia Tech. Accessed February 5, 2017. www.outreach.geos.vt.edu/museum/index.html.

"Museum of Geological Sciences". Virginia Tourism Corporation. Last updated August 11, 2016. Accessed February 5, 2017. https://www.Virginia.org/listings/Museums/MuseumofGeologicalSciences/.

Additional Information