Mount Saint Joseph (Holloway Estate)
Introduction
Mount Saint Joseph, also known as Holloway Estate, is a historic house and motherhouse located near Wheeling. The Holloway House was built in 1854. Located on the property is an immense, three winged structure built as the motherhouse for the Sisters of St. Joseph in 1954-1956.
Images
Mount Saint Joseph Motherhouse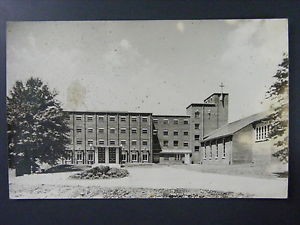 Backstory and Context
The Holloway Estate developed under the ownership of W.W. Holloway, a local leader in the steel industry. He served as the president of Wheeling Corrugating Company and Wheeling Steel Corporation. Built after he returned from service in World War I, his house is a unique example of Italian Renaissance Revival within Wheeling and the surrounding area. It now serves as a the St. Joseph Retreat Center.
The Sisters of St. Joseph is a Roman Catholic religious congregation of women founded in Le Puy-en-Velay, France, in 1650.
In 1853 seven sisters from Carondelet, Missouri, opened a private orphanage and hospital in Wheeling, and in 1856 took possession of a building chartered by the Assembly of Virginia for a hospital. In the fall of 1860, the community became independent of the St. Louis mother-house. During the Civil War the hospital was rented by the Government and the sisters enrolled in government service. After the war and the reorganization of the hospital on its present lines, the sisters extended their activities to various parts of the diocese.
The modern motherhouse, which was built in the mid-1950s, was included in the Mount Saint Joseph listing on the National Register of Historic Places, added in 2008.
Today, the Sisters of Saint Joseph of Wheeling continue to serve the people of West Virginia through a variety of ministries, such as the SSJ Health and Wellness Foundation, the SSJ Charitable Fund, and a variety of programs under Holy Family Child Care & Development.
Sources
National Register of Historic Places Nomination Form. Mount Saint Joseph. Accessed February 04, 2017. http://www.wvculture.org/shpo/nr/pdf/ohio/07001418.pdf.


Additional Information