Cabell Huntington Hospital
Introduction
Opened in 1956, Cabell Huntington Hospital was built as a 236 bed facility to serve the growing population of the tri-state area. It is now of the largest hospitals in West Virginia with 303 beds. CHH also is affiliated with the Marshall University School of Medicine and School of Pharmacy. CHH is a level II trauma center. On the CHH campus is the hospital itself, the Hoops Family Children's Hospital, the Edwards Comprehensive Cancer Center, Marshall University School of Medicine, and Marshall Health. CHH also has a number of physician offices and clinics in Huntington and the surrounding tri-state area.
Images
Cabell Huntington Hospital as seen from Hal Greer Boulevard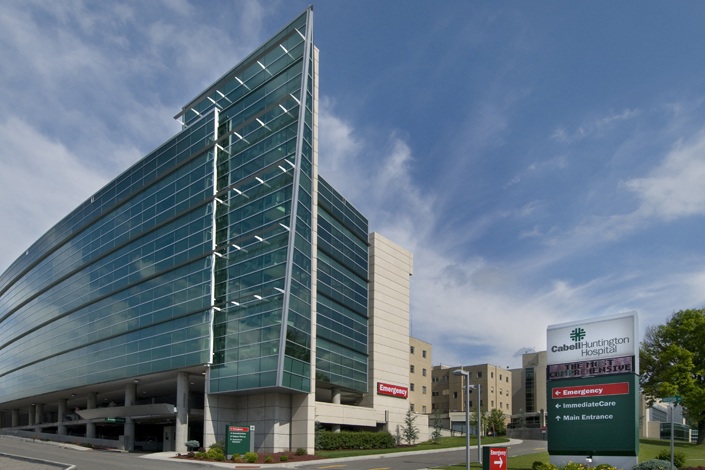 Backstory and Context
The first interest of a hospital in the Huntington area came in 1945 due to the growing population. Solicitations and contributions came in and funding secured by an 88 percent majority in 1952. Four years later, the doors to the facility opened. Shortly after opening, community response and Board of Trustees investigation saw the need to upgrade, and they laid out a three-part plan for that.
Phase 1 - 1963 - increased beds to 280 and added 80 bassinets as well as increased ancillary services.
Phase 2 - 1976 - an additional 30 beds were added. In addition, emergency, laboratory, radiology, and business offices were added along with a cafeteria.
Phase 3 - 1986 - a 9 billion dollar bond allowed the addition of a 26 bed critical care unit, NICU, renal dialysis, social services, high-risk birthing suite, and several renovations to existing departments.
In 1988 the paperwork was finalized to move CHH from a public and not-for-profit hospital into a private and not-for-profit
In 1989 a 12 million dollar renovation to the surgical department occurred and added recovery and out patient surgery wings.
In 1998, in a partnership with Marshall University School of Medicine, the Marshall University Medical Center was added to the CHH campus. This brought the physicians and students together in one building, and gave the community access to many medical services under one roof.
In 2002, the J. Robert Pritchard Dialysis Center was built on the CHH campus.
In 2005, the Edwards Comprehensive Cancer was built to give patients in the area access to physicians and treatments to a wide variety of cancer needs.
In 2007. the North Patient Tower was a 85 million dollar construction project to increase the bed number to 303, increase private rooms, give the rooms a private bathroom, increase the size for family as well as medical equipment, give each room a window, and upgrade the rooms. It includes intensive care units for several different areas of medical practice.
Currently the renovations of the Hoops Family Children's Hospital are ongoing to bring comfort and care to the tri-state area's families.
CHH is one of the 10 largest hospitals in West Virginia. It's partnership with the Schools of Medicine and Pharmacy, as well as the various other programs from Marshall University makes it a leader for training students in a wide variety of medical specialities. They have numerour departments to service 29 counties in the tri-state area without regard to age, race, religious affiliation, sex, nationality or source of payment for care.




Sources
http://cabellhuntington.org/about/our-history/




Additional Information