Congregation Bnai Israel
Introduction
Congregation Bnai Israel is one of two Jewish congregations in Little Rock. It was founded in 1866. Its current location on Rodney Parham Road is the Congregation's fourth temple. The first was located in a rented a room in 1871. A year later, a proper temple was constructed on Center street. The third temple was built in 1897 and located on Capital Avenue. The Congregation remained there until its modern temple was built in 1975.
Images
Congregation Bnai Israel's current temple, built in 1975.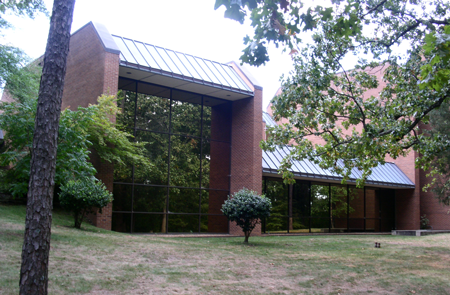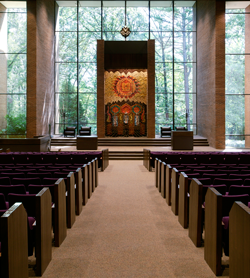 Backstory and Context
The Jewish community in Little Rock was heavily involved in the Civil Rights Movement in Arkansas. Bnai Israel's rabbi during that tumultuous period, Ira Sanders, refused to give in to the racial divides of the day and anti-semitic threats, and provided strong leadership towards the goal of desegregation. Soon after he arrived in 1926, he was involved in an incident on a bus when he sat next to a Black man on a street car which prompted a confrontation with the driver (it is not clear how the situation concluded). Also after his arrival, Sanders founded the School of Social Work at the University of Arkansas, whose first class included two Black females. The white students protested and the University banned integrated classes. Therefore from the outset it was clear that Rabbi Sanders was going to be a vocal opponent of racial inequality. Many in the Jewish community preferred to maintain the status quo for fear of reprisal from other whites, but Sanders and others refused to give in. Sanders was also a vocal supporter of the desegregation of Central High School in 1957 in the wake of the Supreme Court ruling declaring the doctrine "separate but equal" as unconstitutional.

As for antisemitism, among other threats and intimidations, in October 1958 Sanders vowed to have scheduled worship service that was threatened to be bombed. Thankfully the service passed without incident.

Another important voice against inequality and segregation was the Women's Emergency Committee to Open Our Schools (WEC), which was created in response to the governor's closure of all public schools in September 1958. The group,w which grew to 1,600 members and included Jewish women, called for desegregation and the reopening of the schools. A federal court ordered this to occur in June 1959.
Sources
"About Us - 1866-Present." Congregation Bnai Israel. Accessed February 2, 2017. http://www.bnai-israel.us/content/about_us/history.asp.

"Little Rock, Arkansas." Goldring-Woldenberg Institute of Southern Jewish Life: Encyclopedia of Southern Jewish Communities. Accessed February 2, 2017. http://www.isjl.org/arkansas-little-rock-encyclopedia.html.
Additional Information