Springhill Avenue Temple (Congregation Sha'arai Shomayim)
Introduction
Founded in 1844, Congregation Sha'arai Shomayim is the oldest Jewish congregations in Alabama and one of the oldest in the country. Its current location is Springhill Avenue Temple, the third site the Congregation has called home. The first temple was erected in 1846, finally providing a proper space for worship as compared to the homes of its founding members. In 1853, the next temple was built on Jackson Street. The community worshipped here for over 50 years before the construction of the next temple on the corner of Government and Warren Streets. The current temple was built in 1954 and more recently expanded in 2000.
Images
Springhill Avenue Temple, home to the oldest Jewish congregation in Alabama.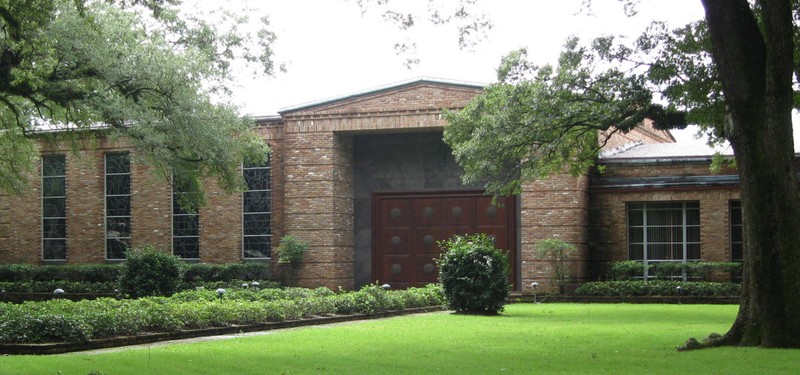 The temple on Government and Warren streets was the home for the Congregation for almost half a century.
Backstory and Context
The Jewish community has been strong in fighting antisemitism. In 1910 a local defense attorney made ant-semitic remarks about the robbery of a Jewish-owned pawn shop. He denied this accusation and in response, the Jewish community published a letter in the Mobile Register, signed by several Jewish leaders—including the president of Sha'arai Shomayim—and other denouncing the attorney. The attorney threatened to sue the publication but there were many witnesses to his crime to support the pawn shop owner. He eventually admitted he made the remarks and apologized. More recently, in 1988 vandals spraypainted anti-semitic slogans and swastikas on the walls of the Springhill Avenue Temple and the Ahavas Chesed synagogue. They were soon apprehended. In general, Mobile has not suffered from antisemitism.
Sources
"History." Congregation Sha'arai Shomayim. Accessed February 1, 2017. http://springhillavenuetemple.com/history.

"Mobile: Historical Overview." Goldring-Woldenberg Institute of Southern Jewish Life: Encyclopedia of Southern Jewish Communities - Mobile, Alabama. http://www.isjl.org/alabama-mobile-encyclopedia.html.
Additional Information