Cy Young and the First World Series (1903) Statue at Northeastern University
Introduction
This statue of Cy Young is located in the center of the Northeastern University campus. At first, it may seem curious to find a memorial to one of baseball's greatest pitchers amid drab academic buildings. However, the location of the statue reveals the original site of the pitching mound at the Huntington Avenue Grounds. The ballpark was demolished over a century ago, but baseball fans continue to visit this location as the former stadium hosted the first World Series of baseball's modern era. The Red Sox won that contest, beating the Pittsburgh Pirates in a best-of-nine series.
Images
The statue was erected in 1993 on the spot of the former pitcher's mound in the First World Series. The short roadway that runs adjacent to the memorial is called "World Series Way."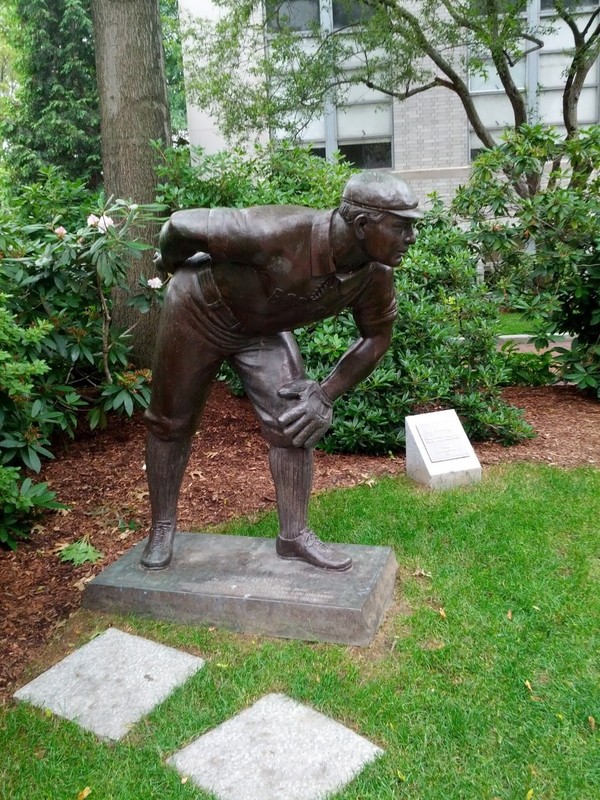 Inscription on Cy Young Statue at Northeastern University.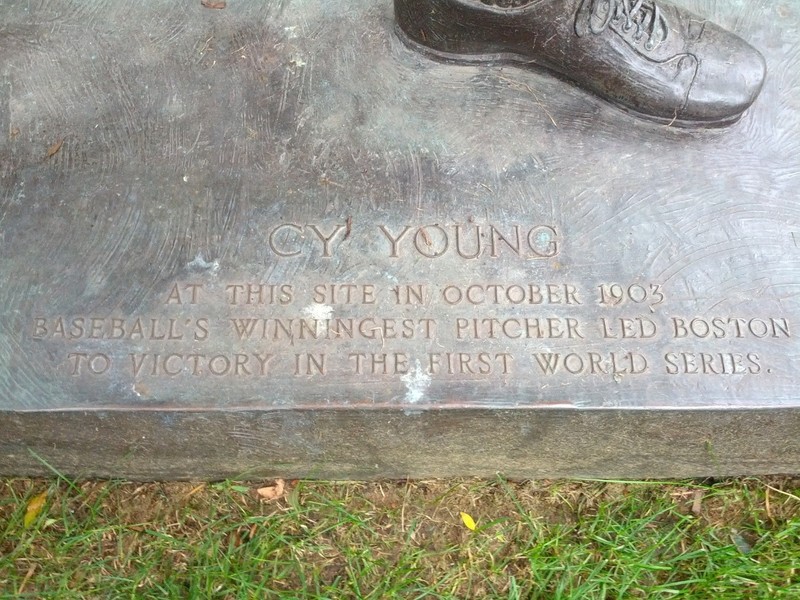 Backstory and Context
The Huntington Avenue Grounds was home to Boston's team, known at the time as the Americans, from 1901-1911. The ballpark was demolished a year after the first World Series. The Cabot Center, a Northeastern University athletic center, stands where the ballpark was once located. The statue of Cy Young stands just outside (at the back) of this building. This statue stands near the middle of the campus at Northeastern University, not far from the library, the campus center, and several classroom buildings.
Cy Young remains one of the most famous American baseball players. In this statue, Young is depicted with his right hand behind his back, left hand on his knee, poised to deliver a game-winning pitch
An inscription by his foot reads "Cy Young. At this site in October 1903, Baseball's winningest pitcher led Boston to victory in the first World Series." This was the site of the Huntington Avenue Grounds. Here, the Boston Americans defeated the Pittsburgh Pirates in the first modern World Series. In a nine-game contest, the Boston team won five games to three.

In 1912, the team (known as the Boston Red Sox since 1908) moved to the historic Fenway Park.

Sources
Huntington Avenue Grounds: The Pre-Fenway Era. Boston's Pastime. Accessed January 28, 2017. http://www.bostonspastime.com/stories/huntington.html.

Campus Map. Northeastern University. Accessed February 02, 2017. http://www.northeastern.edu/neuhome/about/maps.html.


Additional Information