Congregation Beth Israel Ner Tamid
Introduction
Congregation Beth Israel Ner Tamid is greater Milwaukee's only conservative congregation affiliated with the United Synagogue of Conservative Judaism. Its origins date back to 1884 when Congregation B'ne Jacob was founded. Out of this congregation eventually emerged Congregation Beth Israel. In 2012, the Congregation merged with Congregation Beth El Ner Tamid, resulting in the current name for the synagogue. The congregation is the oldest one in the Milwaukee.
Images
View of the sanctuary at the Congregation, whose origins date back to 1884. Photo: Plachte-Zuieback Art Glass
The former house of worship of the Congregation, the home of Greater Galilee Baptist Church since 1960.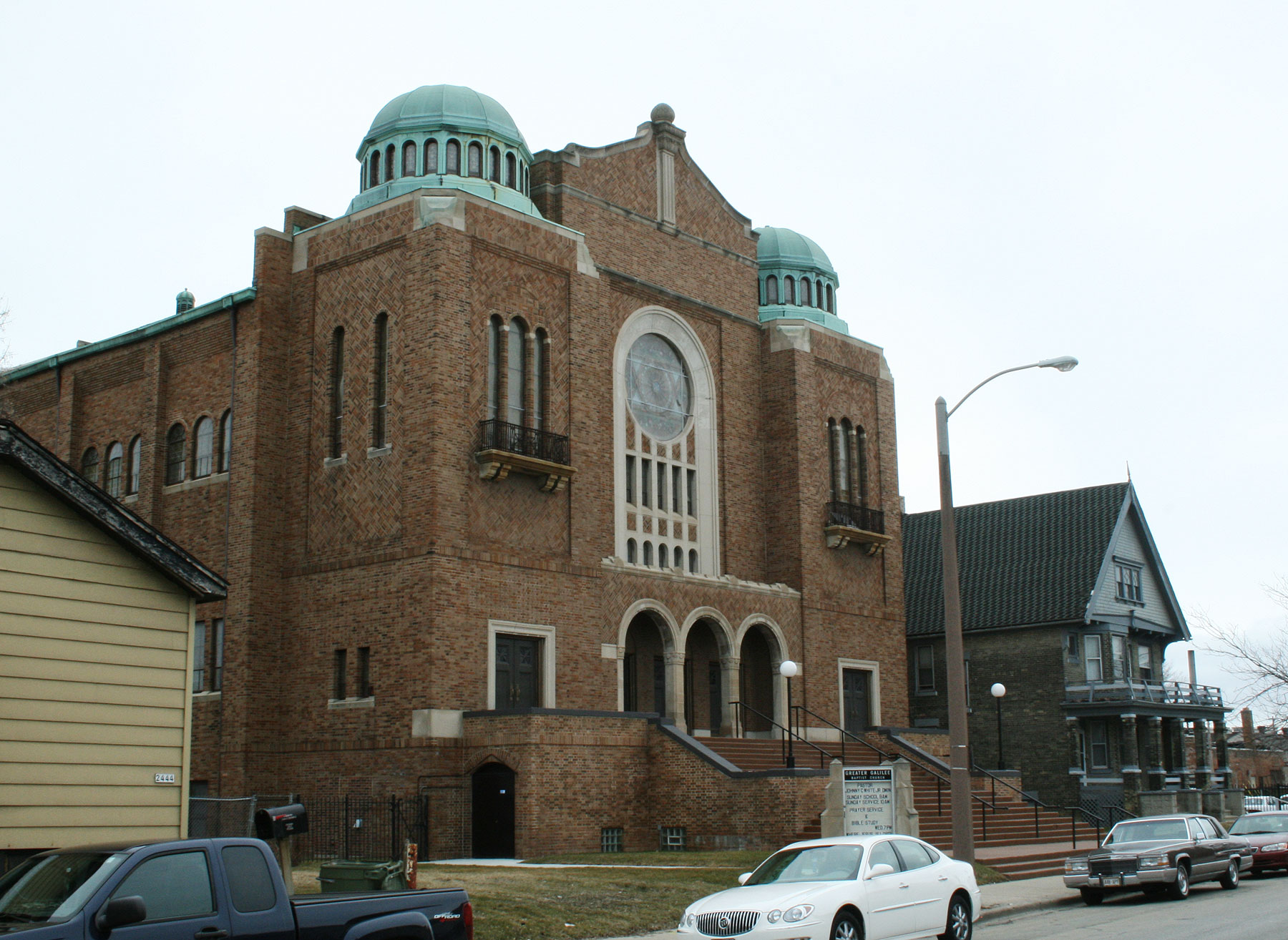 Backstory and Context
Congregation Beth Israel built its original house of worship on Tuetonia Avenue, what is now the Greater Galilee Baptist Church, in 1925. It is a large building designed in the Byzantine Revival style. By the time it was built, the Jewish community had grown significantly, especially the number of non-German Jews (German Jews were among the first Jews to arrive in the city). Therefore it was necessary to build a new, bigger synagogue to accommodate the growing community. Between the World Wars, the Congregation thrived, becoming the cultural and social center for Orthodox Judaism in the city. However by the 1950s, members began to shift from Orthodox to Conservative Judaism. This and other developments, such as the post-war population shifts of the neighborhood (i.e., the influx of African Americans into the neighborhood), prompted the Congregation to mov to its current location in Glendale in 1962 (it sold the building in 1959 and moved out a year later, after which point the Congregation met in the
East Side Hebrew School)
.
Sources
"History." Congregation Beth Israel Ner Tamid. Accessed January 30, 2017. http://www.cbintmilwaukee.org/history.

Les Volmert and Calen Hatala. "Congregation Beth Israel Synagogue." National Park Service - National Register of Historic Places. March 5, 1992. https://npgallery.nps.gov/GetAsset/321d81a4-1d3c-4f8e-8462-544005f624d0.
Additional Information