Green Hills Farm, Home of Humanitarian and Nobel Peace Prize Author, Pearl S. Buck
Introduction
Pearl S. Buck, born in 1892, was an author, humanitarian, and winner of the Pulitzer Prize in Literature for her novel The Good Earth. Buck was born in West Virginia, but lived most of her life in China, where her parents worked as Christian missionaries. She eventually moved back to the United States, settling in Pennsylvania and dedicating the rest of her life to writing and social justice [2]. Buck purchased the Green Hills Farm, established in 1835, in 1933. The Pearl S. Buck House is located southwest of Dublin at 520 Dublin Rd., in Hilltown Township, Bucks County. Tours are offered frequently [3].
Images
Pearl S. Buck courtesy of The Nobel Prize Biographical. NobelPrize.org. Nobel Media AB 2020.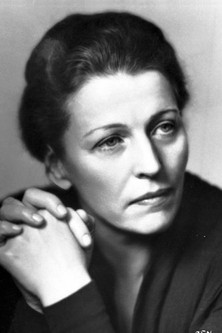 "The Good Earth." First Edition Points to Identify The Good Earth by Pearl S. Buck,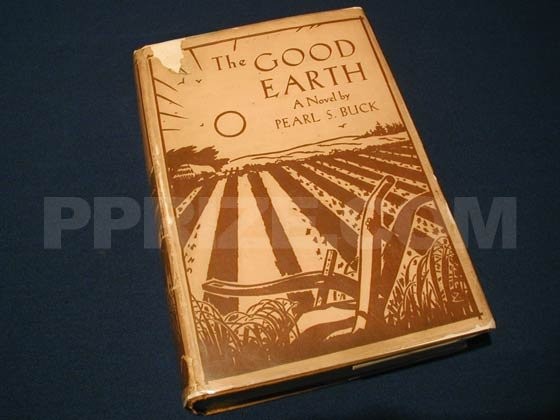 Pearl S. Buck Historic Landmark sign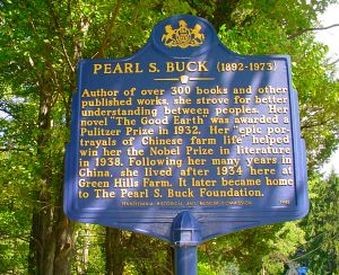 Pearl S. Buck's grave site located on the grounds of Green Hill

Statue of Pearl commemorating her founding of the Welcome House - an adoption agency specifically designed to provide homes for mixed-race children. The agency is still operating to this day.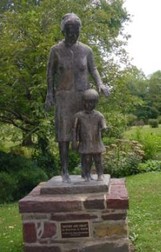 The barn situated next to the house.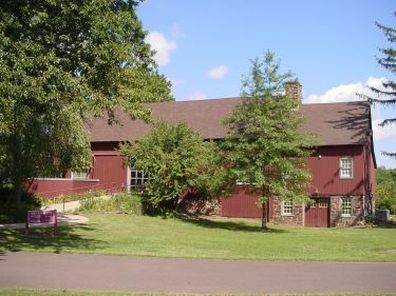 Backstory and Context
The home situated on the Green Hills Farm property was constructed in the mid-1800s using coursed field stone. The oldest remaining structures on the property are a 1 1/2 story tall summer kitchen and a half-brick, half-wood barn, which was later expanded to include a 2 1/2 story farm house [3]. In 1934, because of political unrest in China, and also to be closer to Richard Walsh and her daughter Carol - whom she had placed in an educational institution in New Jersey - Pearl S. Buck moved permanently to the US. She bought Green Hills Farm, financing extensive renovations after acquiring the property [2]. She added a second story to the home as well as two libraries and several greenhouses. The property covers approximately 67 acres of land, which includes gardens and decorative ponds [3].She and her husband adopted six more children over the following years, and she would live on the property for the rest of her life [2].
Buck would write The Good Earth, for which she was awarded the Noble Peace Prize for literature in 1938, while residing at Green Hills Farm [2]. She expanded upon this desire to serve others through social justice programs by founding the Pearl S. Buck Foundation, which was originally aimed at supporting poor children abroad in Asian countries. The organization still exists as Pearl S. Buck International and has expanded beyond its original parameters into a number of charitable fields. The mission of the Pearl S. Buck House is to "continue the legacy of Pearl S. Buck through preservation, interpretation, storytelling, and dialogue, linking the past to the present, to engage diverse audiences, while educating, inspiring, and empowering visitors to become active citizens and humanitarians" [1]
Following her death in 1973, Green Hills Farm was added to the National Register of Historical Places. The estate was converted into a museum, which is still open to the public for guided tours seven days a week. The grounds of the estate include Pearl S. Buck's gravesite, greenhouse, award-winning gardens, Cultural Center (a former barn where Ms. Buck held community events), the Estate Pavilion (which houses special events and weddings), and the Welcome Center (which contains the International Gift Shop, the Exhibit Gallery, and the offices of Pearl S. Buck International) [1].
Pearl and her husband actively fought for social justice, in particular, American civil rights and women's rights activities. Buck died in March, 1973, just two months before her eighty-first birthday [2]. The stone farmhouse and outbuildings are currently used as the center for the Pearl S. Buck Foundation. The house is maintained as a museum and is open to the public [3], and Pearl S. Buck International continues to uphold "Buck's legacy of bridging cultures and changing lives through intercultural education, humanitarian aid" [1].
Sources
[1] Pearl S. Buck International. A National Historic Landmark, Pearl S. Buck House. Invalid date. Accessed May 3rd 2020. http://pearlsbuck.org/pearlsbuckhouse/.
[2] University of Pennsylvania School of Arts and Sciences . Brief Biography of Pearl S. Buck, Department of English. Accessed May 3rd 2020. https://www.english.upenn.edu/Projects/Buck/biography.html.
[3] Green Hills Farm (Pearl S. Buck House), nps.gov. Accessed May 3rd 2020. https://www.nps.gov/nr/travel/delaware/gre.htm.
[4] Yates, Melissa Singer. The Home and Grave Site of Pearl S. Buck 1892-1973, Pennsylvania People. Accessed May 3rd 2020. https://pennsylvaniapeople.weebly.com/pearl-bucks-home.html.
Image Sources
<https://www.nobelprize.org/prizes/literature/1938/buck/biographical/>

www.pprize.com/BookDetail.php/Good-Earth.

https://pennsylvaniapeople.weebly.com/pearl-bucks-home.html

https://pennsylvaniapeople.weebly.com/pearl-bucks-home.html

https://pennsylvaniapeople.weebly.com/pearl-bucks-home.html

https://pennsylvaniapeople.weebly.com/pearl-bucks-home.html

Additional Information