Umbarger House
Introduction
The Umbarger House, constructed during the 1870s, was donated to History Park in 1970. It is an example of home life in a late nineteenth century San Jose farmhouse, complete with a typical kitchen garden in the back. It was the home of David Umbarger, an ex-miner and Forty-Niner, and his family, who turned to farming after the Gold Rush.
Images
The Umbarger House (image from History San Jose)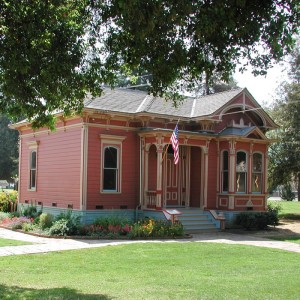 The Umbarger House in History Park (image from Historical Marker Database)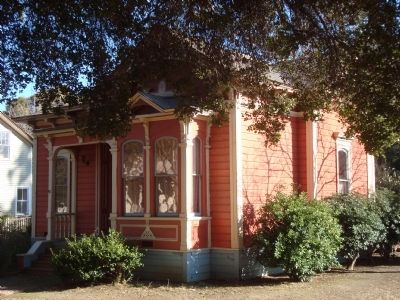 Backstory and Context
About the Umbarger House
David Umbarger (1815-1891), a California Gold Rush "Forty-Niner", was originally from West Virginia, and left home for Illinois in 1838, then lived in Kentucky from 1846-1849. Like many others in 1849, Umbarger departed for California when gold was discovered, though the journey took him a full nine months. He began mining in Mariposa County, moving on to Sonora, Auburn, and Nevada before settling, in 1853, on the land he had purchased two years earlier in Santa Clara County. Farming was an occupation taken up by many Californian ex-miners, and Umbarger was no exception; he established a wheat and grain ranch on his 136-acre tract and built the farmhouse at 2662 Monterey Road in San Jose around 1870. After Umbarger's death, the land was divided and passed through a series of owners; in the 1940s, thirty-two acres of his former property became the Santa Clara County Fairgrounds.
The house itself was donated to History San Jose by Peter and Emma Aimonetti and moved to History Park in 1970. Today, the Umbarger House is used for tours and educational programs. The "kitchen garden" at the back of the house is an example of a typical feature of late nineteenth-century homes, and includes vegetables, fruits, and herbs commonly grown in the Santa Clara Valley during the Umbargers' lifetimes. It is one of three gardens featured in History Park events.

Sources
1. Foote, H. S. ed. "Pen Pictures From The Garden of the World or Santa Clara County, California, Illustrated." Chicago: The Lewis Publishing Company, 1888. Transcribed by Carol Lackey. Accessed January 26, 2017. http://mariposaresearch.net/santaclararesearch/SCBIOS/umbarger.html.
2. History San Jose. "Umbarger House." Accessed January 26, 2017. http://historysanjose.org/wp/plan-your-visit/history-park/umbarger-house/.

3. Swackhamer, Barry. "The Umbarger House: Late Nineteenth Century Homelife in a San José Farmhouse." Historical Marker Database. February 3, 2012. Accessed January 8, 2017. http://www.hmdb.org/marker.asp?MarkerID=52178.

Additional Information