LeBeuf Plantation House
Introduction
This stately home, built sometime between 1840-1850, is the Marine Corp's second oldest officer's residence after the Home of the Commandants at Marine Barracks in Washington, D.C., which is over 200 years old. It is named after the first owner, Martial LeBeuf, Jr. who made a living as a doctor. The house is significant because it is a rare example of a pre-Civil War plantation house. It was designed in the French Creole style and the interior features Tuscan, Greek Revival and Federal style elements. The French Creole style is represented in several features such as the tripped roof, raised basement, and French doors. The Marines have owned the house since late 2011. It is part of a large "Federal City" which is development comprised of various federal agencies, businesses, and residences. The Marines, which has established Marine Force Reserve here, are the main anchor of the city.
Images
The former LeBeuf Plantation House, now the main officer's residence for the Marines, was built sometime in the 1840s. Photo: Susan Poag of the Times-Picayune.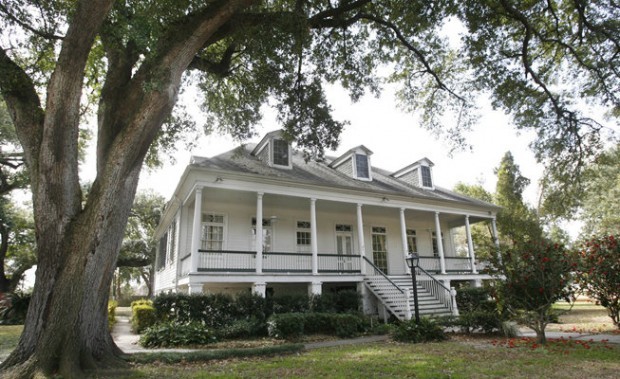 Backstory and Context
The lands surrounding New Orleans were mostly plantations through the 18th and early part of the 19th century. Afterwards, these lands have been developed and with that came the loss of plantation homes. This is what makes the LeBeuf house so unique, as it survived these changes (as well the Civil War and hurricanes). The Otts were the last family to live in the house when the Navy appropriated it in 1903 as part of a naval installation. The highest ranking Naval officers began living in the house in 1943.

In 2005, the Navy announced it was ending all activity at the installation and the house was threatened with demolition. Eventually, the Marines acquired the property as part of the Federal City project. Extensive renovations have preserved the house. During this work a canon ball fired from a passing Union ship—during the Civil War—was found lodged in a wall.
Sources
"LeBeuf Plantation House." National Register of Historic Places Database: Louisiana Office of Cultural Development, Division of Historic Preservation. July 29, 1993. http://www.crt.state.la.us/dataprojects/hp/nhl/attachments/Parish36/Scans/36052001.pdf.
*Note: This document was either written for or taken from the National Register of Historic Places Nomination Form, which has not been digitized as of 2017.
Purpura, Paul. "After a faithful restoration, the Marine Corps' 'Quarters A' in Algiers is ship-shape."
Times-Picayune
.
July 21, 2012.
http://www.nola.com/homegarden/index.ssf/2012/07/after_a_faithful_restoration_t.html.