Marshall University Commons Complex
Introduction
Marshall Commons, located on Sixth Avenue between 17th and 18th Street on the south side of campus, opened in the fall of 2003. The complex consists of four residence halls: Gibson, Wellman, Haymaker, and Willis. Although the complex did not open until 2003, plans for Commons were created in the late 1980s by then Marshall President Dale Nitzschke. In the original plan, it was proposed that the Commons be located along 3rd Avenue as opposed to 6th Avenue. The original plan also called for the creation of some university offices within the complex among the student housing units.
Images
Commons: Gibson, Wellman, Haymaker, and Willis.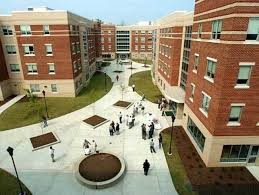 A room in one of Commons' residence halls.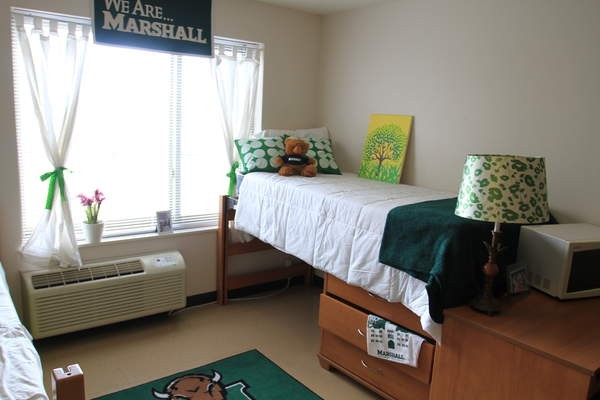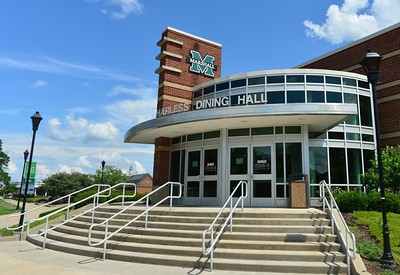 Backstory and Context
On June 9th, 1987, Marshall university president, Dale F. Nitzschke was confident that the West Virginia Board of Regents would approve plans for Commons as he spoke at an editorial board meeting of the Herald Dispatch. The project had to be approved by the Board of Regents before it could take off, and it had to be approved by June 15th in order for the project to be finished by September of 1988. In the original plans for Commons, the building was to be a five story, two block complex located along the north side of 3rd Avenue between 17th and 19th Streets that would house retail space, student apartments, and university services offices.
Senator Ned Jones owned the proposed piece of property, and initially had concerns that the project was too big. Jones therefore proposed that the project be moved to 5th Avenue and also requested the university add a new diagnostic clinic inside the building. However, Nitzschke said that he wanted to move forward with plans for the location on 3rd Avenue because the university already owned the property. Another idea was proposed that the office of institutional advancement, MU Foundation, and alumni affairs could be housed in the new building of Commons.
When President Nitzschke proposed his idea for Commons, other universities in the region were implementing similar projects involving private developers. These plans included construction financed through their foundation or public-private ventures due to a lack of funding to build new residential units as state budgets for higher education stagnated in the face of rising enrollment numbers. Marshall University owned the property which made it easier to go through a private developer as opposed to the state board of regents. However the plan to build the new residential village was not approved until years later, and in a different location than originally intended.
Marshall Commons opened and started housing students during the fall semester of 2003. The complex includes four dormitories and Harless Dining Hall. Gibson, Wellman, Haymaker, and Willis are co-ed residence halls that house suites that can accommodate four to eight people. Harless Dining Hall was the last installation of the Commons complex, and is available to students until midnight every day except Sunday. In 2015, a $1 million renovation of Harless improved the dining and food service areas of Harless Dining Hall.
Sources
Rose, Mara. "MU project praised by outside officials." Herald Dispatch(Huntington), June 17, 1987.

Fabris, Lisa. "MU chief optimistic about Commons' future." Herald Dispatch(Huntington), June 10, 1987.

Pierson, Lacie. Dining hall gets a facelift. Herald Dispatch. July 12, 2015. Accessed January 24, 2016. http://www.herald-dispatch.com/news/dining-hall-gets-a-facelift/article_d54150bd-9c15-5596-be55-5a0ab7963a1f.html.


Additional Information