The Parthenon, Nashville Centennial Park
Introduction
This replica of the Parthenon was built in 1897 for the Tennessee's 1897 Centennial Exposition. The building was preserved rather than destroyed like most of the temporary structures that were built for the Exposition and refurbished so that it could serve as a permanent museum and public space. Today, the Parthenon offers a variety of special events and serves as a museum of world and local art and culture with a variety of works from 19th and 20th Century American artists.
Images
Nashville's replica of the Parthenon was built in 1897 for the Centennial Exposition.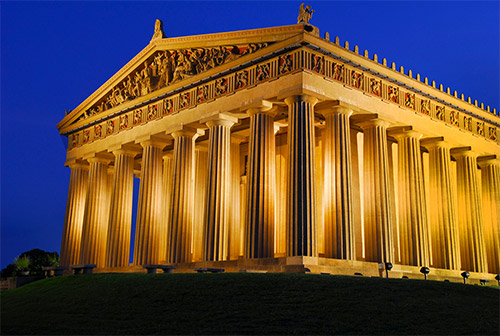 The cost of tearing the structure down after the exposition was too much, so the city decided to leave it and use it as the city's art museum.

Backstory and Context
The Parthenon was built for Tennessee's 1897 Centennial Exposition, a grand fair that city leaders hoped would bring positive attention and investment to the city. Since the 1840's, Nashville was an educational hub for the region as it became home to the first major public school system and was also home to several institutions of higher education. Also, the educator Philip Lindsey's push for the city to teach more classical education like philosophy and Latin, earned Nashville its nickname the "Athens of the South." This nickname came long before its present-day "Music City" moniker.

The Parthenon found at Centennial Park in Nashville is not only a full-scale replica of the original building, but it also houses a 42-foot replica of the statue of Athena as well. The building itself, when it was constructed, was not meant to be a permanent fixture. However, due to the high costs of tearing it down, the city decided to keep it. It is also the only structure that was kept in place after the Exposition. Within the next twenty years, it was basically re-built with better infrastructure so it could weather the elements and serve as a permanent structure.

To make this replica of the Parthenon as authentic as possible, casts were created using original sculptures from the Athenian Parthenon. Plasters were created using these molds based off of statues that date back to 438 B.C.E. Visitors to the structure can learn about this process and also view the work of American artists from the 19th and 20th Century. Admission ranges from $4-$6. The Parthenon also schedules special events and exhibitions such The Socratic Dialogues but also functions as the city of Nashville's art museum.
Sources
"The Parthenon." Metropolitan Government of Nashville and Davidson County, Tennessee. Accessed March 7, 2015. http://www.nashville.gov/Parks-and-Recreation/Parthenon.aspx.

Duke, Jan. "History of the Nashville Parthenon and the Tennessee Centennial Exposition." Tripsavvy.com Accessed March 7, 2015 (Updated May 17, 2017). https://www.tripsavvy.com/nashville-parthenon-history-2475923.

http://www.nashville.com/attractions/parthenon/8. .


Additional Information