The Goff Building
Introduction
Nathan Goff Jr. was an attorney turned real estate mogul in Clarksburg, West Virginia. Goff belonged to a prominent family in the city, and is responsible for the majority of Clarksburg's architecture. The Goff Building was constructed from 1910 to 1911, and was built with the intent to hold nine floors of office space for local businesses. Today the Goff Building has been well preserved and is still available for office space.
Images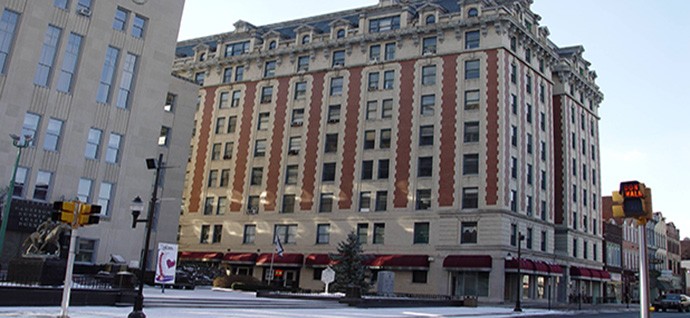 A vintage postcard depicting the Goff Building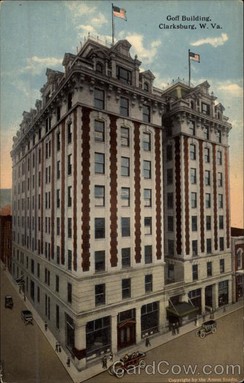 Color postcard of the Harrison County Courthouse and Goff Building in Clarksburg, West Virginia. Courtesy of the Harrison County Historical Society.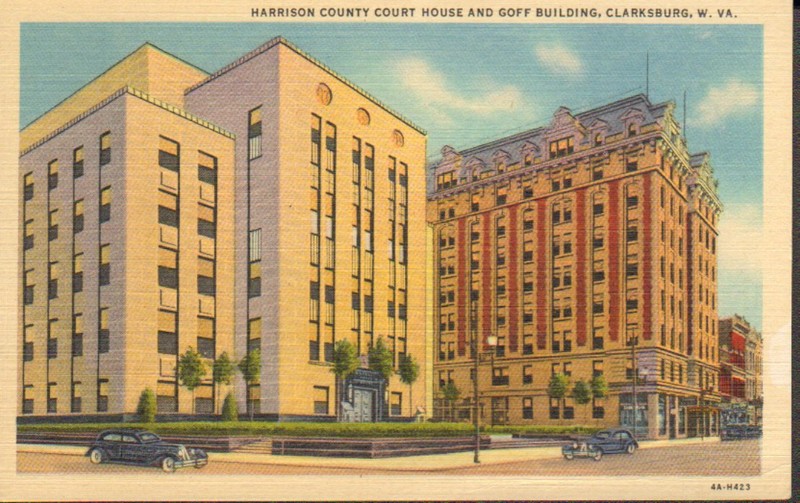 Backstory and Context
­­­­­­ Major Nathan Goff Jr. was the third child of Waldo P. Goff and Harriet Louise Moore Goff, and was discharged from the United States military in September of 1864. Goff then attended law school at Cooper Institute in October of 1864, however he left in December the same year without graduating. After applying, the Circuit Court of Harrison County approved Goff's admission, and Goff started practicing law in Harrison and the adjoining counties in March on 1865. In his first years of practice, Goff gained clients and experience thanks to his family's popularity in the community. On November 7th, 1865, Nathan Goff Jr. married Laura E. Despard, who welcomed their first child in September of 1866.
Goff joined his father in law's practice soon after his marriage to Laura, and attempted to gain public office in August of 1866. The Harrison County Union Republican convention chose Goff and Solomon S. Fleming as candidates for the West Virginia House of Delegates. Goff, along with the rest of the Union ticket, won on October 25, 1866, and was in Wheeling for the opening of the legislature on January 15, 1867; Goff was the youngest delegate in attendance. Goff was appointed to as the United States District Attorney for West Virginia by President Andrew Johnson in November of 1868, and was reappointed in 1872, 1876, and 1880, while still managing his private law firm and investments in Clarksburg. Goff was partly responsible for the formation of the Clarksburg Gas and Electric Company, which supplied the city with electricity for nearly 30 years.
In 1907, Goff decided to replace a modern brick office building he had erected in 1891 on the corner of West Main and Courts Streets. Inspired by South Carolina architecture, he hired architect Frank P. Milburn to design the new building in 1908. Milburn practiced architecture in Kentucky, West Virginia, North Carolina, and was responsible for designing the first steel frame building in South Carolina. Ground was broken for the Goff Building on June 28, 1910. Milburn trusted local Clarksburg architects, Elliott and Winchell, with his plans for the new office building. Elliot and Winchell were contractors for the Harrison Count jail and sheriff's residence, the Empire Building, two schools, and V.L. Highland's residence in Clarksburg, as well as other structures in larger cities in West Virginia.
The Goff Building was reinforced with steel frame fireproof construction and concrete floors. The first floor was built to house a bank, while the remaining stories held 193 offices collectively. Two high-speed electric passenger elevators were installed, as well as a bronze mail chute that ran the entire height of the building. The bank was adorned in marble and bronze, as well as fireproof vaults. The building was heated with an overhead direct steam system that used natural gas for fuel. The Goff Building was handed over to the owners in January of 1911, and tenants started moving in the next month. Some of the building's first tenants include: Farmers Bank, Williams-Coffman Hardware Co., Bane and Bond, and Hayman Greenhouse Co.
Sources
Davis, Dorothy. Clarksburg: A Bicentennial Album 1785-1985. Clarksburg, WV. Clarksburg Bicentennial Committee, 1986.


Additional Information