St. Louis Cemetery no. 2
Introduction
Occupying three city blocks within New Orleans' Faubourg Tremé neighborhood, St. Louis Cemetery no. 2 is the largest of the three cemeteries that bears the name of the 13th century crusader. It was consecrated by New Orleans' Catholic Diose in 1823 and most of the human remains there are interred in above ground vaults and tombs. Often referred to as "cities of the dead" the three St. Louis Cemeteries are the resting places of many famous and infamous former residents of New Orleans. Cemetery no. 2 has numerous jazz and rhythm and blues musicians as well as local and national politicians entombed within its confines. It was added to the National Register of Historic Places in 1975.
Images
St. Louis Cemetery contains hundreds of above ground tombs and vaults, such as these.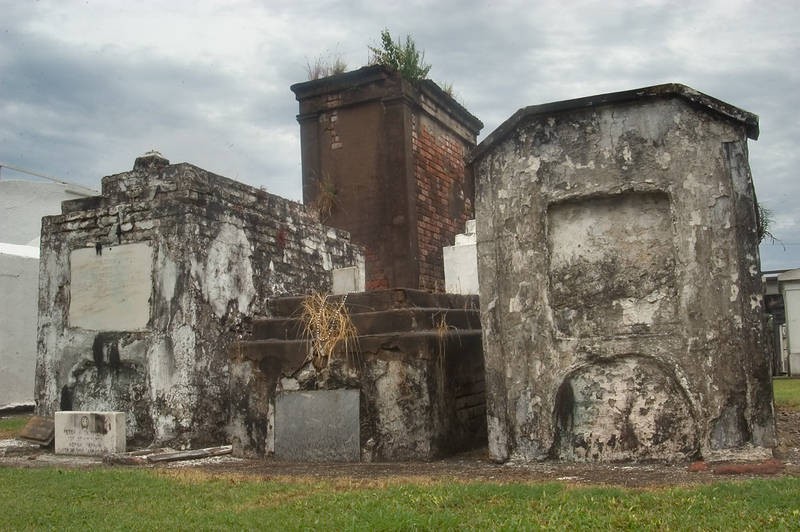 From this vantage point it's easy to understand why New Orleans' cemeteries are referred to as "cities of the dead."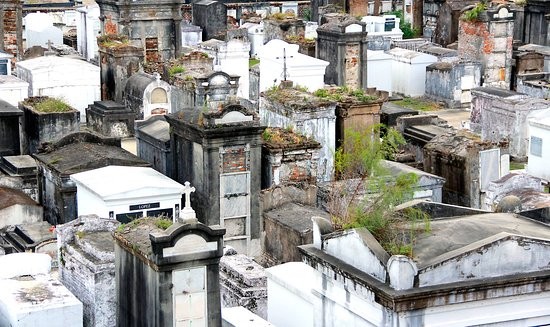 These are the wall vaults that were saved by Save Our Cemeteries and serve as the border for Cemetery no.2.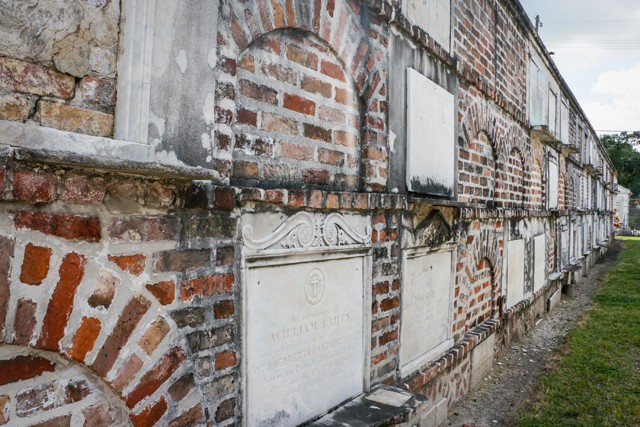 This large aisle bisects Cemetery no. 2.

A curious visitor peers into a tomb that has been damaged by vandals and neglect.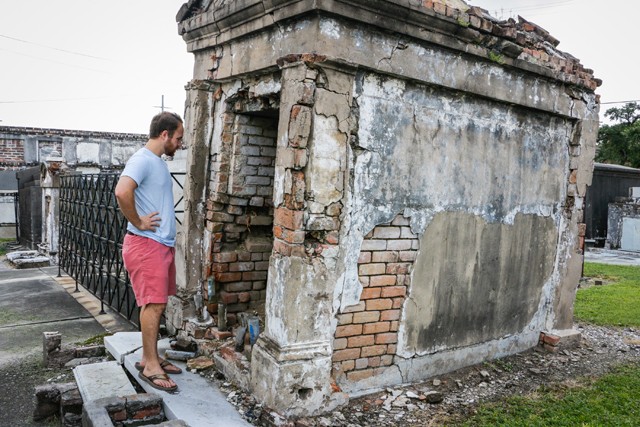 Backstory and Context
In the early 19th century, New Orleans sought to move its cemeteries from the city center to its fringes in order to lessen the spread of contagious diseases. City leaders falsely believed that these diseases, such as cholera and yellow fever, were spread by "miasmas" or foul gasses, flowing from dead. Consequently, when it was time to create a new cemetery, they located St. Louis Cemetery no. 2 in, what was then, the outskirts of the city. It was located only a few blocks from Cemetery no. 1 and laid out with an orthogonal grid design. It has a large, center aisle with parallel side aisles and has been divided into thirds by Conti and Bienville Streets.
The tombs and vaults contained within this creole cemetery are the source of some very impressive antebellum mortuary art. Many of the tombs themselves, carved and bas-relief sculptures, and scrolled ironwork were designed by James Gallier and J.N.B de Pouilly. Unfortunately, the vaults and tombs have been damaged more by neglect and vandalism than even by Hurricane Katrina. In 1974 the Archdiocese of New Orleans sought to demolish the crumbling wall vaults that surround the cemetery and replace them with a chain link fence. In order to save the vaults and the cemetery itself, a non-profit organization known as Save Our Cemeteries was created. This organization was able to repair the vaults and get Cemeteries no. 1 and no. 2 listed on the National Register of Historic Places. It also offers tours of both St. Louis Cemeteries no. 1 and no. 2 as well as Lafayette Cemetery no. 1 and cares for 31 cemeteries within New Orleans.
Some of the notable musicians interred at Cemetery no. 2 include Danny Barker and his wife Louisa "Blue Lu" Barker, Earl King, and Ernie K-Doe. Former mayors of New Orleans, Charles Genois and Paul Capdevielle, represent just a few of the politians resting at no. 2, others include Jacques Villevé (second governor of Louisiana after statehood), Pierre Soulé (U.S. senator, minister to Spain, and Confederate officer), and Pierre Nord Alexis (President of Haiti, 1902-1908). Mother Henriette DeLille, a candidate for sainthood is also interred here as is Dominique You, the pirate/privateer friend of Jean Lafitte and veteran of the Battle of New Orleans, and Andre Cailloux, the African-American Union Civil War hero and martyr.
Sources
"St. Louis Cemetery no. 2" Save Our Cemeteries. Accessed January 20, 2017. http://www.saveourcemeteries.org/st-louis-cemetery-no-2/
"St. Louis Cemetery no. 2" World Monuments Fund. Accessed January 20, 2017. https://www.wmf.org/project/st-louis-cemetery-no-2
Thompkins, Gwen. "Beyond the Music in St. Louis Cemetery No. 2" National Public Radio. July 5, 2012. Accessed January 20, 2017. http://www.npr.org/2012/07/05/156252315/beyond-the-music-in-st-louis-cemetery-no-2
Additional Information