The Don Chafin House
Introduction
Logan County is well-known for its rich history related to the Mine Wars. One of the more notorious figures against the labor movement, Don Chafin, made his home in Logan. As sheriff of Logan County, the so-called "Czar of Logan" was a well-known figure in the struggle for unionization in the Southern West Virginia coalfields.
Images
Don Chafin's home in Logan. Compared to typically modest working-class residences in the area, the wealth that Chafin obtained is indicated in the style and size of the structure.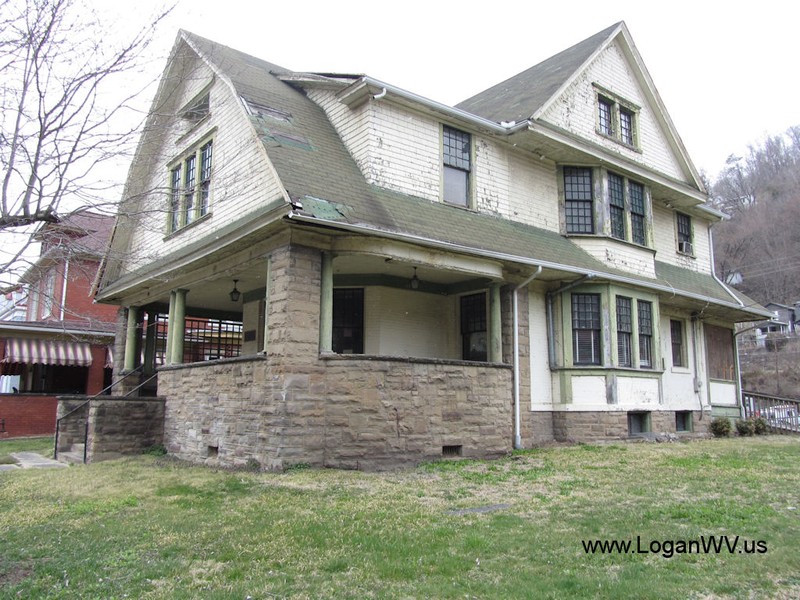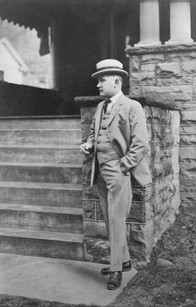 This photo was taken outside the Logan County Courthouse. Pictured at the front and center is Sheriff Don Chafin and his deputies. With a force this size, it is easy to see how difficult it was for union organizers in the area. Source: wvculture.org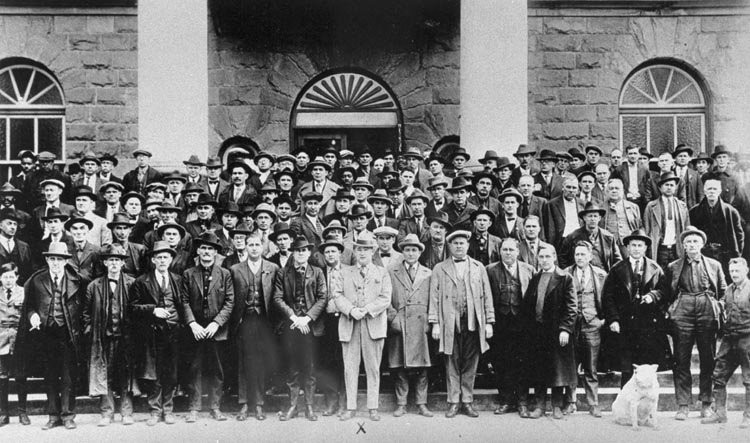 A portrait of Don Chafin. One reporter from Washington D.C. described Chafin as "king of the 'Kingdom of Logan.'" Source: e-WV
Backstory and Context
Sheriff Don Chafin was born in Marrowbone Creek in Kermit, West Virginia on June 26, 1887. Originally in Logan County, the area became part of Mingo County in 1895. Don was born into a family of eleven children. He was educated at Marshall College (now Marshall University). Chafin had many careers, ranging from store clerk to teacher.   
Don Chafin easily made his way into the political elite of Logan County. He was the county assessor by age 21. At 25, he became the county sheriff for one term. In Logan County, individuals could not serve consecutively in the same office. Chafin then served as county clerk. Rather than lose his grip on Logan, he succeeded in placing his father-in-law in the post of sheriff. Don Chafin again became sheriff in 1920. With a tight hold on the political structure of Logan County, the man was a force to be reckoned with when it came to the Mine Wars.
During the Mine Wars, Sheriff Don Chafin was a pivotal figure in attempting to halt the movements of the United Mine Workers of America to organize miners in Logan County. He was a formidable opponent against union organizers, and developed a reputation for his brutal tactics. Don Chafin was despised by unionists. When he walked into the headquarters of UMWA District 17 in 1919 he was shot and wounded. 
Chafin was funded by non-union coal operators in the area. When the Logan County Coal Operators' Association decided to form its own police force, Chafin and his deputies were hired by the Operators' Association to keep the peace, and to keep out the union. Sheriff Chafin was allegedly paid approximately $2,275 a month to work for them.
Sheriff Chafin and his force of deputies formed the major defending force during the infamous Battle of Blair Mountain that took place in August 1921. Armed union coal miners from Kanawha, Fayette, Boone, McDowell, and many other counties participated in a pitched battle along the heights and gaps of Blair Mountain. The number of miners that participated is estimated at between 7,000 and 20,000. An exact number remains uncertain. Chafin's force numbered perhaps 2,000 defenders, including a few locally-owned planes that dropped homemade bombs on the miners during the battle. The Battle of Blair Mountain ended after President Warren G. Harding deployed 2,500 federal troops and a squadron of bombers to the area. 
Following the Battle of Blair Mountain, Don Chafin would serve time in a federal penitentiary in Atlanta, Georgia. His incarceration was not due to his actions in the Mine Wars, but for a violation of Prohibition statutes. In 1929, he left the Logan area and moved to Huntington. Don Chafin died in Huntington on August 9, 1954 at age 67. In his later years, he was a noted philanthropist, giving money freely to many charities. Sheriff Don Chafin's memory lives on in the area. To this day, he remains one of the most prominent, yet controversial, figures in the history of Logan County and southern West Virginia.
Throughout the Mine Wars era, Don Chafin had his home in Logan, West Virginia. The two-story residence was built in a shingle style around 1900. It is believed that Chafin's brother-in-law, Frank Hurst, built the home. Hurst was one of two owners before Chafin acquired the property. Situated near downtown Logan, the home faces Main Street, known by local residents as "The Boulevard." In 1946, the residence was placed in the care of the Woman's Club of Logan and once served as a public library. Today, the home remains under the ownership of the Woman's Club of Logan, and is listed on the National Register of Historic Places. 
Sources
Bailey, Kenneth R. "Don Chafin". e-WV. November 04, 2012. Accessed April 17, 2018. https://www.wvencyclopedia.org/articles/1042.
National Register of Historic Places, Chafin House, Logan, Logan County, West Virginia, National Register #94000217
Corbin, David A. Life, Work, and Rebellion in the Coal Fields. Morgantown, WV. West Virginia University Press, 2015.
Bailey, Kenneth R. "Battle of Blair Mountain." e-WV: The West Virginia Encyclopedia. 14 October 2013. Web. 02 May 2018.
Eller, Ronald D. Miners, Millhands, and Mountaineers : Industrialization of the Appalachian South, 1880-1930. Edition 1st. Twentieth-Century America Series. Univ Tennessee Press, 1982.
Don Chafin. Logan WV, History and Nostalgia. March 14, 2013. Accessed April 24, 2018. https://loganwv.us/don-chafin/.
Additional Information