Historical Marker: Jefferson Davis
Introduction
President of the Confederate States of America, Jefferson Davis, died in this home on December 6, 1889. The marker stating this historical event is placed on the fence in front of the home. There is a large stone block located next to the road on which important dates of Davis' life are inscribed. The home is privately owned but can seen from the sidewalk. Davis died of acute bronchitis.
Images
The historical marker on the fence outside of the home.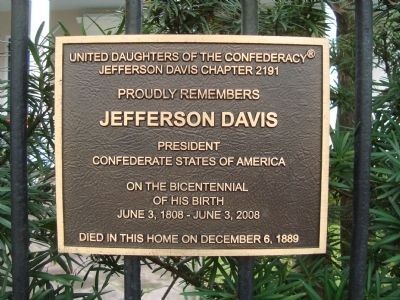 The stone monument is situated next to the curb and features important dates in Davis' life.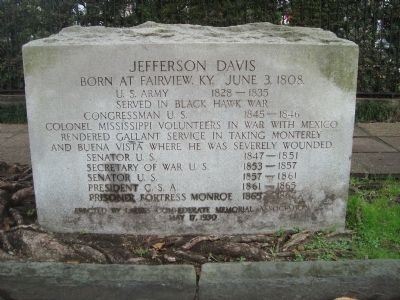 The house in which Davis died is located in the historic and affluent Garden District of New Orleans.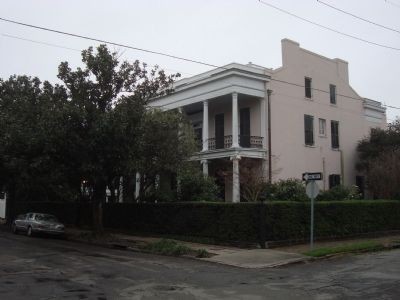 Backstory and Context
Jefferson Davis was born in Kentucky in 1808 but his family moved to Mississippi in the early years of his life. His parents sent him to boarding school in Kentucky and he eventually attended Transylvania University. He continued his studies the U.S. Military Academy at West Point where he graduated third in his class. He was assigned to the 1st Infantry of Wisconsin after graduating but did not serve in combat during the Black Hawk War (1832) because of illness. However, Davis did see action in the Mexican-American War (1846-1848) and was recognized for his valor during the Battle of Buena Vista.
In the coming years he would be a U.S. Senator for Mississippi and Secretary of War under President Pierce (1853-1857). In February 1861, he reluctantly accepted the position of provisional president of the Confederacy; he was officially elected president six months later. He was captured by Union forces on May 10, 1865 and held in prison for two years at For Monroe, Virginia. After the war he and his wife traveled to Canada, Europe and Cuba. In 1881 he wrote
The Rise and Fall of the Confederate Government
, a defense of his actions and that of the Confederate cause. This work helped revive his reputation. He spent the later years of his life at an estate called
Beauvoir on the coast of Mississippi. He died while in New Orleans in 1889.
Sources
"Jefferson Davis." The Historical Marker Database. Accessed January 17, 2017. http://www.hmdb.org/marker.asp?MarkerID=51521.

"Jefferson Davis (1808–1889)." Encyclopedia of Virginia. Accessed January 17, 2017. http://www.encyclopediaVirginia.org/Davis_Jefferson_1808-1889#start_entry.