Masonic Temple Building
Introduction
The Masonic Temple Building was constructed to serve as a permanent Lodge for the Shepherdstown charter of Freemasons. While that is its primary use, the building also serves as a meeting place for the Order of the Eastern Star. The ground floor of the building is currently occupied by the Dickenson & Wait Craft Gallery. Until recently, the Lodge also held the honor of housing one of the two "Washington Aprons."
Images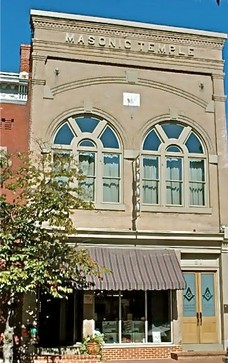 Washington Apron on public display during the Bicentennial celebration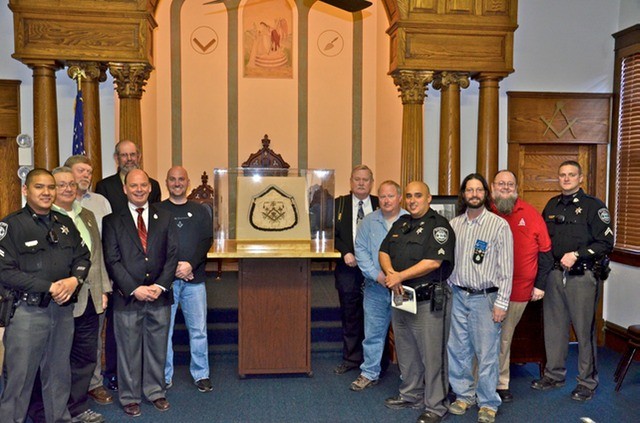 Backstory and Context
The Masonic Temple Building in Shepherdstown was constructed to house a branch of the Freemasons, though the branch was meeting long before the building was constructed. The lodge was active until 1856, when another lodge was granted the same name and number. Following the separation of West Virginia from Virginia, the Grand Lodge of West Virginia was formed to oversee the lodges of the new state. The Shepherdstown Lodge was rechartered by the Grand Lodge of West Virginia under its original name and number on November 3, 1872.

The Shepherdstown Lodge holds a claim to fame through an object held in its keeping for nearly two hundred years: George Washington's Masonic Apron. One of the two owned by the former president, the apron was a gift from the Marquis de Lafayette during the Revolutionary War on behalf of the Grand Lodge of France. After Washington's passing, the apron was given to his youngest brother Charles, who passed it on to Captain Thomas Hammond, who had married his daughter, Mildred Washington. Captain Hammond would become a member of the Shepherdstown Lodge in 1815 and Master in 1848. Following his initiation, he presented the Lodge with the apron, where it remained perfectly preserved until 2011.

The Lafayette Apron was worn in the cornerstone laying ceremony of several building projects in Washington D.C., including the Smithsonian Institution in 1847 and the Washington Monument in 1848. The apron was put on public display during the Shepherdstown Lodge's bicentennial celebration, where visitors were permitted inside of the Lodge to see it and take photographs. Currently, the Lafayette Apron is on loan to the Mt. Vernon estate, where it has been displayed every year on George Washington's birthday.
Sources
Lodge 91 Website. http://www.lodge91.org/.

George Washington's Apron Exhibit. Mount Vernon Official Website. http://www.mountvernon.org/plan-your-visit/calendar/exhibitions/george-washingtons-masonic-apron-on-view/.