George Washington Cable House
Introduction
George Washington Cable (1844-1925), one of the country's most prominent writers of late 19th and early 20th century, built this house 1874 and lived here for ten years. Cable is known for his vivid writings about Creole life in New Orleans. He explores this theme in his best-known work, "The Grandissimes: A Story of Creole Life", which is a historical romance about a mixed-race family living in New Orleans. Before this novel was published in 1880, Cable wrote a series of short stories called "Sieur Gerorge" for a publication called Scribner's Monthly. These writings were widely acclaimed and were eventually compiled in book form. Cable had many other interests beyond writing including political reform, abolition, philanthropy, and even gardening. The house, which is privately owned today and mostly blocked from view by a tall hedge, was declared a National Historic Landmark in 1962.
Images
George Washington Cable House lived here from 1874-1884.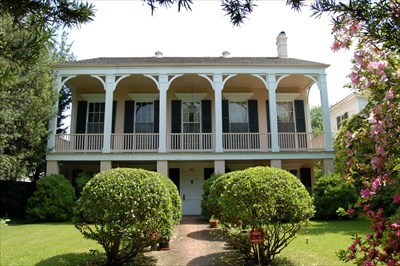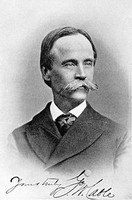 Backstory and Context
Cable was a staunch supporter of the Confederacy during the Civil War. He was a member of the 4th Mississippi Cavalry and was wounded in a battle. However, his experiences in the war changed his views completely about slavery. For the rest of his life he would work towards the betterment of African Americans. He moved to New England in 1884.
The Cable House is located on the Garden District's west side, on the east side of Eighth Street between Chestnut and Coliseum Streets. It is almost entirely obscured from view by a tall hedge. It is functionally a two story house, although it was built by Cable as a single-story structure with a full-height basement. Columns in front of the facade provide an arcade on the basement level, and support the porch of the main level. Bracketed posts support the roof above the porch. The house was built by Cable in 1874, shortly after the publication of "Sieur George", the short story that brought him national attention.
The house was Cable's home until 1884, a time period which saw the publication of The Grandissimes: A Story of Creole Life, an ambitious historical romance, and a number of other important works. Mark Twain is said to have been one of Cable's guests here. Cable moved to New England in 1884, but is writing style and content continued to be influenced by his native New Orleans.
Sources
Bond Thompson & Armistead Lemon. "George Washington Cable, 1844-1925." Documenting the American South: University Library, The University of North Carolina at Chapel Hill. 2004. http://docsouth.unc.edu/southlit/cablegrand/summary.html.
Patricia Heintzelman. "George Washington Cable House." National Park Service - National Register of Historic Places. October 15, 1966. https://focus.nps.gov/GetAsset?assetID=850da74e-957e-49af-99c5-921193523b70.
Andrews, William L., Minrose Gwin, Trudier Harris and Fred Hobson, eds., The Literature of the American South: A Norton Anthology, New York: W. W. Norton & Company, 1998, p. 275-276


Cleman, John, George Washington Cable Revisited, Ed. Nancy Walker, New York: Twayne Publishers, 1996, pp. 1–19


Harrison, Suzan, "The Grandissimes: A Story of Creole Life," Masterplots, Revised Second Edition, Salem Press, 1996


Lauter, Paul, ed., The Heath Anthology of American Literature, 4th edition, Boston, MA: Houghton Mifflin Co., 2002


Pizer, Donald and Earl N. Harbert, eds., Dictionary of Literary Biography: American Realists and Naturalists, volume 12, Detroit: Gale Research Company, 1982


Rubin, Louis D., Writers of the Modern South: The Faraway Country, Seattle: University of Washington Press, 1966


Wilson, Edmund, Patriotic Gore: Studies in the Literature of the Civil War, New York: Oxford University Press, 1962


Additional Information