Haan Mansion Museum of Indiana Art
Introduction
The Haan Mansion Museum of Indiana Art, as its name indicates, showcases art created by Indiana artists. It is located in a mansion that was, interestingly, built for the 1904 St. Louis World's Fair and designed to be dismantled for transfer to another location. The museum gets its name from the current owners, Bob and Ellie Haan. It features over 100 works of art consisting of paintings, ceramics, sculptures, and furniture. Works by T.C. Steele and the Brown City Art Colony (established in 1907 in Nashville, Indiana) are well represented here. The furniture, most of which dates to the Renaissance Revival period, is also a highlight. The sculptures are located outside in a sculpture garden opened in 2016. Other attractions at the museum are the nature and mountain biking trails located on the property's five acres.
Images
The Haan Mansion Museum of Indiana Art was built in 1904 for the St. Louis World's Fair to represent the ideal Connecticut gentleman's home. Photo by: Tom Baugues for Lafayette Magazine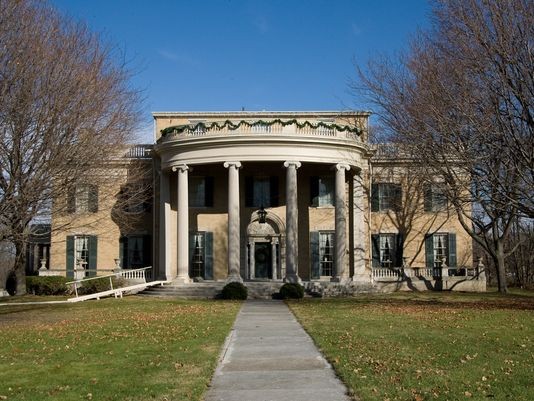 Backstory and Context
Once the World's Fair was over it was moved here and became the home of Mr. and Mrs. William Potter. The Potter family owned it until 1984 when the Haans bought it. The purpose of the mansion at the fair was for it to be a showcase of a Connecticut gentleman's house and as such took its design from other similar mansions. It has remained largely unaltered and looks much like it did at the fair.
Sources
"Haan Mansion Museum of Indiana Art." Visit Lafayette-West Lafayette. Accessed January 16, 2017. http://www.homeofpurdue.com/attractions/haanmansion.html.

Holden, Meghan. "Haan Museum to open sculpture garden." Oct. 27, 2016.
http://www.jconline.com/story/news/local/2016/10/27/haan-museum-opens-sculpture-garden/92739252.

"The Mansion." Haan Mansion Museum of Indiana Art. Accessed January 16, 2017. http://haanmuseum.org/Mansion.aspx.