Hoagy Carmichael Historical Marker
Introduction
Born in Bloomington on November 22, 1899, Hoagland "Hoagy" Howard Carmichael is perhaps best known for his career as a pianist and composer. He also made the rounds as a singer, songwriter, actor, and bandleader. Under his belt are such songs as "Stardust", "Georgia On My Mind", and "The Nearness of You." Among his many shining accomplishments stands this modest historical marker, dedicated in memory of the man and his contributions by the Indiana Historical Bureau and the City of Bloomington in 2007. You can also find "The Hoagy Carmichael Collection" further detailing the life and times of Hoagy at Indiana University's digital library. Hoagy's music not only lives on as a legacy of Indiana but portrays the intense influence from Chicago as jazz stylings penetrate Indiana culture.
Images
The marker describing Hoagy's life and accomplishments. Photo by: Duane Hall.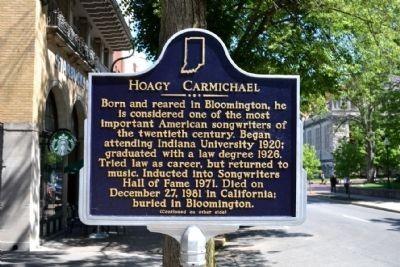 Hoagy Carmichael left his mark on not only Indiana's music scene but the world's as well. He was a twentieth-century renaissance man, dabbling in a variety of the arts rather than stick to a particular niche.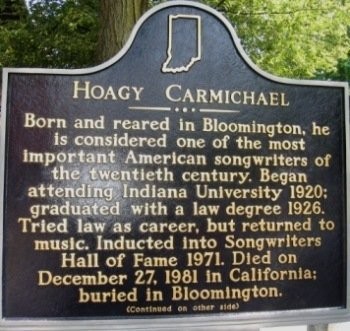 Not only did he compose music, Hoagy also sang, acted, and led his own band. During his time in college, he had had a band known as "Carmichael's Collegians". The nickname Hoagy was given to him by a college girlfriend.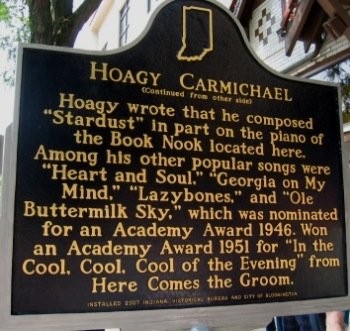 Hoagy Carmichael's early career was heavily influenced by the Jazz age and his collaborations with such musicians as Bix Beiderbecke and Louis Armstrong. His later life brought about a calmer, almost dreamy style that became popular to use in films.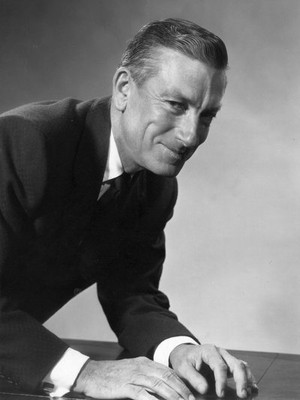 Now called "The Gables", this favorite campus hangout was once called the "Book Nook" and is purportedly where Hoagy worked on his song "Stardust". The historical marker in his honor stands outside the establishment.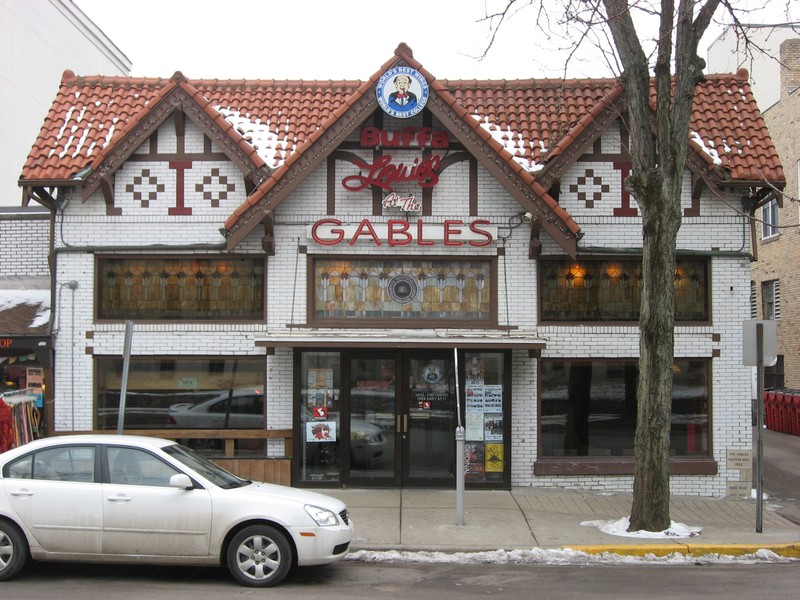 Backstory and Context
"I sat down on the spooning wall at the edge of campus, and all the things that the town and the University and the friends meant flooded through my mind. I sat on the lovers' wall alone, looked up at the sky, and whistled a tune that became Stardust. I ran to the Nook, fearful of spilling the tune. 'Got to use your piano, Pete.' Sure. But.' Very important.' Gotta close up. But I give you a few minutes.' The notes sounded good and I played till I was tossed out, protesting, still groping for the full content of my music" 1
The "Nook" that Hoagy refers to in this quote was the Book Nook, a former campus hangout across from the Indiana University School of Law where Hoagy was attending classes in pursuit of his law degree. While he did end up eventually graduating with that degree in 1926, it was the music that kept its grip on him and in 1927 after purportedly hearing the song Washboard Blues, Hoagy abandoned his job as a clerk and made the jump into show business. On Halloween of that same year, he would record Stardust with his band for the first time. 
Like many others during the mid-1920s and early 30s, the beginning of Hoagy's career was heavily influenced by the smooth sounds of jazz due to the intense influence of Chicago on the state of Indiana and its music. When he left Indiana in 1929 and moved to New York City, he began collaborating with other similarly minded musicians. Among them were the likes of Bix Beiderbecke, Louis Armstrong, the Dorsey brothers, Benny Goodman, Jack Teagarden, and Johnny Mercer. Despite the trying times of the Depression, they were still able to create such hits as Lazy Bones.
Carmichael had a knack for writing "home songs," tunes that touched people personally and evoked a familiar experience in a comfortable setting — the massively-popular "Georgia On My Mind" is one example. Carmichael's down-home style lent a special character to his numbers, and his twangy vocal style was reflected in some of his melodies. Hoagy's ability to sing and play his compositions catapulted him further into the popular limelight in the 1930s, setting the model for other popular pianist-singers who would follow. 2
Hoagy's style began to change into something folksier and calmer, common due to the rural culture of Indiana, than his previous jazz swing. The death of close friend Bix Beiderbecke in 1931 and his marriage to Ruth Meinardi in 1936 would shut the door on a previous chapter in his life, sending him on to Hollywood where he would begin composing music for songs, sometimes appearing on film as a piano player playing those very same songs. Look closely and Hoagy can be spotted in 1942's To Have and Have Not after Lauren Bacall introduces How Little We Know.
The 1940s saw the peak of Hoagy's career as a songwriter, a singer, a movie actor, and even as a radio star. He also published a book of memories in 1946 called The Stardust Road. In 1951 he would go on to win an Academy Award for Best Song with his composition In the Cool, Cool, Cool of the Evening. Though he would continue to see modest success afterward, the rise of Rock & Roll signified the beginning of the end for what many deemed the "golden era" of music. All the same, his contribution to the arts is still recognized to this day.
With rare exceptions, until Carmichael came along, songwriters were a separate group from singers. Something of a modern minstrel, Carmichael was one of the first singer-songwriters in the age of mass media. He paved the way for later such performing writers as Bob Dylan, Billy Joel, Bruce Springsteen, and Joni Mitchell. His down-home Hoosier accent and singing style he described as "flatsy through the nose" made him seem like one of the people. In fact, more so than many songwriters (for example, fellow Hoosier Cole Porter), Carmichael's songs appealed to all sections of American society-from the Wall Street broker to the sharecropper farmer because he used each influence from his hometown to Chicago to his travels to play a role in his music. 3
Hoagy not only developed a strong musical reputation on the campus of Indiana University but also played fraternity dances with his friend Bix Beiderbecke. It was at Indiana University that Hoagy wrote his first piece for Bix who then took the hit to Richmond, Indiana to Gennett Records, the main jazz recording studio of the time.
When Hoagy passed away on December 27th 1981, he had already lived a full life that included an induction into the Songwriters Hall of Fame. His legacy lives on, especially in the town of Bloomington. Many of his belongings and papers have been donated by his parents to Indiana University.
Sources
Hoagy Carmichael. Indiana Historical Bureau. Accessed January 15, 2018. https://www.in.gov/history/markers/529.htm.
Hoagy Carmichael: "Stardust Melodies". NPR Music. Accessed January 15, 2018. https://www.npr.org/2008/03/12/88122354/hoagy-carmichael-stardust-melodies.
Hoagy Carmichael Collection. Indiana University Digital Library. Accessed January 15, 2018. http://www.dlib.indiana.edu/collections/hoagy/research/bio/index.html.
Hasse, John Edward. May 18th 2017. Accessed April 15th 2020. http://www.dlib.indiana.edu/collections/hoagy/research/bio/.
https://www.youtube.com/watch?v=e4bILXqx9WU
Additional Information