Secrest Ferry Bridge
Introduction
The Secrest Ferry Bridge was built in 1903 by the Lafayette Engineering Company. Spanning 316 feet across the White River, it replaced a ferry crossing that had proven to be inefficient as crossing could only occur when the water level was low. It is significant for its architecture and economic impact. It terms of architecture, it is the longest truss highway bridge and one of the longest single-span bridges in the state. It retains its original lattice railing and is good overall condition. In terms of economic impact, its purpose was to connect the cities of Gosport and Spencer and Owen and Monroe Counties more broadly. The modern bridge just to the west was built in 1990, replacing the Secrest Bridge as the main crossing point. However, it is still used for pedestrian and bicycle crossing.
Images
This historical marker provides information about the bridge.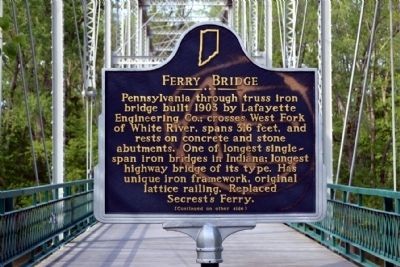 View of the bridge on the north end.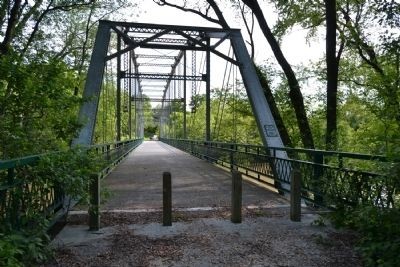 Sources
"Ferry Bridge." The Historical Marker Database. Accessed January 13, 2017. http://www.hmdb.org/marker.asp?marker=74167.

Stouder, Jane. "Secrest Ferry Bridge." National Park Service - National Register of HIstoric Places. May 30, 1996. https://secure.in.gov/apps/dnr/shaard/r/21ac3/N/Secrest_Ferry_Bridge_Owen_CO_Nom.pdf.

Photos by: Duane Hall


Additional Information