Pacific Hotel, Arbuckle Gallery, and O'Brien's
Introduction
The Pacific Hotel at History Park is a 1977-built replica of the building which stood on South Market Street near the Plaza de César Chavez from 1860 until after the turn of the century. The original Pacific was the business of Prussian immigrant Charles Schiele. Housed within the History Park replica are the History San Jose administration offices, the Arbuckle Gallery featuring works by local sign artist Giese, and a re-creation of San Jose's historic O'Brien's Ice Cream Parlor and Candy Shop, which serves locally produced ice cream from the Treat Ice Cream Company [2].
Images
The Pacific Hotel replica in History Park (image from History San Jose)
Re-creation of O'Brien's Candy Store in the Pacific Hotel (image from Historical Marker Database)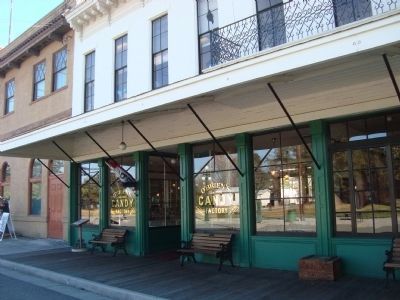 Ray Giese, San Jose sign artist whose work is exhibited at the Arbuckle Gallery in the Pacific Hotel (image from Metroactive)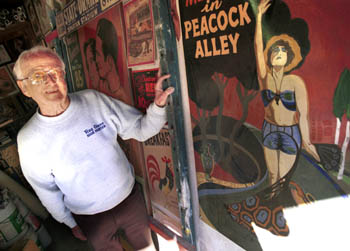 Historic advertisement for the original Pacific Hotel (image from History San Jose)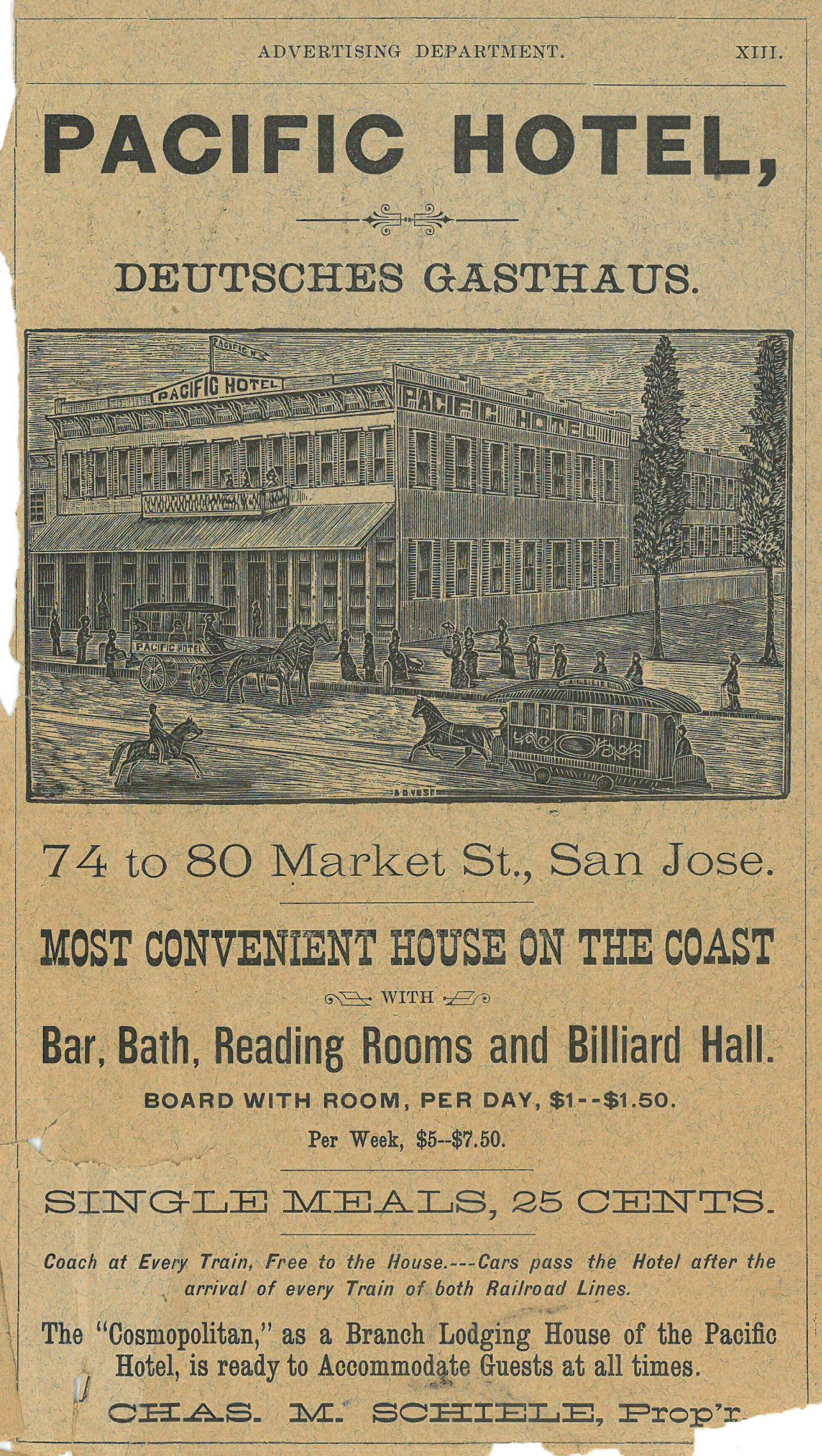 Original O'Brien's interior circa 1905 (image from San Jose Library)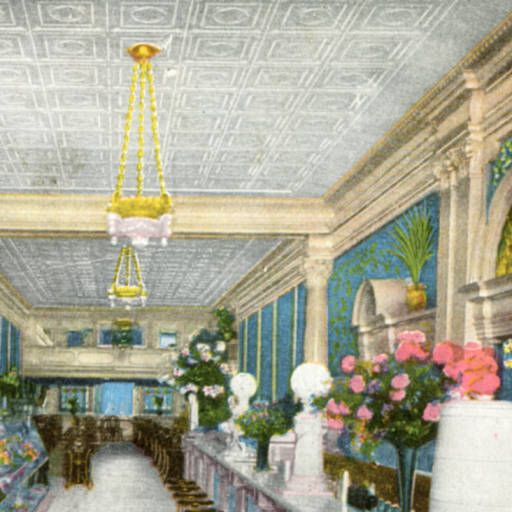 Backstory and Context
The Pacific Hotel
Charles M. Schiele was born in Furstenthum, Prussia in 1850. Circumstances forced him to leave school at age thirteen and spent the next seven years or so employed in a grocery, then a Leipsic hotel, and restaurants and hotels in Berlin. He fought in the German army during the Franco-Prussian War and was wounded severely during the French attack on Metz. After the war, Schiele traveled for two years in Europe before immigrating to New York in 1872, arriving with only thirty-five cents to his name. Once again, Schiele took up employment in hotels, in Chicago, St. Louis, and Kansas City, then moved to California in 1874 and tried his hand at mining. After fainting spells, typhoid, and "brain fever" led to a multiple-month hospitalization, Schiele returned to hotel work, this time as a waiter in a Marysville, California hotel. Schiele also began buying, subdividing, and re-selling real estate in the Santa Clara Valley. He married Irish immigrant Ellen Riordan in 1876 and the couple moved first to San Francisco, then to San Jose, where Schiele had already purchased 240 acres [1]. Among Schiele's purchases was Otter's Hotel on Market Street, near San Jose's plaza (now called the Plaza de César Chavez), which had been built in 1860. Schiele remodeled Otter's and renamed it the Pacific Hotel in 1880, acquiring the nearby Cosmopolitan Hotel to accommodate additional guests [1; 2]. The highly successful Pacific Hotel contained fifty-five rooms, a bar, billiards, a reading room, and a Deutches Gasthaus (German Guesthouse) specializing in German food. Other amenities included a livery stable and three reasonably-priced meals per day [2]. In 1887, Schiele sold his hotels to Julius Neifing and Jacob Schlenker, and was elected to the City Council [1; 2]. The Pacific was sold to George Pfeffer in 1903, and remained open for another four years, when the Pacific Telephone and Telegraph Company purchased the building and closed the hotel . History Park's replica of the historic hotel was constructed in 1977, and houses History San Jose's administrative offices on the upper floor and the Arbuckle Gallery and O'Brien's Ice Cream Parlor and Candy Shop on the ground floor [2].
The Arbuckle Gallery

The Arbuckle Gallery is named for Clyde Arbuckle, historian and founder of the San Jose Historical Museum, which is now History San Jose. The Gallery's current exhibit is Painting the Town: The Work of Rey Giese. Local artist Giese (1919-2013) began his career as a sign painter after dropping out of San Jose High School in 1935. This career proved to span over seventy-five years, with Giese producing over 20,000 signs in the Bay Area for businesses, public entities, political campaigns, community and school events, and circuses [2].
O'Brien's

Irish immigrant Maurice O'Brien began his business by selling baskets of candy in the Pacific Hotel's doorway in 1868. O'Brien upgraded to 1st and San Fernando Streets with a horse-drawn cart stand, then to a storefront at 30 South 1st Street in 1874--home of O'Brien's Candy Store until it moved a few doors down in 1928 [2; 3]. In 1878, O'Brien's became the first place west of Detroit to serve ice cream and sodas, and was acclaimed as, "the prettiest and most attractive candy store on the Pacific Coast," [3]. Family-owned until it closed in January of 1956, O'Brien's was considered by San Jose residents as a city institution [2; 3]. Based on its founder's early connection with the Pacific Hotel, it seems appropriate than when History San Jose, with sponsorship from the Rotary Club, chose to re-create O'Brien's Ice Cream Parlor and Candy Store, it would be housed in the hotel replica at History Park. The History Park O'Brien's today serves ice cream from a modern local family-owned business: the Treat Ice Cream Company [2].

Sources
1. Foote, H.S., ed. "CHARLES M. SCHIELE Land Developer of San Jose." In Pen Pictures From The Garden of the World or Santa Clara County, California, Illustrated. Chicago: The Lewis Publishing Company, 1888. Accessed January 14, 2017. http://mariposaresearch.net/santaclararesearch/SCBIOS/cmschiele.html.
2. History San Jose. Official website. Accessed January 12, 2017. http://historysanjose.org/.
3. Swackhamer, Barry. "O'Brien's: Candy - Ice Cream." Historical Marker Database. February 3, 2012. Accessed January 8, 2017. http://www.hmdb.org/marker.asp?MarkerID=52163.
Additional Information