The Alexandria Lyceum
Introduction
The Alexandria Lyceum is a building with one of the most storied histories in the city of Alexandria. Built in the Greek Revival style, the Lyceum has seen use as a home, a hospital, a lecture hall, and today, a museum of the history of the city of Alexandria. In addition to being an extensive city museum, the Lyceum is also available to rent for private events, echoing its original function as a lecture hall in years gone by.
Images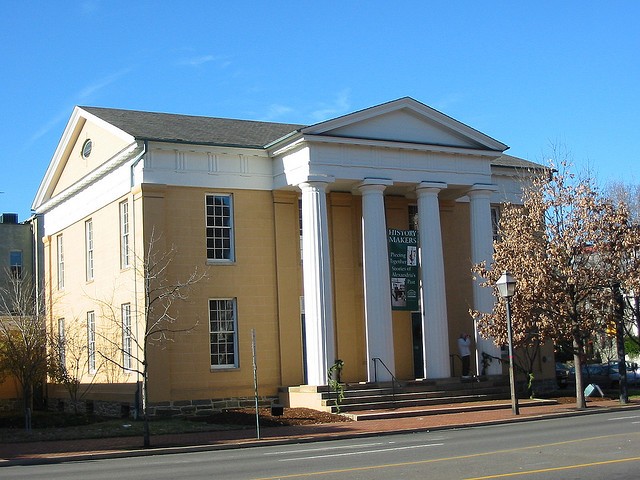 Backstory and Context
In the 1820s, a movement for public education was gaining momentum in the United States, and this was especially so among a group of like-minded individuals in Alexandria. This group, headed by a Quaker teacher named Benjamin Hallowell, formed the Alexandria Lyceum and began to give lectures and host debates in the town in 1838, which quickly became popular among citizens of the town. Most of these events concerned biology and philosophy, as religion and politics were avoided because they were always topics of heated contention. These had become so popular that by 1839, the organization decided that it needed to expand to fit the needs of those attending. By December 12, 1839, the Lyceum had a proper building constructed for the use of the organization, and it remained as such for two decades.
For the next century, the Lyceum continually switched hands of ownership. In 1861, it was taken by the Union and used as an army hospital; in 1868, it was purchased and made into a home which changed hands several times; in 1938, it was made into an office building; by the 1960s, the building was run down and was scheduled for demolition. Preservationists brought forth a call to preserve and refurbish the building, however, and the Alexandria City Council ultimately voted in favor of restoring the building in 1969. In 1974, renovations were complete and the Lyceum became the first Bicentennial Center in Virginia, and in 1985, it became Alexandria's museum of city history. Today, the Lyceum has resumed its original role as an educational and intellectual hub for the city.

Sources
http://dc.about.com/od/museumsinnorthernva/a/Lyceum.htm http://alexandriava.gov/historic/lyceum/default.aspx?id=38678
Additional Information