LeDroit Park
Introduction
LeDroit Park is a historic neighborhood in Washington, D.C., located to the southeast of Howard University and west of Bloomingdate. The neighborhood was founded in 1873 by businessman Amzi Barber, who originally developed and marketed it as a "romantic" (and exclusively white) neighborhood. In the 1940s, the area gained prominence as a haven for African-American intellectuals and professionals. Today, LeDroit Park is notable for its socioeconomic and cultural diversity, as well as many fine examples of 19th Century architecture.
Images
Intersection of 4th & T Streets, NW in the LeDroit Park neighborhood. Image by AgnosticPreachersKid at en.wikipedia, CC BY-SA 3.0, https://commons.wikimedia.org/w/index.php?curid=16242522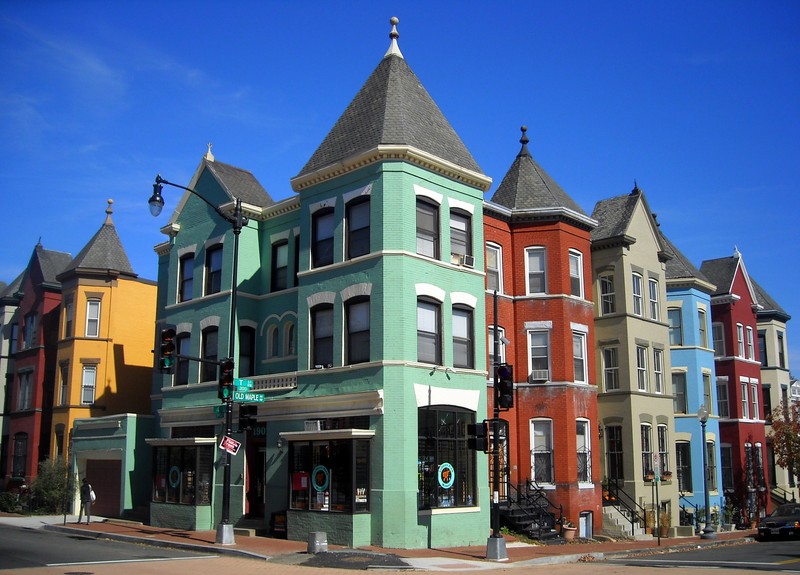 (1880) Map of LeDroit Park. Image courtesy of Library of Congress - http://ghostsofdc.org/image/zoom/rare-1880-plan-ledroit-park/17116/view.jpg, Public Domain, https://en.wikipedia.org/w/index.php?curid=47658431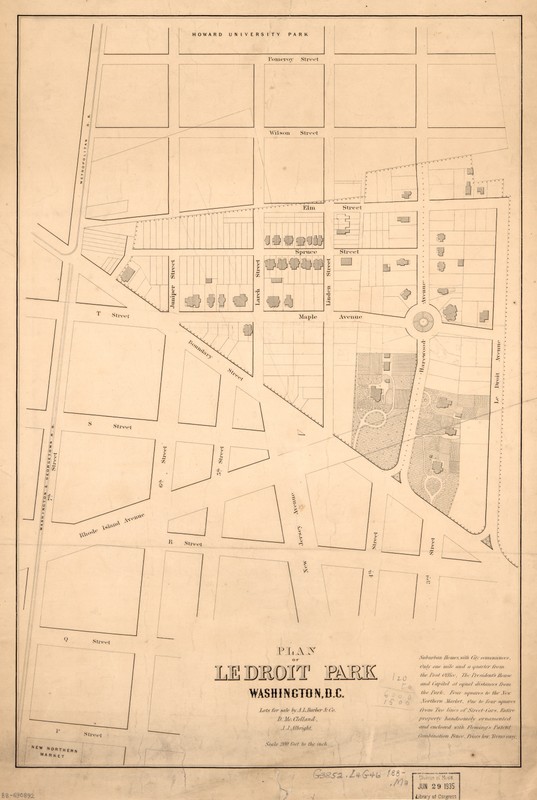 "This is How We Live," a mural from The Park at LeDroit by Garin Baker. CC BY-SA 3.0, https://en.wikipedia.org/w/index.php?curid=20967083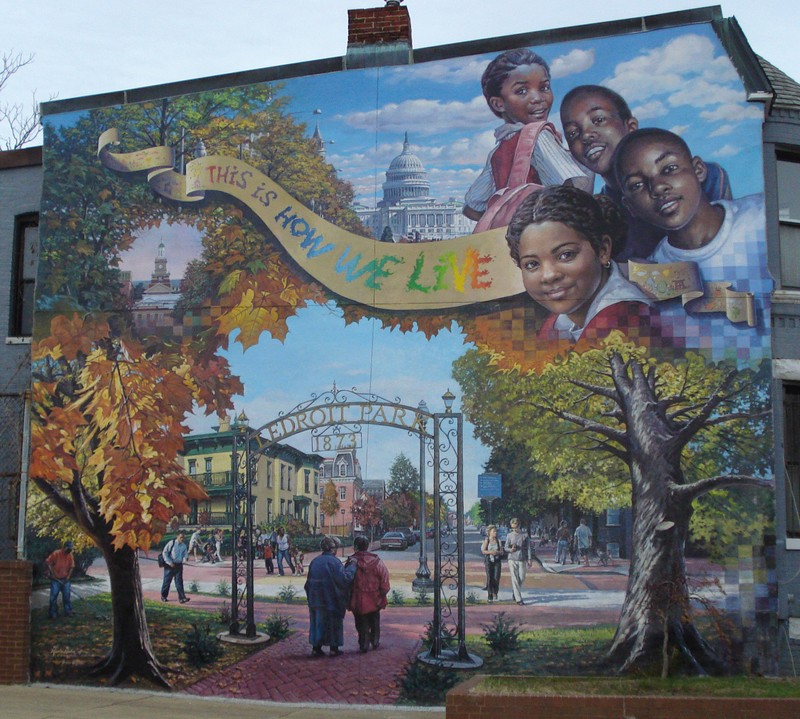 Mary Church Terrell House, a National Historic Landmark. Image by Shujenchang - Own work, CC BY-SA 3.0, https://commons.wikimedia.org/w/index.php?curid=21143211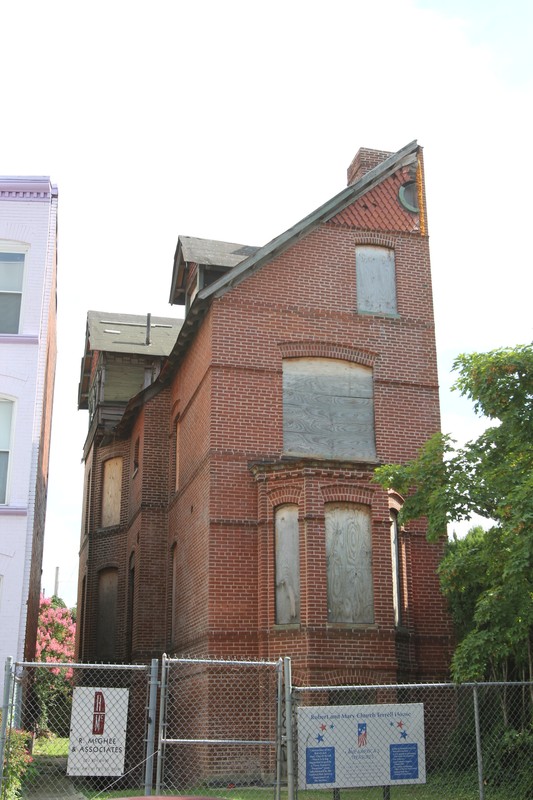 Backstory and Context
Originally founded in 1873 by Amzi Barber, one of the founders of Howard University, LeDroit Park began as a gated luxury community for white government clerks and merchants. A gated fence restricted access into the area and soon became a focal point for racial unrest. In July 1988, African American protestors tore the fence down, signaling the movement toward integration of the area. A barber named Octavious Williams and his family became the first Black residents of the neighborhood in 1892. Despite initial tensions, the area's close proximity to Howard University attracted new African American residents, such as suffragist March Church Terrell and her husband, Judge Robert H. Terrell.

LeDriot Park is known largely for its architecture, being the home of many examples of Victorian Mansions, houses, and row-houses designed by renowned architect James McGill. The McGill houses emulated the style of Italian villas, Gothic cottages, and other designs largely inspired by A. J. Downing's Country Houses. Mostly constructed between 1873 and 1877, each home is unique; LeDroits protected housing stock includes 12 different home styles. Fifty of the sixty-four original McGill homes are still extant. The remaining brick and frame row-houses date to the late 1880s and 1890s.

In addition to its architecture, LeDroit is recognized for its racial and sociocultural diversity. Historically, the area has been the residence of many Black visionaries, intellectuals, and civil rights leaders. Some of the most famous include such figures as poet Paul Laurence Dunbar; Army Gen. Oliver Otis Howard, founder of Howard University; Howard professor and co-drafter of the United Nations Charter Ralph Bunche; and the internationally-known genetic researcher Ernest E. Just.

Since 1974, LeDroit Park has been an officially recognized historic district. The district includes the home of Civil Rights leader Mary Church (a U.S. National Historic Landmark). Visitors to the area can explore the historic buildings and relax at The Park at LeDriot, which opened in 2011 following the closure of the Gage-Eckington Elementary School. Within the park is a community garden; His Royal Highness Prince Charles of Wales himself toured the Common Good City Farm in 2011. Public art in the form of numerous murals are located throughout the neighborhood and park. Additionally, in 2015, a 90-minute walking tour called the LeDroit Park Heritage Trail was established. The Trail begins at the "gateway" to LeDroit Park, where Florida Avenue, 6th and T Streets, Northwest meet.

Sources
"LeDroit Park Historic District." U.S. National Park Service. Accessed January 10, 2017. https://www.nps.gov/nr/travel/wash/dc65.htm.

"LeDroit Park." Wikipedia, the Free Encyclopedia. Accessed January 10, 2017. https://en.wikipedia.org/wiki/LeDroit_Park.

Reinink, Amy. "Real Estate." The Washington Post, July 15, 2011. Accessed January 10, 2017. https://www.washingtonpost.com/realestate/2011/07/08/gIQAgHJWGI_story.html.

Additional Information