People's Methodist Episcopal Church
Introduction
People's Methodist Episcopal Church, also known at the Independent Missionary Baptist Church, is a historic church in Colorado Springs in El Paso County, Colorado. Reverend Charles W. Homes was sent from Oskoloosa, Iowa by the Central Jurisdiction of the Methodist Church to build churches in Black communities. They church was formed on February 18, 1903 by a group of ex-slaves or children of ex-slaves and began meeting at the Grand United Order of Odd Fellows Hall. The church was built in 1904 in a neighborhood that was predominantly African-American. Prominent early members include Jesse Bass, Lonnie Bassett, and Frank Loper.The church building is historically significant for the role that it served in the African-American community and its distinctive Queen Anne architecture with elements of Gothic Revival architecture. It is one of the oldest wood-framed and clad churches on its original foundation in the Colorado Springs area. In the early 1930s the church was altered to have a broader, steeper pitched roof, removal of several small double-hung windows, arched windows were replaced with wood tracery, and two side-by-side, arched steeple openings were replaced with a smaller, single, centered arched opening.The church moved to 826 Boulder Street in 1965. The St. Vrain building has always been a place of worship
Images
Peoples Methodist Episcopal Church as it appears today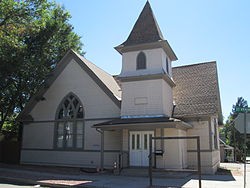 Backstory and Context
*History from church's website*
"Peoples United Methodist has a very long and rich history. Peoples United Methodist Church was in part established through the initiative of the Central Jurisdiction of Methodist Church to establish Black churches in the Colorado, and in part by founding fathers who had a vision to do God's work. Frank Loper was one of the those founding fathers. He was born on the plantation of Jefferson Davis, moved to Colorado Springs in 1886 with a family of Jefferson Davis. Mr. Loper connected with a small group of former slaves who were said to be loyal and dedicated to God's work, and they began to meet on a regular basis and eventually organized and interfaced with individuals who would make their dream of building a church come true.
Rev. C. W. Holmes from the Central Jurisdiction of the Methodist Church would eventually establish three churches in the Front Range: a church in Pueblo, our own Peoples United Methodist Church, and Scott United Methodist Church in Denver. In 1903, Peoples Methodist Episcopal Church was built. In 1929, Rev. C.J. Jackson came to Colorado Springs and wanted to continue her studies to become a schoolteacher, but Blacks were denied teaching privileges in Colorado Springs. While she spent her time at Peoples, Rev. Jackson focused on tithing and taught the importance of seeking God first and giving him your 'First Fruits.'
​Beginning in the 1950s, Peoples Church began to receive more communal recognition because of the talents and devotion of its members. In 1952, Rev. A.L. Reynolds became the first Black minister to participate in the national radio broadcast of the Eastern Sunrise Service at the Garden of the Gods. A few years later, Rev. R.H. Powell was the minister to have the Air Force Academy Choir sing at the church, and the event was a success. Rev. R.H. Powell served the longest pastorate in the church's history, serving from 1953 to 1962.
​In 1965, Peoples Methodist Episcopal Church moved from its original location to 828 E. Boulder St. In 1968, the Evangelical United Brethren Church and the Methodist Church combined, thus creating the United Methodist Church. Peoples Methodist Episcopal Church then became part of the Rocky Mountain United Methodist Church.
​In 2001, Peoples United Methodist Church took the initial steps to create and establish a new vision for itself. A strategic plan was created to help the church work towards the fulfillment of the vision, which included finding a new church location. In February of 2006, PUMC's prayers were answered when PUMC purchased a new church on 5 acres at 5110 Tamlin Road Colorado Springs, Co. 80938."
​
Sources
"People's Methodist Episcopal Church Nomination Form" (PDF). National Register of Historic Places, National Park Service. July 25, 2014.
Additional Information