Woodford Mansion
Introduction
Woodford Mansion was completed in 1758 as a summer home for Judge William Coleman. It Is located in Fairmount Park and is a fine example of late Georgian architecture. It was acquired by the city of Philadelphia in 1868 and served as a park building until it was restored and opened as a house museum in 1930, a role it still fills to this day. It is under the direction of the Naomi Wood Trust and proudly displays the Naomi Wood Collection of antique 18th and 19th century furniture and household goods. Woodford was added to the National Register of Historic Places in 1967 and is a part of the larger Fairmount Park Historic District.
Images
Woodford Mansion, completed in 1758 and expanded in 1772, sits in Philadelphia's Fairmount Park and is now open as a historic house museum.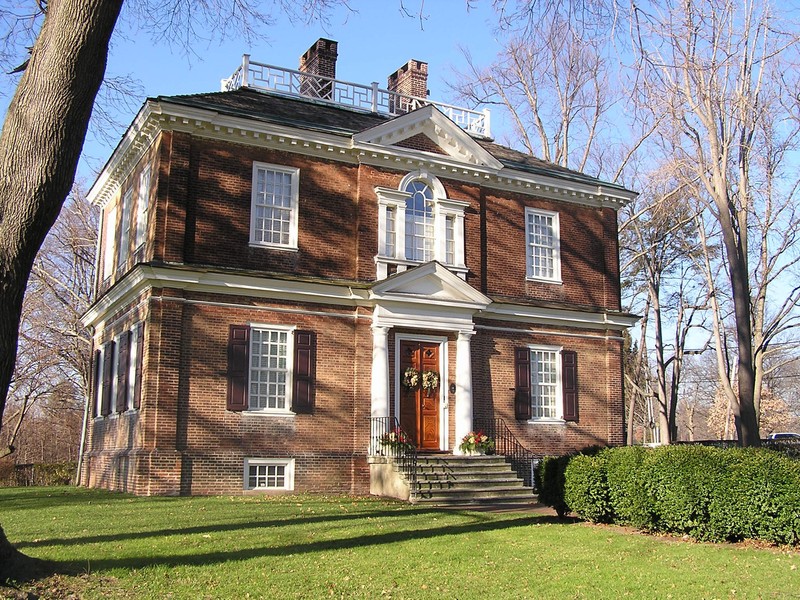 The parlor at Woodford boasts antique furniture and a beautiful fireplace overmantel.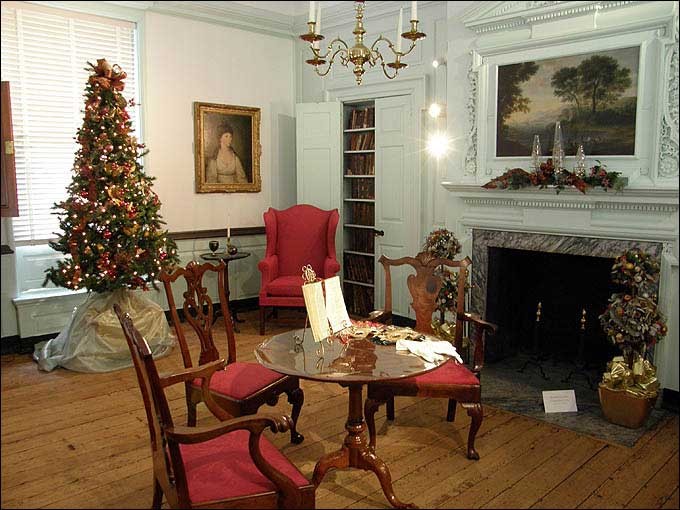 Initially, Woodford had no kitchen. The "kitchen edition" was added in 1772 by accused English Loyalist, David Franks.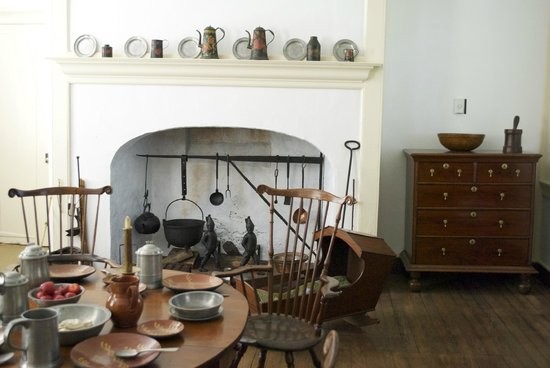 Woodford currently sits on 9.5 acres that includes the stable and landscaped grounds.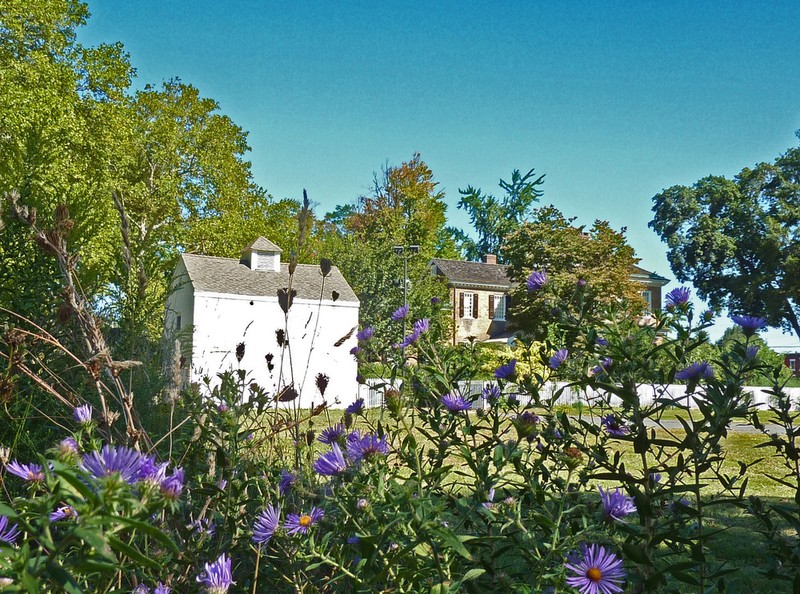 Naomi Wood (1871-1926) amassed a collection of over 1,000 antique colonial household goods that are now on display at Woodford.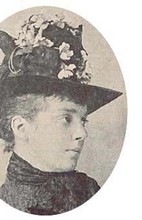 Backstory and Context
William Coleman, Pennsylvania Supreme Court justice and friend to Benjamin Franklin (he was part of Franklin's Junto or Leather Apron Club), built Woodford on a 12-acre site along the Schuylkill River. He was also a founder and the first treasurer of the American Philosophical Society as well as founder of the College of Philadelphia, which would become the University of Pennsylvania. This Renaissance man sought a gentleman's summer retreat for his wife and adopted son, George Clymer, who went on to be a signatory of both the Declaration of Independence and U.S. Constitution.
Upon Coleman's death in 1769 the home was purchased by Alexander Barclay who then passed a few years later in 1771. Barclay's brother-in-law, David Franks, then became the home's new owner. He added a second floor and kitchen wing to Woodford in 1772. Franks owned the home until 1778 when he was forcibly evicted for being a Loyalist, or supporter of the English crown during the Revolutionary War. Woodford was then most likely rented out for a time until it was purchased by Isaac Wharton in 1793. Isaac was a relative of Joseph Wharton who founded Penn's Wharton School of Business. With the creation of Fairmount Park, Woodford was then purchased by the city in 1868 from the Wharton family.
It served as the home to the park's Chief Engineer and Supervisor and later as the headquarters for the park guard. It went through an extensive restoration in 1927 prior to opening as a house museum in 1930. The restoration was precipitated by the death of Naomi Wood in 1926. Ms. Wood, part of a well-to-do Philadelphia family, spent a fair part of her life collecting antique home furnishings and had amassed quite a collection by the 1920s. She, prior to her death, made plans with her close friend, Daniel Huntoon, to display her collection in a historic location that would be open to the public. Huntoon, the first trustee of the Naomi Wood Trust, choose Woodford as that historical location.
Woodford (not actually named after Ms. Wood) has been restored to a colonial era home and Wood's Collection has elegantly furnished the house. Her collection consists of late 18th and early 19th century furniture, paintings, English Delftware, china, decorative arts and also includes Loyalist newspapers from the Revolutionary War era. The home features an ornately carved, floor-to-ceiling, fireplace overmantel in the parlor and original yellow pine floors. Recently, in 2008, an orchard was added to the grounds, similar to the one that existed back in 1769 when the home was sold for the first time.
Sources
"History of Woodford." Woodford Mansion. Accessed January 6, 2017. http://woodfordmansion.org/history.php
Katz, Bethany. "Woodford Mansion -- A Fairmount Mansion." Phila Place, Historical Society of Pennsylvania. Accessed January 6, 2017. http://www.philaplace.org/story/1776/
"Woodford Mansion." Colonial Sense. Accessed January 6, 2017. http://www.colonialsense.com/Architecture/Houses/Fairmount_Park/Woodford_Mansion.php

Additional Information