Laurel Hill Cemetery
Introduction
Located on approximately 75 acers in Philadelphia's East Falls section, Laurel Hill Cemetery was founded by Quaker John Jay Smith in 1836. Designed by Scottish-American architect, John Notman, it served, and continues to serve as much more than a cemetery. Laurel Hill was designed as a public space in the era before the development of public parks. It provides a bucolic setting with picturesque views of the Schuylkill River and its more than 33,000 monuments, tombs and mausoleums represent more than memorials to the dead, many of them are works of art. Laurel Hill is one of the few cemeteries to be designated as a National Historic Landmark, which it achieved in 1998.
Images
Laurel Hill's famous gatehouse, designed by John Notman, sits behind its historical marker.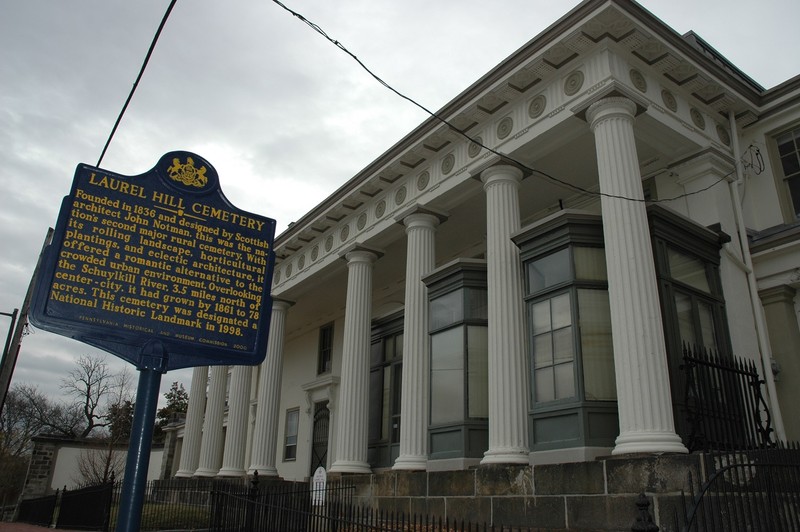 An aerial view of a small section of the cemetery in which the many obelisks stand like spires, memorializing the dead.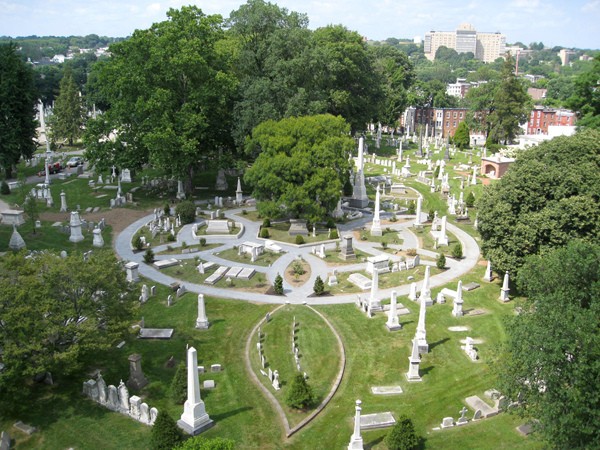 This is a perfect example of the elaborate funerary art one will encounter when visiting Laurel Hill.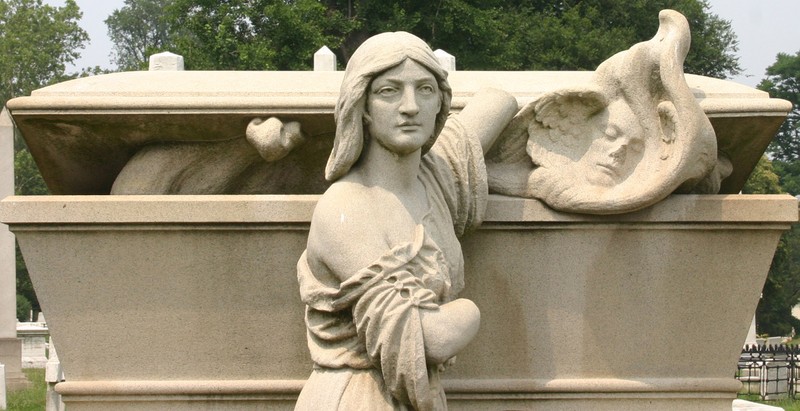 Just a few of the numerous mausoleums that are part of the Laurel Hill Cemetery.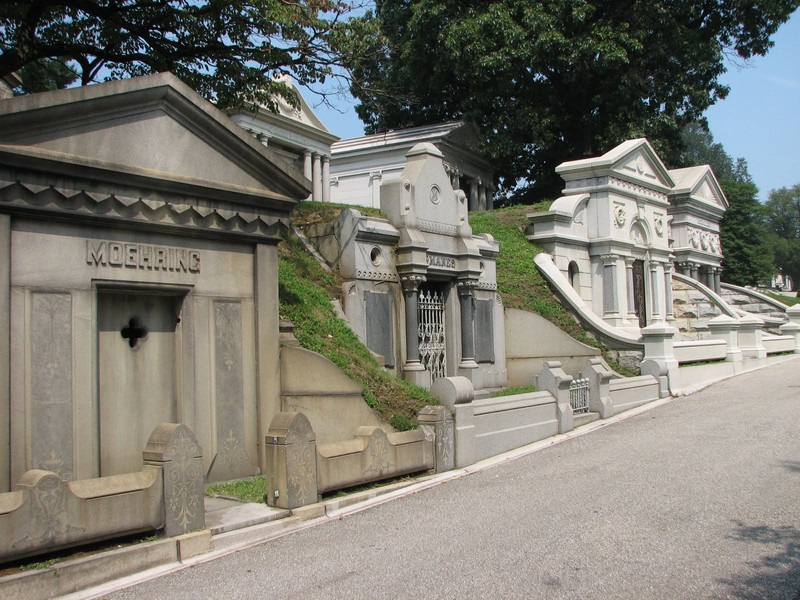 An artist's rendition of Laurel Hill in 1848 with the gatehouse as the focal point. A small funeral procession can be seen off the left.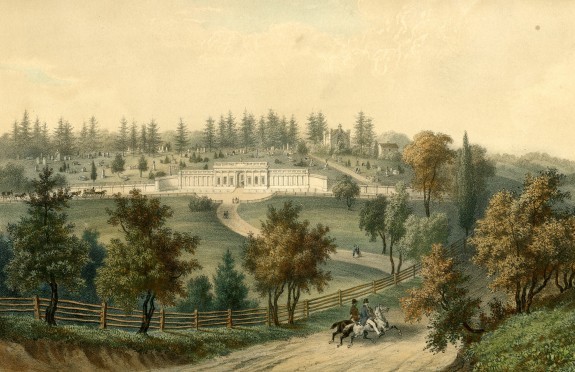 Backstory and Context
In the first half of the 19th century, Philadelphia experienced rapid growth as its population expanded from 81,000 in 1800 to 189,000 by 1830. As a result, it was running out of space to properly inter its dead. John Jay Smith experienced this problem first hand after his daughter's mortal remains were treated in an immoral manner. He then took it upon himself to create a cemetery outside the city. He and his partners sought a rural, natural setting in which to place their cemetery and acquired the Laurel Hill estate from its owner, Joseph Simms.
They then held an architectural design contest which Scottish born John Notman won. Notman designed a 3-tiered, circular system that converged on the cemetery's center and permitted views of the river below. He also designed the Doric Roman Gatehouse and the superintendent's house and chapel. After it was completed in 1839 Philadelphians used the space for picnics, carriage rides, leisurely strolls and sightseeing.
In order to give their cemetery some publicity, Smith and his partners managed to have the remains of famous Revolutionary War era leaders, such as the Secretary of the Continental Congress, Charles Thomas and Declaration of Independence signatory, Thomas McKean, moved to Laurel Hill. Over the years, other famous Americans were buried at Laurel Hill, to include 40 Civil War generals, such as George Gordon Meade; business leaders, such as Matthais Baldwin and Peter Widener; and numerous local, state and federal politicians. More recently, seats from Veteran's Stadium were placed beside the gravesite of long-time Phillies announcer, Harry Kalas.
Over the years, especially after World War II, Laurel Hill was neglected and in desperate need of restoration by the 1970s. Consequently, the Friends of Laurel Hill was founded in 1978 to complete the necessary restorations and to care for the cemetery now and in the future. They also provide tour guides, educational and research materials and sponsor concerts, ghost hunts, and special event tours, such as Hot Spots and Storied Plots and 'Til Death do Us Part: the Love Stories of Laurel Hill.
Laurel Hill also represents numerous examples of some of the best funerary art in the country. Artists such as Alexander Milne Caldor, William Strickland and others created works of art from marble, granite, sandstone and cast iron. They have introduced thousands of visitors to Classical, Gothic and Egyptian Revival architecture, whether said visitors realized it or not.
Sources
"laurel Hill Cemetery: History." Laurel Hill Cemetery. Accessed January 2, 2017. https://thelaurelhillcemetery.org/about/history
Keels, Thomas. "Laurel Hill Cemetery." Encyclopedia of Greater Philadelphia. 2012. Accessed January 2, 2017. http://philadelphiaencyclopedia.org/archive/laurel-hill-cemetery/
Cheney, Jim. "Visiting the very historic Laurel Hill Cemetery in Philadelphia." Uncovering PA. October 30, 2013. Accessed January 2, 2017. http://uncoveringpa.com/visiting-laurel-hill-cemetery-philadelphia
Additional Information