Duke Homestead
Introduction
Washington Duke and his sons created a tobacco empire which originated here. From Tobacco farming, processing, and even mechanical cigarette production, Duke's sons created the American Tobacco company.
Images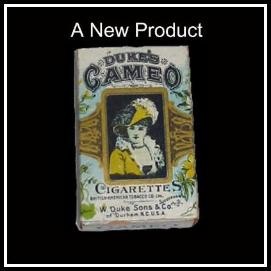 Backstory and Context
Washington Duke was a farmer that fought for the South in the Civil War who planted tobacco originally for his own benefit. After he discovered that Union soldiers enjoyed "Bright Leaf," the tobacco that was grown in his local area, he decided to market his own product.

With the help of his children, he shifted from tobacco planting to processing, which led to extensive financial gains for the company and family. In 1874, Duke moved his company to Durham where one of his sons already owned a smoking factory. This shift would lead to the company becoming largescale, and eventually take its place at the top of the tobacco industry. This was in large part of a partnership with George W. Watts in 1878, which also renamed the company to W. Duke Sons and Company. According to nchistoricsites.org, because of the Duke family North Carolina still boasts tobacco as its lead export.

A large portion of the financial growth of the Duke family was put to great humanitarian use. Money and resources were constantly being donated to educational and medical purposes. Trinity College was a key receiver of these resources, which would eventually lead it to become known as Duke University.

Sources
http://www.nchistoricsites.org/duke/duke.htm
Additional Information