Fine Arts Building (Studebaker Building)
Introduction
The Fine Arts Building was constructed between 1884 to 1885 and remains one of the most distinctive buildings along Michigan Avenue. The structure was designed by American architect Solon Spencer Beman (1853-1914) for the Studebaker Company, a leading manufacturer of carriages that would become one of the largest American car companies in the early 1900s. The company decided to remodel the building just a decade following its construction, creating spaces for numerous artist studios. From that point, the building became known as the Fine Arts Building. The structure was added to the National Register of Historic Places in 1975 and was designated a Chicago Landmark in 1978.
Images
View of the Fine Arts Building facade on Michigan Avenue (image courtesy of the Chicago Architecture Foundation).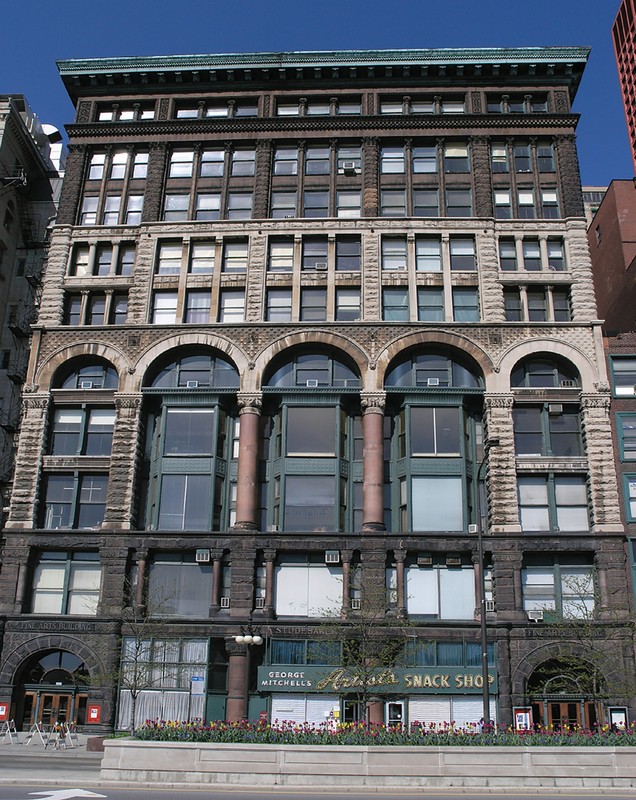 View of interior courtyard, Fine Arts Building (image courtesy of Open House Chicago).
View of murals on tenth floor, Fine Arts Building (image courtesy of Chicago Architecture blog).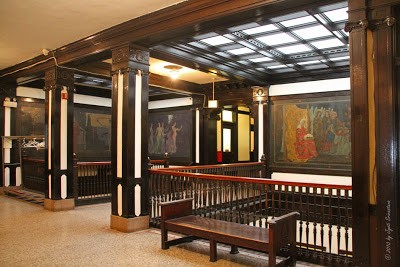 Mural by Frank X. Leyendecker, tenth floor, Fine Arts Building (image courtesy of Chicago Architecture blog).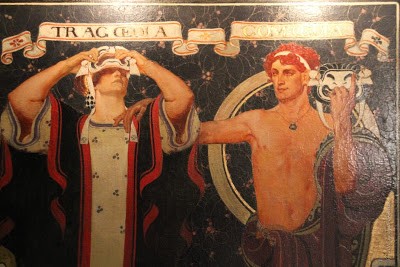 A Studebaker buggy from the early 1890s, one of many models that would have been on display at this building prior to its conversion to artist studios.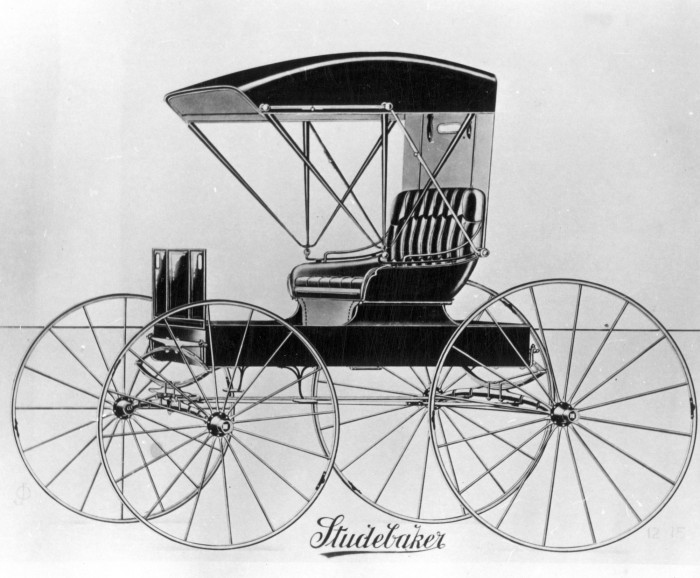 Backstory and Context
Architect Solon Spencer Beman's original task in designing the Studebaker Building was to create an eight-story retail space for the Studebaker company. Customers who came to this building could view select custom features and see some of Studebaker's most ornate carriages-including those designed for the White House. The company built carriages at its main factory in South Bend, Indiana, but the company hoped to shift some manufacturing and assembly operations to retail outlets such as this one. The company produced its first vehicles in 1902. Like many other early car manufacturers, the company produced electric powered cars prior to shifting their attention to gasoline and internal combustion engines in 1904.

The building's facade was one of the most splendid of its day, including its iconic pair of massive granite columnns inset above the main entryway that measure more than three feet in diameter. As demand for the company's products grew, Beman's plans were modified to incorporate space to manufacture components on site. To achieve this goal, Beman removed the culminating floor of the building in the late 1890s so he could add three more stories (a distinction somewhat visible in the face today). By the time these modifications were complete, though, Studebaker had found a more suitable manufacturing facility elsewhere. As a result, the modified building on Michigan Avenue was transformed into studios for artists.

At the time of this transformation, the building was further adorned with an array of Art Nouveau accents, including a painted mural cycle on the tenth floor. Incorporating works by some of the most innovative artists of the late 19th-century - including Frank X. Leyendecker, brother of famed illustrator J.C. Leyendecker - these murals became the perfect capstone to a building wholly dedicated to the arts. Many of Chicago's most notable artists and architects worked in the Fine Arts Building over the years.

One such artistic resident was Lorado Taft, who one of the most prominent sculptors in Chicago in the 1890s and who contributed extensively to the sculpture of Chicago's Worlds Columbian Exposition in 1893. One of his works, the Fountain of the Great Lakes (1907-1913), can be seen across the street (and two blocks north) in the southern outdoor courtyard adjacent to the Art Institute.

Sources
Fine Arts Building. Open House Chicago. Accessed December 30, 2016. http://openhousechicago.org/sites/site/fine-arts-building/.

Fine Arts Building. Chicago Architecture Foundation. Accessed December 30, 2016. http://www.architecture.org/architecture-chicago/buildings-of-chicago/building/fine-arts-building/.

Fox, Fred. A brief history of Studebaker, 1852-1966. Hemmings Daily. September 16, 2015. Accessed December 30, 2016. https://blog.hemmings.com/index.php/2015/09/16/a-brief-history-of-studebaker-1852-1966/.


Additional Information